$0 Windshield Repair in Arizona
Why Choose Us for Your Windshield Repair
Get fast, convenient windshield repair service from a local Arizona business. Plus, most customers pay $0 out of pocket!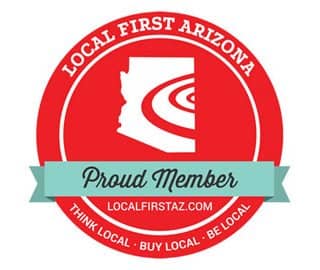 Fully covered in most cases (pay $0 out-of-pocket)
Most Arizona auto insurance policies cover windshield repairs, so most customers don't have to pay for their service.
High-quality results
All technicians have 3+ years' hands-on experience. All materials used are OEM or equivalent.
Industry-leading warranty
Get complete protection for your vehicle's lifetime from any materials or workmanship problems related to your service.
Types and Causes of Windshield Glass Damage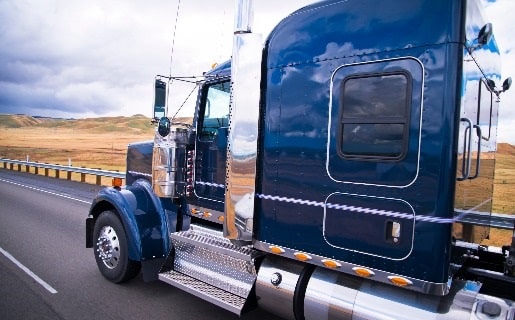 There are two main kinds of windshield glass damage:
Windshield chips
Windshield cracks
The most common cause of windshield glass damage is driving on freeways, especially behind large vehicles like tractor trailers or cement trucks.
The other primary cause of windshield glass damage is heat. Arizona's high summer temperatures make glass much more likely to crack or chip.
Windshield Chips
A chip is a small, localized break from the impact of an object on the windshield. All chips can be repaired if they meet certain criteria.
Chips are divided into three main categories shown below:

Bullseye Chip
Bullseye chips have a series of concentric rings spreading out from a center point.

Star Chip
Star chips have a series of small individual cracks connected by a center point.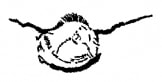 Combination Chip
Combination chips can have both bullseye and star elements.
Windshield Cracks
A crack is a long, extended break. Most cracks are caused by objects hitting the windshield.
Cracks can be divided into three types (shown below).
Multiple cracks and non-impact (stress) cracks generally cannot be repaired, while some single cracks are repairable.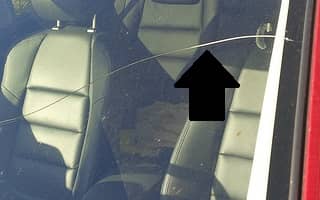 Single Crack
A single crack is one extended break. This is the most common type of crack.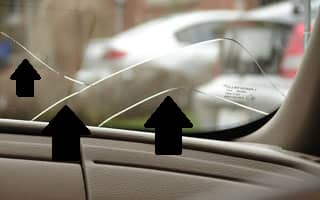 Multiple Crack
A multiple crack is multiple extended breaks that may or may not be connected.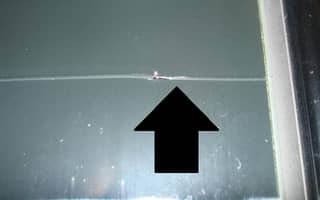 Non-Impact (Stress) Crack
A non-impact crack is not caused by objects, but by structural issues like crashes.
What Kind of Damage Can Be Repaired
Each crack or chip is unique, but in general the guidelines below are a good starting point to help figure out if a repair is feasible for you.
When you speak with a customer service representative, they can help determine if your damage is a good candidate for a repair or if new glass will be required.
Chip

Repair Damage Requirements
Chip cannot have crushed glass in the center.
Chip cannot be within 2 inches of the edge of the windshield.
Chip must be smaller than the diameter of a quarter.
Crack

Repair Damage Requirements
Crack cannot be in the driver's field of vision when looking straight ahead.
Crack cannot be within 2 inches of the edge of the windshield.
Crack must be singular (i.e. not multiple connected cracks) and smaller than the size of a dollar bill.
How the Windshield Repair Process Works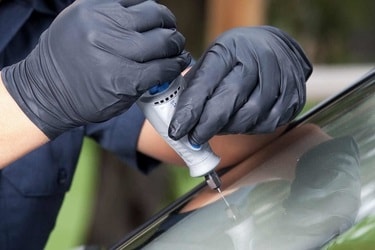 Repairing a damaged windshield is a fast, easy process that generally takes about 20-30 minutes. You will be able to drive away as soon as the repair is completed.
During the repair process, a special resin will be injected into the damaged area. Once complete the windshield will be as strong as new and the visible damage will be much reduced.
You may still be able to see faint marks from the original damage – these do not compromise the windshield's strength and are a natural part of the repair process.
Windshield repair steps:
Preparation
To prepare the surface, your technician will thoroughly clean the damaged area of any debris or glass shards.
Tap or drill
To allow the repair resin to fully get into the damaged area, your technician will "tap" or drill into the damage. Minor damage may require just one tap, while more significant damage may require multiple taps.
Apply repair resin
After preparing the glass, the technician will fill the damaged area with a special resin.

First, the injector will be placed immediately over the damaged area.
Second, the air in the damaged area will be vacuumed out.
Third, the resin will be injected into the area.

Cure the resin
Once the damaged area has been completely filled, then the resin will be "cured", or hardened. This is accomplished using a special curing light that activates elements in the resin and changes it from a liquid to a solid.
Apply more resin if necessary
Depending on the amount of damage, more resin may be applied to build up the damaged area until it can be polished flat with the surrounding glass.
Polish smooth
Finally, the repaired area will be polished to ensure a flat, long-lasting smooth surface.
Your Windshield Repair Will Be Backed by our 100% Guaranteed Lifetime Warranty
Your repair will be completely guaranteed by our 100% lifetime warranty. We will take care of any problems with the work performed that may occur afterward - simply call or email to let us know you need a re-service.
Sometimes, a repair is not possible or a repair fails and cannot be redone. In these cases, we will credit all money paid towards the cost of a complete new windshield.
What Does Repaired Glass Look Like?
A lot of customers aren't quite sure what to expect their repaired glass to look like.
In general, there may be some light marks in the original damaged area, but they will be much less noticeable than the original damage. These marks do not mean that the repair did not work or that the windshield is still weak – they are a normal part of the process.
Here are some examples of repaired glass, before and after: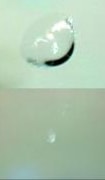 Bullseye chip repair before and after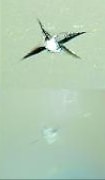 Star chip repair before and after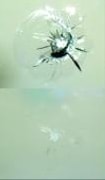 Combination chip repair before and after
We Service Most Major Metro Areas in Arizona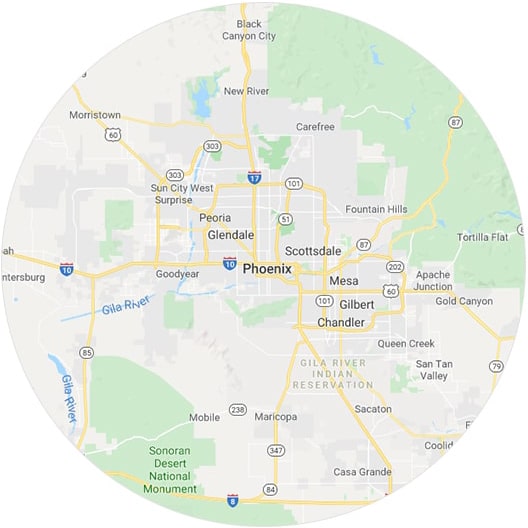 Phoenix, AZ
Tucson, AZ
Flagstaff, AZ
Prescott, AZ
The major Arizona areas we service are Phoenix, Tucson, Flagstaff and Prescott. We can come to your work, home or any other location that's convenient for you in any of these areas.
Never Any Charge for Mobile Service
Free mobile service to your desired service location is included with every service we perform. There's never a charge for mobile service!
Common Cities in Greater Phoenix for Windshield Repair
The most common cities in the Greater Phoenix Area we visit for mobile windshield repair services are listed below.