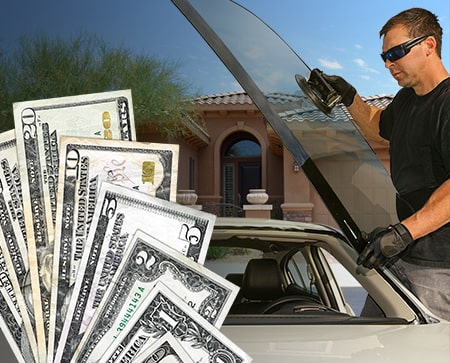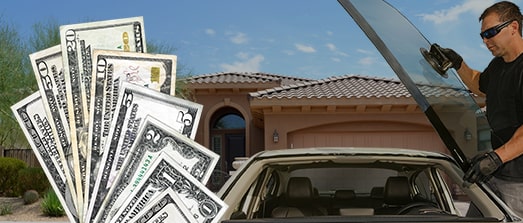 Gilbert Windshield Replacement:

up to $275 Cash Back. BBB A+
Choose Pinnacle Auto Glass for your windshield replacement in Gilbert, AZ, and you'll receive up to $275 free cash back.
You'll also receive a 100% warranty on your new Gilbert auto glass and BBB A+ service from Pinnacle Auto Glass. Call now for your free quote!
Or request a free quote
22,370+ Gilbert Windshield Replacement & Auto Glass Customers
From Fast Repairs to Full Replacement with Cash Back
Call us today for your auto glass needs in Gilbert! We are ready to help you with a quick windshield repair or a complete windshield replacement in Gilbert, AZ, with free cash back.
Tens of Thousands of Gilbert Customers
Our company has performed more than 20,000 windshield replacement Gilbert services over the past 20 years. We've also helped hundreds of thousands more customers around the Valley with their windshield needs.
Free Mobile Service and a Lifetime Warranty
When you choose our company for your repair or replacement, you get free mobile service anywhere in Gilbert or around the Valley. Plus, every replacement and repair is backed with our lifetime warranty.
Call Pinnacle Auto Glass at 480.907.3982 for the best Gilbert auto glass cash offers and a 100% lifetime warranty on your new windshield replacement in Gilbert!
Up to $275 Free Cash Back with Windshield Replacement Gilbert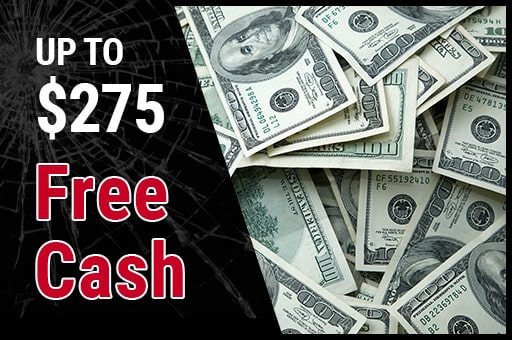 Cash Back Offer Details
Get up to $275 cash back with windshield replaced through insurance
Cash back varies based on vehicle & insurance
Among Gilbert's highest cash back amounts
Why Choose Us for Your for Your Auto Glass Repair or Windshield Replacement
1
Up to $275 FREE CASH for Gilbert Customers using Insurance
Gilbert, Arizona residents who get a new windshield through insurance can get up to $275 cash back on windshield replacement!
We also accept cash, credit card, or check if you'd like to pay yourself for your windshield replacement or repair in Gilbert. Note that glass repair doesn't qualify for money back like windshield replacement cash.
2
FREE Mobile Service to You 7 Days a Week in Gilbert and Valley-Wide
Our auto glass replacement technicians can come right to you in Gilbert, AZ. Our mobile technicians can also go anywhere else in the Greater Phoenix Area for your windshield repair or replacement service.
Plus, our Phoenix auto glass repair company is open 7 days a week, so every customers can schedule their mobile auto glass replacement or auto glass repair appointment on the one best day for them!
3
Quality Service with OEM or Equivalent Glass and Expert Workmanship
We use quality materials like OEM or equivalent windshields and high quality, fast-curing urethane sealant with every windshield replacement.
In addition, our auto glass technicians are trained to ANSI standards and they have at least 3 years of experience performing glass repair on all kinds of glass damage like chips, cracks, dings and more.
We work on all kinds of auto glass, including car window and rear window glass. If you're a commercial or fleet customer, we can work on many light commercial vehicles including trucks, vans and more!
4
Fast, Easy Insurance Claims
We have completed more than 750,000 windshield replacements for Gilbert and Valley customers. Most of our customers use their insurance to pay for their windshield replacement, so we're the Valley's experts in how it works!
Our company accepts all insurance for auto glass in Gilbert. We handle the entire claim process for each customer.
Most customers using their auto insurance company to pay for their Gilbert windshield replacement or windshield repair service won't need to pay anything out of pocket. If there is a deductible with your policy, we can even pay it for you in many cases!
5
100% Lifetime Warranty
Every auto glass replacement and auto glass repair in Gilbert include lifetime warranty coverage for both materials and technician labor to help ensure a quality, reliable service. Our warranty covers your windshield replacement for the life of your car.
Windshield & Auto Glass Service in All Gilbert, AZ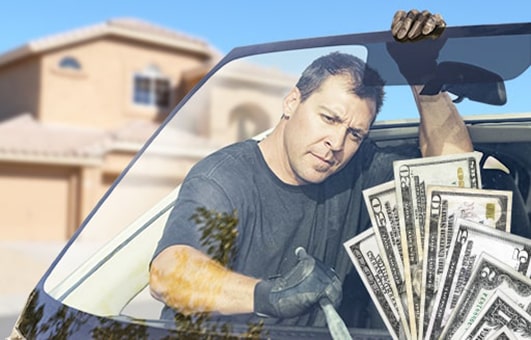 We can fix your glass anywhere you'd like in Gilbert.
Popular Gilbert Neighborhoods We Service:
Avoid Windshield Chips in Gilbert
Windshield damage is a fact of life, but you can keep your chances of chips and cracks lower by avoiding major Gilbert thoroughfares like the Loop 202 and Greenfield Rd. We recommend never driving on the US 60 if you can avoid it since chips and cracks are extremely common on it!
Gilbert Arizona FAQ: Windshield Repair, Auto Glass Replacement, Free Quote & More
---
How do I get free auto glass cash back in Gilbert?
Here's how the process works:
1. Call us at 480.907.3982 or request a quote.
2. We'll contact your insurance company and set up the claim for your new windshield service.
3. We'll meet you at your location of choice in Gilbert, AZ or Valley-wide and put in your windshield.
4. Get your free cash back!
How much cash back will I get if I have you replace my windshield in Gilbert, AZ?
Our special offers like cash back vary based on things like your insurance and your vehicle's make and year.
We've consistently got some of the best cash back amounts in Gilbert, AZ!
Call 480.907.3982 today or fill out our quote form for a free quote.