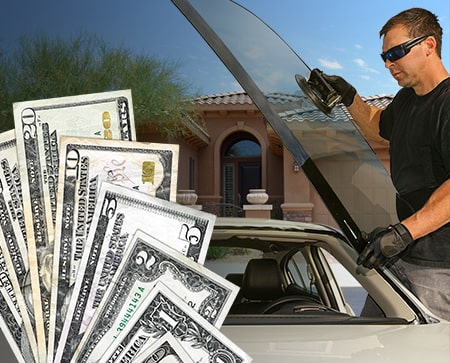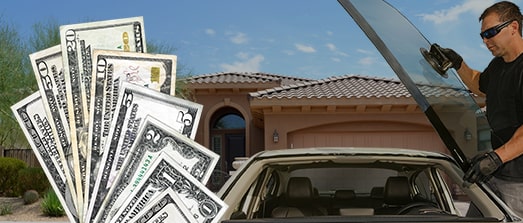 Windshield Replacement & Auto

Glass Repair in Gilbert, AZ. BBB A+
Choose Pinnacle Auto Glass for your windshield replacement in Gilbert and you'll receive up to $275 free cash back!

You'll also receive a 100% warranty on your new Gilbert auto glass and BBB A+ service from Pinnacle Auto Glass. Call now for your free quote!
Or request a free quote
The #1 Auto Glass Company in Gilbert
From Fast Repairs to Full Replacement with Cash Back
Call us today for your car's auto glass needs in Gilbert! We are ready to help you with a quick windshield repair or a complete windshield replacement anywhere in Gilbert or the Southeast Valley with cash back.
Tens of Thousands of Gilbert Customers
Our company has performed more than 20,000 windshield replacement services in the Gilbert area over the past 20 years. We've also helped hundreds of thousands more customers around the Valley with their windshield needs.
Free Mobile Service and a Lifetime Warranty
When you choose our company for your repair or replacement, you get free mobile service anywhere in Gilbert or Valley-wide. Plus, every replacement and repair is backed with our lifetime warranty.
Call Pinnacle Auto Glass at 480.907.3982 for the best Gilbert auto glass cash offers and a 100% lifetime warranty on your new auto glass replacement or repair in Gilbert!
Up to $275 Free Cash Back with New Windshield in Gilbert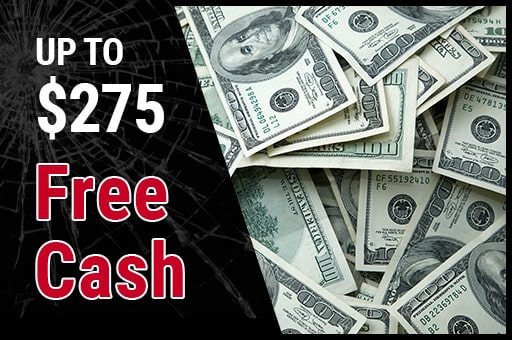 Cash Back Offer Details
Get up to $275 cash back with windshield replaced through insurance
Cash back varies based on vehicle & insurance
Among Gilbert's highest cash back amounts
We work with all insurance providers
Offer includes free mobile service in Gilbert & Valley
Why Choose Us for Your for Your Replacement or Repair in Gilbert?
1
Up to $275 FREE CASH for Gilbert Customers using Insurance
Gilbert, Arizona residents who get a new windshield through insurance can get up to $275 cash back!
We also accept cash, credit card, or check if you'd like to pay yourself for your mobile windshield replacement or repair in Gilbert. Note that glass repair doesn't qualify for money back like windshield replacement cash.
2
FREE Mobile Service to You 7 Days a Week in Gilbert and Greater Phoenix Area
Our auto glass replacement technicians can come right to you in Gilbert and fix your windshield quickly. Our mobile technicians can also go anywhere else in the Greater Phoenix Metropolitan Area such as Mesa for your windshield repair or replacement service.
Plus, our company is open 7 days a week, so Gilbert residents can schedule their mobile auto glass replacement or auto glass repair appointment on the one best day for them!
3
Quality Service with OEM or Equivalent Glass and Expert Workmanship
As a trusted, local repair company, we use quality materials like OEM or equivalent windshields and high quality, fast-curing urethane sealant.
In addition, our auto glass technicians are trained to ANSI standards and they have at least 3 years of experience performing glass repair services on all kinds of glass damage like chips, cracks, dings and more.
We work on all kinds of auto glass, including car window and rear window glass. If you're a commercial or fleet customer, we can work on many light commercial vehicles including trucks, vans and more!
4
Fast, Easy Insurance Claims
We have completed more than 750,000 windshield replacements for customers in Gilbert and Valley-wide. Most of our customers use their insurance to pay for their replacement, so we're the Valley's experts in how it works!
Our company accepts all insurance for auto glass in Gilbert. We handle the entire claim process for each customer.
Most customers using their auto insurance company to pay for their Gilbert windshield repair or replacement service won't need to pay anything out of pocket. If there is a deductible with your policy, we can even pay it for you in many cases!
5
100% Lifetime Warranty
Every auto glass replacement and auto glass repair in Gilbert include lifetime warranty coverage for both materials and technician labor to help ensure a quality, reliable service.
Meet Your Technician at Any Gilbert Location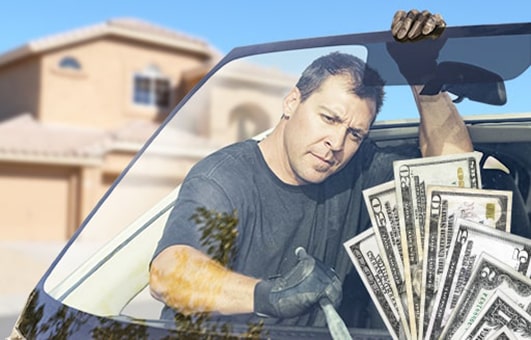 We can fix your glass anywhere you'd like in Gilbert or Valley-wide.
Popular Neighborhoods We Service:
Avoid Windshield Chips in Gilbert
Windshield damage is a fact of life, but you can keep your chances of chips and cracks lower by avoiding major thoroughfares like the Loop 202 and Greenfield Rd. We recommend never driving on the US 60 if you can avoid it since chips and cracks are extremely common on it! If your glass gets cracked, give us a call right away or fill out our quote form for a free callback and to schedule a fast appointment!
Auto Glass Prices in Gilbert
Average Cost of Auto Glass Services in Gilbert
The following table shows average costs for different services in Gilbert from our auto glass quote database.
Service
Average Price*
Low Price*
High Price*
Windshield Replacement
$340
$175
$485
Side Window Replacement
$190
$175
$295
Rear Window Replacement
$410
$290
$535
Auto Glass Replacement Pricing Estimates for Popular Vehicles in Gilbert
The price for new auto glass depends on the vehicle and its features.
To get an idea of price ranges, the table below shows prices for installing new glass on some common Gilbert vehicles.
Vehicle
Glass Type
Estimated Price*
1994 Toyota Pickup 2 Door Standard Cab
Front
$185
1997 Chevrolet S10 Pickup 2 Door Standard Cab
Side
$190
1997 Jeep Wrangler 2 Door Utility
Front
$175
2002 Suzuki Grand Vitara 4 Door Utility
Front
$190
2005 Kia Rio 4 Door Sedan
Front
$185
2011 Ford Flex 4 Door Utility
Front
$205
2012 Honda Civic 4 Door Sedan
Front
$215
2014 Subaru Forester 4 Door Utility
Front
$300
2017 GMC Sierra C1500 4 Door Crew Cab
Front
$285
2018 Audi Q5 4 Door Utility
Front
$485
2018 Jeep Wrangler 4 Door Utility
Front
$445
2022 Hyundai Tucson 4 Door Utility
Front
$610
*Prices are estimates only. Final price depends on vehicle.
Gilbert Windshield FAQ
---
What does a windshield replacement cost on average in Gilbert?
On average, a new windshield in Gilbert will cost between $200-$400 if you are paying out of pocket.
If you are paying using your auto insurance, the cost will be $0 in most cases. If your policy happens to include a deductible, we can often pay your deductible for you.
How much cash back will I receive for a Gilbert windshield replacement?
On average, Gilbert customers who use their insurance to pay for a new windshield qualify for $75-$125 in free cash back.
The specific amount you qualify for is determined by your car insurance coverage and your vehicle make and model. The highest possible cash amount we pay out is $275.
Is same day auto glass replacement available in Gilbert?
Yes, in some cases we can come meet you today in Gilbert to fix your glass.
Availability for same day appointments depends on what glass your vehicle needs, plus if we have a technician in the area you'd like us to meet you for your service.
We stock glass for many common vehicles like the Chevrolet Suburban or Honda Accord. If you drive a popular vehicle and you want to meet your technician in a popular Gilbert spot like Downtown Gilbert or Agriptopia, there's a good chance we can meet you today.
What is a good place in Gilbert to schedule my auto glass replacement?
We can meet you at any Gilbert location to fix your auto glass.
You can choose a popular location like San Tan Village, anywhere along major Gilbert thoroughfares like Williams Field Rd or Ray Rd, or even your home or work.