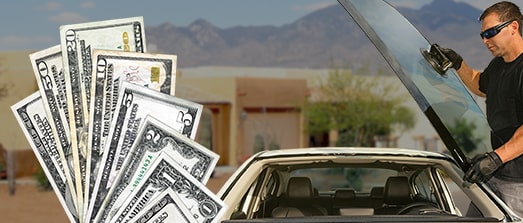 Windshield Replacement & Auto

Glass Repair in Phoenix, AZ. BBB A+
Get up to $275 cash back with insurance windshield replacement in Phoenix from Pinnacle Auto Glass.

100% lifetime warranty on all Phoenix auto glass services. BBB A+. Get a free quote now!
Or fill out our quote form
The #1 Auto Glass Company in the Greater Phoenix Area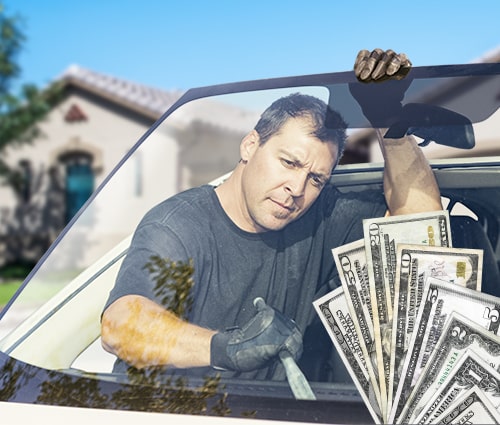 20+ Years of Phoenix Windshield Service
The Pinnacle Auto Glass team has provided Phoenix windshield replacement near me and auto glass repair services for 20+ years. Our mobile windshield experts can repair or replace any cracked or chipped glass.
$10+ Million Paid Out to Our Customers
Our Phoenix auto glass shop has some of the best free windshield offers in the Valley! We have paid out more than $10 million to our windshield replacement customers in the Phoenix Metro Area.
Up to $275 FREE Cash with New Windshield through Insurance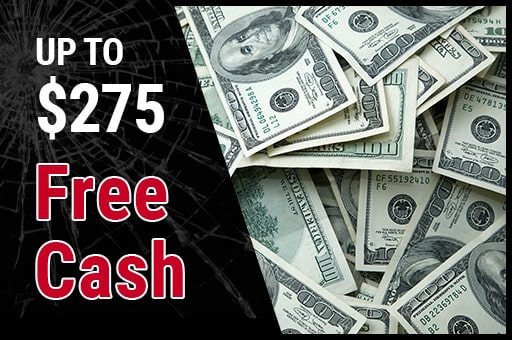 Get paid for replacing your car windshield using insurance with Pinnacle Auto Glass:
We'll pay you up to $275 in free cash
Amount varies based on vehicle & policy coverage
Best cash back offer in Arizona
We work directly with your insurance company
Includes free mobile windshield replacement services
Why Choose Us for Your Phoenix Area Repair or Replacement?
Valley's Best
Special Offers
Fix your cracked auto glass or chipped windshield and get free money with your new windshield in Phoenix! Get up to $275 in free cash with new front windshield replacement through auto insurance. We are approved by all auto insurance companies for cracked windshield replacement.
Same Day Windshield Services (Call to Verify)
Unlike many windshield shops, we can schedule your mobile auto glass replacement appointment today in some cases. If you have broken glass and you need your windshield repaired fast, call now to get an instant quote and check availability!
BBB A+
Company
Pinnacle Auto Glass is an accredited member of the Greater Phoenix Chamber of the Better Business Bureau, with an A+ rating for replacing windshields and auto glass replacement.
Licensed
Technicians
All our technicians are licensed and insured for new windshield replacements. Plus, our windshield shop requires our technicians to have 3+ years of automobile glass experience.
Every Windshield Replaced is OEM Glass or Equivalent
To ensure a quality windshield replacement or auto glass installation, we use only OEM (original equipment manufacturer) or OEE (original equipment equivalent) replacement windshield glass.
100% Lifetime Warranty for Customer Satisfaction
Every replaced auto windshield includes a 100% guarantee that lasts for the life of your vehicle and covers labor and windshield replacement materials. Our warranty also covers any Phoenix windshield repair.
Or fill out our quote form
We Make Fixing Your Windshield Fast & Convenient
If you're looking for a great place in Phoenix to fix your windshield or auto glass, call Pinnacle Auto Glass! Our locally-owned shop provides great service to make it quick and easy:
All Insurance Accepted, or Cheap Prices with No Insurance

We are preapproved by the major insurance providers for free or low cost auto glass repair and replacement throughout Greater Phoenix.

We accept all insurance coverage so we can keep windshield replacement costs at $0 for most customers. We set up your Phoenix auto glass claim and take care of all the paperwork.
For Phoenix windshield customers with no insurance on their autoglass, we have some of the cheapest windshield prices in town! Call 480.907.3982 today for the best windshield price!

All Makes & Models from 1981 to Today

We work on all types of passenger vehicles made since 1981. We can fix the windshield or auto glass on your car, truck, SUV, minivan, van or light commercial vehicle. We can also work on many classic cars and trucks!

Fast Scheduling with Same Day Available in Phoenix Metro Area

Same day windshield replacement in the Phoenix Metropolitan Area is available (depending on auto glass & technician availability). If we don't stock your windshield glass replacement, we can order it fast. We can schedule most replacements or repairs in several business days at any location in Phoenix.

Free Mobile Service Valley-Wide

Our technicians provide mobile auto glass service near me throughout Phoenix and the surrounding areas. There's no need to drive across town to inconvenient shop locations!

Fastest Drive-Away Time

Your new car windshield will be safe for driving in about 45-60 minutes. We use high quality urethane adhesive with every car glass replacement that cures quickly so you can be back on the road fast.

ADAS Replacement & Calibration

We can fix windshields on modern vehicles with Advanced Driver Assistance Systems (ADAS). We can also help with windshield calibration after your ADAS replacement service.
Our Expert Auto Glass Technicians Work on All Modern Vehicles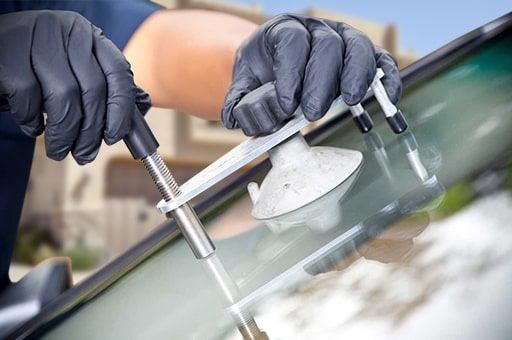 Windshield Replacement
At Pinnacle Auto Glass, we are the Phoenix windshield and auto glass experts! Over the past 20+ years, we've replaced more than 750,000 windshields near me for local Phoenix customers.
If your vehicle's glass is damaged and you need a complete replacement, we can do it! We service all vehicles made from 1981 to today.
We use genuine parts original equipment-branded glass (OEM) or original equipment equivalent (OEE) to help ensure quality and auto glass safety after your service. We calibrate your windshield if your vehicle requires it, and we back your new windshield with our 100% lifetime warranty.
For customers using insurance, we work directly with your insurance provider and we handle the entire process for you.
Windshield Repair
In many cases, we can repair small rock chips or cracks in your front windshield. A windshield crack repair only takes about 20-30 minutes in most cases.
A properly-performed mobile cracked windshield repair will maintain your windshield's structural integrity to help ensure vehicle safety. Every windshield glass repair is backed by our 100% lifetime warranty.
Auto windshield repairs are covered by all policies with glass coverage.
Other Auto Glass Replacement & Auto Glass Repair
We can replace any other auto glass on your vehicle, including car door window glass and rear window glass. (These auto glass components are made differently than front windshield glass, so it's not possible to repair them when they get damaged.)
We Work on All Makes & Models
Our auto glass technicians can work on passenger cars, sports cars, trucks, SUVs and vans from every vehicle manufacturer. We can even work on many classics!
We also fix windshield damage on light commercial vehicles.
Here are some of the popular vehicles we work on.
100% Lifetime Warranty for Every Customer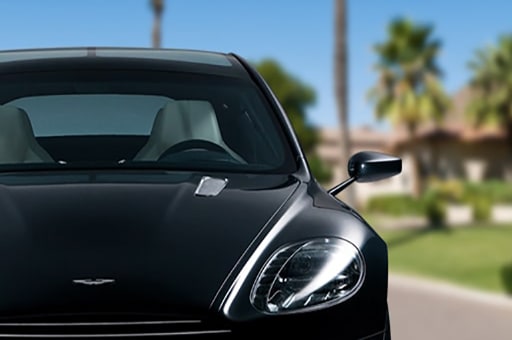 We cover your new windshield or auto glass for life with a powerful, 100% warranty that's much stronger than auto glass warranties from most other windshield repair companies:
After we've fixed your windshield, it will be guaranteed for your vehicle's life.
You get full protection from any issues that may happen after your service with either the parts/materials or the labor/workmanship.
Coverage area includes Phoenix, all Arizona and the entire United States.
Coverage lasts for vehicle lifetime with original printed form.
Schedule Your Mobile Appointment At Any Phoenix Location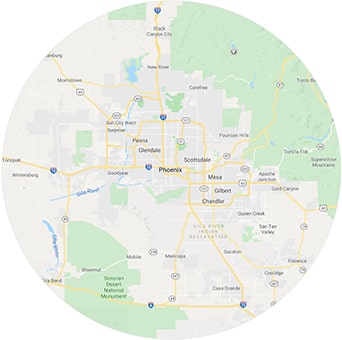 Get 5 star auto glass repair windshield replacement on-site anywhere in in Phoenix! Popular locations for our mobile auto glass and windshield services are listed below.
Auto Glass Prices in Phoenix
Average Cost of Auto Glass Services in Phoenix
For customers paying out of pocket, the following table shows average prices in Phoenix for different auto glass services, based on our database of auto glass quotes.
Service
Average Price*
Low Price*
High Price*
Windshield Replacement
$280
$170
$1655
Side Window Replacement
$230
$165
$825
Rear Window Replacement
$335
$170
$1140
Auto Glass Replacement Pricing Estimates for Popular Vehicles in Phoenix
The specific price to replace your windshield or auto glass depends on your vehicle's year, make and model.
The following table shows auto glass replacement pricing estimates for various popular vehicles in Phoenix.
Vehicle
Glass Type
Estimated Price*
2003 Chevrolet Astro Extended Cargo Van
Front
$280
2004 Toyota Avalon 4 Door Sedan
Front
$265
2004 Toyota Tacoma Pickup 2 Door Standard Cab
Front
$190
2013 Chrysler 200 4 Door Sedan
Side
$305
2013 Chrysler 200 4 Door Sedan
Front
$270
2014 Honda Pilot 4 Door Utility
Front
$325
2015 Chevrolet Sonic 4 Door Sedan
Front
$335
2017 Chevrolet Cruze 4 Door Sedan
Front
$355
2017 Chevrolet Express Van
Front
$260
2019 Nissan Murano 4 Door Utility
Front
$400
2020 Chrysler Pacifica Mini Van
Front
$300
2021 Toyota Tacoma Pickup 4 Door Crew Cab
Front
$340
*Prices are estimates only. Final price depends on vehicle.
Open 7 Days a Week Year-Round
Open 362 Days a Year
Mon - Fri: 7AM - 8PM
Saturday: 8AM - 5PM
Sunday: 9AM - 4PM
---
Open every day year-round except Christmas, Thanksgiving and Easter
Valley-Wide Service
Our windshield replacement near me service area covers the whole Valley of the Sun, including Maricopa and Pinal counties.
---
In a hurry? Be sure and ask your customer service representative if a same day windshield or auto glass appointment is available!