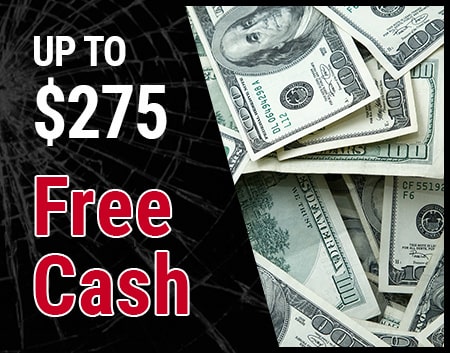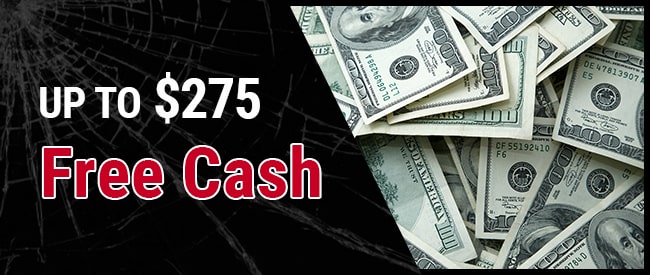 Windshield Replacement Cash Back: up

to $275 FREE Auto Glass Rebate Deals
Get a windshield replacement with insurance & receive up to $275 auto glass replacement cash back!
PLUS, get free chip repairs for life ($300 value!) & a powerful, 100% warranty on all work. BBB A+
Or request a free quote
How Free Auto Glass Cash Back Works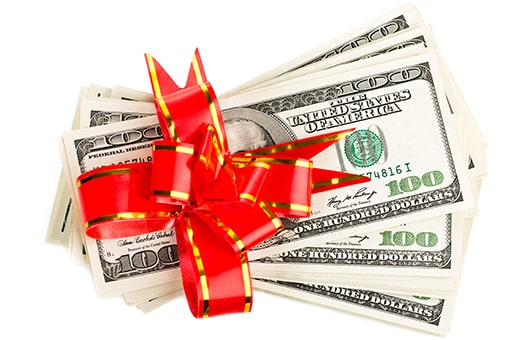 Are cash back deals legit?
Yes! It is your right under Arizona windshield law to choose which windshield replacement shop fixes your glass.
You are free to choose any Arizona glass shop you'd like, including one which offers incentives, rebates or windshield replacement deals like cash back.
What do I need to do to get cash back for windshield replacement?
In order to receive cash with your windshield replacement, it needs to be paid for by your auto insurance company. That's it!
We take care of the paperwork for the windshield replacement claim with your insurance company.
Do all auto glass services qualify for cash deals?
No. Only a front windshield replacement using insurance for payment qualifies for cash deals or rebates.
The following types of services don't qualify for money back incentives:
any windshield chip repair or auto glass repair,
any car door glass or rear window glass service,
or any glass service including windshield replacement that doesn't use insurance.
How Much Windshield Replacement Cash Can I Get?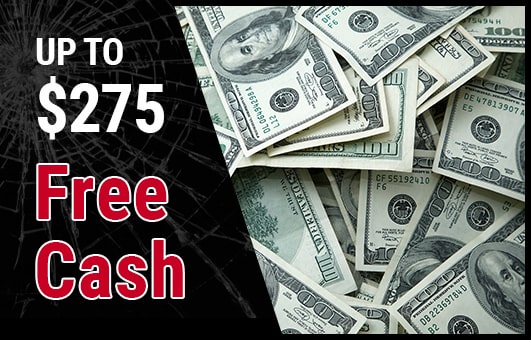 The exact amount of your free windshield replacement cash back will vary based on your policy and your vehicle's year, make and model.
In general, windshields on newer vehicles qualify for more auto glass replacement cash.
We have some of the best cash amounts in Arizona! We pay you up to $100, $140, $200, even $275 in cash back windshield replacement rebates!
We can give you an exact quote for how much windshield replacement cash you qualify for in just a few minutes! Call us now at 480.907.3982 to find out how much money back you can get!
The Best Deals for Insurance Auto Glass Replacements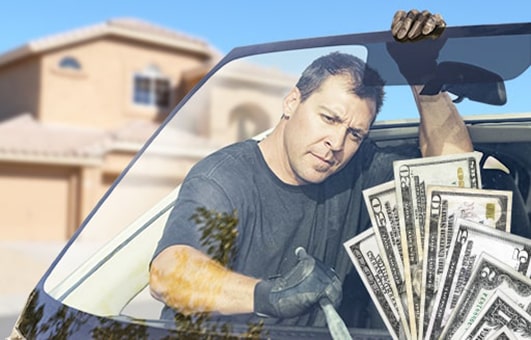 Great cash back offers windshield replacement with a proper paper trail AND free chip repairs:
Windshield replacement cash rebate is awarded in the form of a check payable to you for a trackable paper trail. This is not a refund or a reimbursement – it is literally a check that we pay you!
Our cash amounts to get your windshield replaced are some of the highest in the the Phoenix, Arizona, area – up to $275!
In addition to your cash, Phoenix customers also receive free lifetime chip repairs in Maricopa County, Arizona, with your new windshield – a $300 value!
Same day and near me mobile service available anywhere in the Valley with your windshield replacement money.
We make getting paid fast and easy:
Cash offer is available to all windshield replacement customers in Greater Phoenix, Arizona. Not available with auto glass repair or any service service paid for without insurance.
Checks are mailed within 14 business days after replacing your auto glass.
Once it arrives, simply deposit or cash your check and spend your money!
FAQ: Windshield Repair & Auto Glass Repair Rebates
---
How much cash back will I get for replacing my windshield?
Many customers get $100, $140, $150, $200 or even more cash to replace their windshield. The exact amount of cash will depend on your auto insurance policy and your vehicle's year, make and model. In general, newer vehicles can get higher cash amounts for cracked windshield replacement.
Is getting cash back with a new windshield legal?
Yes, Arizona windshield replacement shops can legally offer a promo deal like cash back. Phoenix customers also have the legal right to choose where they get their auto windshield replacement, whether that glass repair company offers free cash or not.
Will my insurance rates go up if I get cash back?
In general, no. Insurance companies in Arizona are required to offer no-fault, zero-deductible coverage because windshield glass damage is so common while driving around the Valley. As long as you abide by the terms of your insurance policy when you get a new windshield, your insurer generally cannot raise your rates.
Do you offer other types of specials or perks for insurance windshield replacement customers?
Yes! We normally have at least 1 or 2 different special offers that customers can choose instead of money back. Some of the most common are gift cards for free dinner or movies, or coupons for free gas. When you call to schedule your mobile appointment, ask your customer service representative about our windshield specials to learn more about current deals!