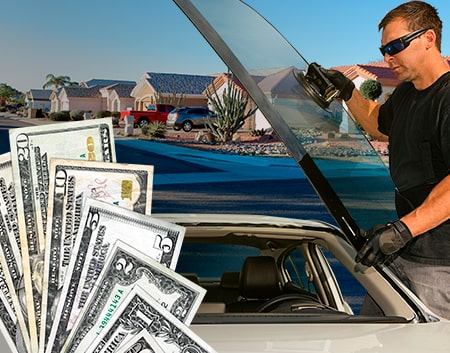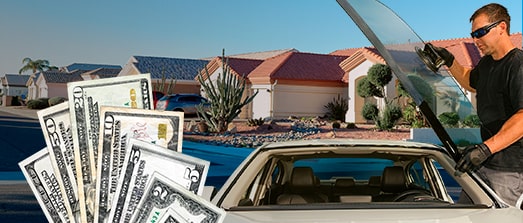 Windshield Replacement Casa Grande AZ:

up to $275 Cash Back. BBB A+
Our Casa Grande windshield replacement shop offers up to $275 free cash AND free chip repairs to customers using insurance for payment.
All our Casa Grande auto glass customers also get a 100% warranty and BBB A+ service. Get your free quote today!
Or request a free quote
Join Hundreds of Our Casa Grande Auto Glass Customers
Casa Grande Glass Replacement With Cash Back
Casa Grande residents needing windshield replacement services may qualify for $275 cash back if they choose to work with our experienced team.
Free quotes are available by calling 480.907.3982. Call now to see how much you can get!
Auto Glass Specialists with 2 Decades of Experience in Casa Grande
We strive to provide superior service and leave every customer satisfied.
How have we succeeded in achieving these goals over the past 20+ years? In addition to cash back promos, we provide lifetime warranties, mobile service at no extra charge, and the best materials and workmanship in Casa Grande!
Free Mobile Service and Lifetime Warranties
We have been serving Casa Grande for years, so we are familiar with every street in town. Our mobile technicians can come directly to your address and repair or replace your auto glass.
After they complete the job, they will leave you with a 100% guarantee on parts and labor for the life of your car. We are confident that our glass is installed properly and we will make any issues with labor or materials right!
Up to $275 Cash Back in Casa Grande
Cash Back Offer Details
Customers using insurance to cover the cost of the window repair qualify for up to $275 in free cash.
Total amount varies.
One of the best Casa Grande promos.
$300 in chip insurance is included in the deal, free of charge!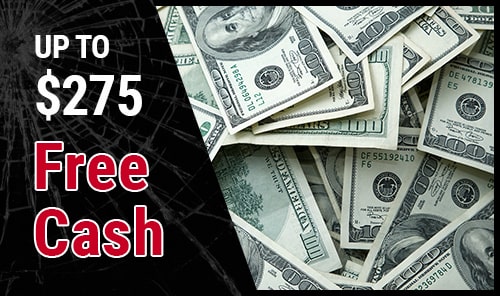 Why Choose Our Local Team to Fix Your Car Windshield?
1
Up to $275 in Free Cash
If you need a windshield replacement in Casa Grande and your insurer covers auto glass services, you can qualify for up to $275 in free cash! The exact amount depends on your policy and the type of glass your vehicle needs. We are one of the best glass companies in Arizona that give money back for windshield replacements!
What about customers paying out-of-pocket? We offer competitive pricing on all our services, from best price windshield replacement to back and door window repairs. If you pay yourself, we can accept debit or credit cards, cash, and checks.
2
We Reach All of Casa Grande and the Valley with Free Mobile Service
Our technicians come to your driveway, street, or lot. We provide the same quality service regardless of your location.
Our reputation focuses on quality, but we also provide rapid service. In many cases, we can get the windshield replacement done the same day you call us. This depends on when you call, where are technicians currently are, and if we have your glass in stock at our shop.
3
Skills and Quality Parts to Exceed Your Expectations
We only use OEM auto glass and components or OEM-equivalent alternatives. Our technicians also use quality materials, such as quick-curing urethane adhesive, to ensure strong bonds and to get you back to your daily life as fast as possible.
Our technicians have 3 years of experience before they go out on their first service call with us. They are also trained to ANSI standards, and they meet licensing requirements for Casa Grande.
Call 480.907.3982 to get started today!
4
Established Relationships with All Major Insurance Companies
Over the past two decades, we have worked with all major auto insurance companies in Casa Grande. This means there won't be any delays in processing your request while we wait for approval. It also means we handle the paperwork and payment processes easily, so you don't have to worry about any additional documentation.
We can even sometimes help cover the deductible costs. If your policy has a deductible, we work with your insurer to cover some or all of it, intending to get your out-of-pocket costs as close to $0 as we can.
5
Full Warranties on Our Services
After our technicians finish their work, they will leave you with a full warranty for parts and workmanship. If something goes wrong at any time in the future, we will come back and correct it for free. This deal lasts for as long as you own your car.
You also get $300 of chip insurance to help with repairs if road debris unexpectedly strikes your glass.
Call today for an appointment!
We Come to You Anywhere in Casa Grande, AZ or Nearby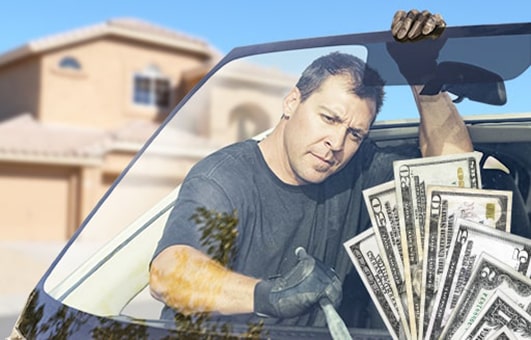 We serve every neighborhood in Casa Grande and all areas of Greater Phoenix.
The Casa Grande districts where we work include:
Cottonwood Ranch
McCarney Ranch
McCartney Center
Mission Royale
Avoid Windshield Damage in Casa Grande
Most windshield damage occurs at faster driving speeds, which you can avoid in Casa Grande by finding alternatives to Interstate 10 and State Route 387. Local streets like Cottonwood Lane and Kortsen Road are ideal for avoiding highways. If you still experience cracks or chips in your glass, contact us immediately for trustworthy repairs and replacements.
Casa Grande Auto Glass FAQ
---
What are the steps for getting a Casa Grande windshield replacement with cash back?
We make Casa Grande windshield replacement cash back easy:
1. Get started by calling us at 480.907.3982 or request a quote.
2. We'll set up your insurance claim for you with your auto insurance provider.
3. Then we'll schedule your mobile windshield replacement service anywhere in Casa Grande that works for your schedule.
4. Get your cash! We'll mail you a check with your free cash back amount after your service. You can deposit or cash the check.
Do you offer free mobile auto glass replacement and repair in Casa Grande?
Yes, we do! We are happy to meet you anywhere in Casa Grande for your service. If there's a better spot for you to meet your technician elsewhere in the Valley, we can meet you there too!