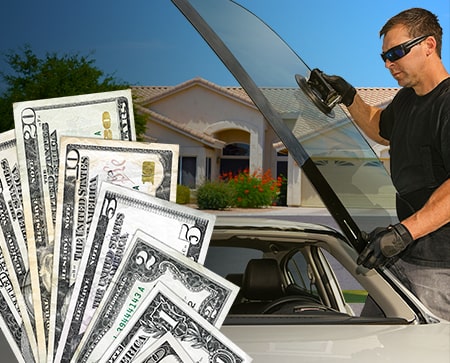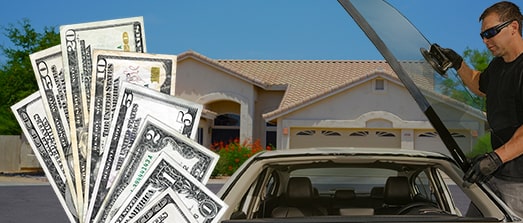 Chandler Windshield Replacement:

up to $275 Cash Back. BBB A+
Call Pinnacle Auto Glass now for the best windshield replacement deal in Chandler: up to $275 cash back with insurance replacement.
In addition, every Chandler auto glass service includes a 100% warranty and BBB A+ service. Get your free quote today!
Or request a free quote
25,340+ Chandler Auto Glass Customers
Fast Service and Great Cash Deals
Fix your auto glass fast with great cash back deals and a quality windshield replacement in Chandler, AZ.
Chandler's Windshield Replacement Experts
Our company has performed more than 20,000 Chandler windshield repair and replacement services over the past 20 years.
Free Mobile Service and a Lifetime Warranty
Give Pinnacle Auto Glass a call today for the best auto glass replacement and repair in Chandler, AZ!
You'll receive free mobile auto glass service near you anywhere in Chandler or the Valley, and a 100% lifetime warranty on your Chandler windshield replacement or repair!
Up to $275 Free Cash Back with Windshield Replacement Chandler AZ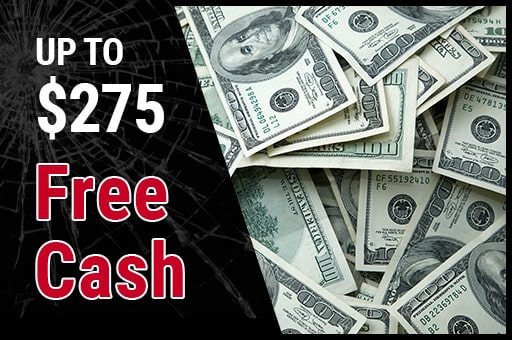 Cash Back Offer Details
Get up to $275 cash back with insurance windshield replacement in Chandler
Cash back varies based on vehicle & insurance
Among Chandler's highest cash back amounts
Why Choose Us for Your Auto Glass Replacement or Windshield Repair
1
Up to $275 FREE CASH
Our Chandler customers can get up to $275 windshield replacement with cash back with insurance in Chandler or the Phoenix Area.
p>We have some of the best cash back deals in the Valley to go along with our reliable service AM or PM anywhere in town!
2
FREE Service Near Me Anywhere in Chandler (or Valley-Wide)
Home? School? Job? Yes! We can schedule your windshield repair or auto glass replacement near you in Chandler, AZ.
Our technicians can meet you anywhere in Chandler or throughout the Valley for the best windshield replacement Phoenix.
3
Quality Materials and Experienced Technicians
Customer satisfaction is important to us. We are a local, family-owned company offering mobile windshield replacement in Chandler, so a large part of our auto glass business comes from customer reviews and referrals.
To help maintain safety and quality with each auto glass repair and replacement in Chandler, we require all our auto glass technicians to have at least 3 years of experience performing windshield replacements and auto glass repair services.
Plus, we use OEM or equivalent windshields and premium sealants on every windshield replacement service.
While we offer repair windshield replacement services for windshields and other auto glass like side glass, we don't currently offer power window repair.
4
Easy Insurance Claims
Insurance companies can make the auto glass claims process confusing, especially if this is your first time going through insurance for your auto glass or windshield repair in Chandler.
Our company is already preapproved by all major auto insurance companies for auto glass replacement and auto glass repair in Chandler. We can accept payment for your glass replacement from local insurance companies here in the city of Chandler, AZ, as well as larger Arizona or national insurance companies.
We handle the entire insurance claim process from start to finish, from the initial call with your insurance provider, all the way to billing your insurance provider for your windshield replacement or auto glass repair in Chandler, AZ.
5
100% Lifetime Warranty on Every Windshield Repair and Replacement
Our auto glass warranty is designed to help ensure a good experience for every customer.
Every customer receives our lifetime warranty, whether they have us perform a complete auto glass replacement or fast auto glass repair in Chandler.
Our warranty lasts for your vehicle's life, and it covers any issues that may arise after your Chandler auto glass replacement. Our warranty covers all issues with parts and materials, plus all issues with labor and workmanship.
Call Pinnacle Auto Glass at 480.907.3982 now to get a free quote and schedule your windshield replacement appointment in Chandler!
Auto Glass Repair & Replacement throughout Chandler, AZ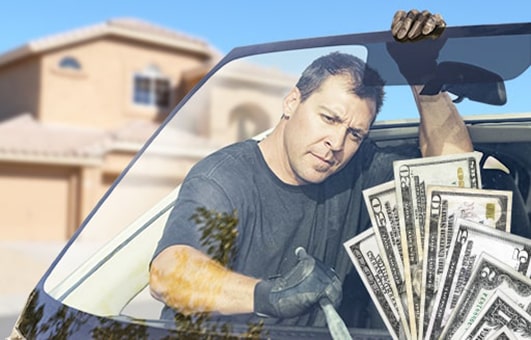 Choose any spot in Chandler to fix your glass.
Popular Chandler Neighborhoods We Service:
Avoid Windshield Chips in Chandler
Most windshield damage happens from other traffic while driving on the freeway, so keep your new glass looking sharp by avoiding the Loop 101 and 202 when you can (try Dobson Rd or Pecos Rd instead!).
FAQ: Replace Your Windshield, Get a Free Quote & More
---
How do I get free cash back with my Chandler auto glass service?
Here's how it works:
1. Call us at 480.907.3982 or request a quote.
2. We'll set up the insurance claim for your windshield installation service with your provider.
3. We'll send a technician out to meet you anywhere in Chandler or the Valley and install your new windshield.
4. Get your free cash!
How much cash back can I get for having you replace my windshield in Chandler, AZ?
Exact cash back amounts in Chandler, AZ vary according to each customer's auto insurance and type of vehicle. Call 480.907.3982 today and we can give you a free quote in just a few minutes!