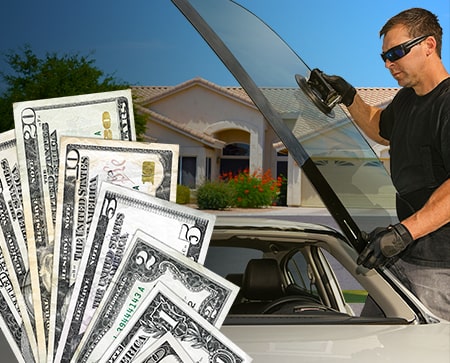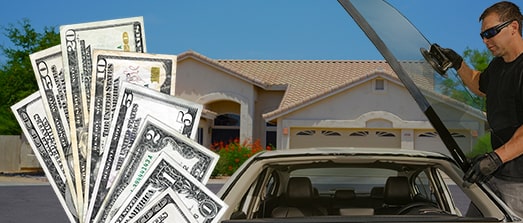 Windshield Replacement & Auto

Glass Repair in Chandler, AZ. BBB A+
Call Pinnacle Auto Glass now for the best windshield replacement in Chandler and up to $275 cash back with insurance replacement.

In addition, every Chandler auto glass service includes a 100% warranty and BBB A+ service. Get your free quote today!
Or request a free quote
The #1 Auto Glass Company in Chandler
Fast Service and Great Cash Deals in Chandler
Fix your auto glass fast with great cash back deals and quality windshield service in Chandler, Arizona. Insurance customers can get a new front windshield for free plus free cash!
Chandler's Windshield Replacement Experts
Our company has performed more than 20,000 Chandler windshield repair and replacement services over the past 20 years. We can meet you anywhere in Chandler or throughout the Valley to take care of your glass.
Free Mobile Service and a Lifetime Warranty
Give Pinnacle Auto Glass a call today for the best auto glass replacement and repair in Chandler, AZ!
You'll receive free mobile auto glass service near you anywhere in Chandler or the Valley, and a 100% lifetime warranty on your repaired or replaced glass!
Up to $275 Free Cash Back with New Windshield in Chandler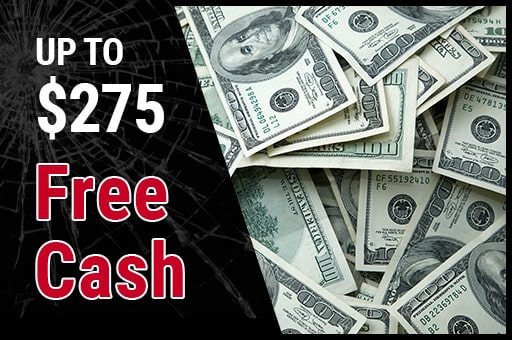 Cash Back Offer Details
Get up to $275 FREE cash for replacing your windshield using insurance
Cash back varies based on vehicle & insurance
Among the highest local cash back amounts
All insurance accepted
Includes free mobile service in Chandler & Valley-wide
Why Choose Us for Your Replacement or Repair in Chandler?
1
Get Your Windshield Fixed Plus up to $275 FREE CASH
Our Chandler customers can get up to $275 cash back for a windshield replacement with insurance in the Phoenix Area.
We have some of the best cash back deals in the Valley to go along with our reliable service AM or PM anywhere in town!
2
FREE Service Near Me Anywhere in Chandler (or Valley-Wide)
Home? School? Job? Yes! We can schedule your front windshield repair or auto glass replacement near you in Chandler, AZ, or any surrounding cities.
Our mobile service technicians can meet you anywhere in Chandler, Arizona, such as the Chandler Fashion Center Mall. We can also meet you throughout the Valley.
For customers in a hurry, we often have same day service available for many vehicles and popular locations such as along Chandler Blvd.
3
Quality Materials and Experienced Technicians
Customer satisfaction is important to us. We want every customer to receive great service!
We are a local, family-owned company offering mobile windshield replacement to any location in Chandler, so a large part of our auto glass business comes from customer reviews and referrals.
To help maintain safety and quality with each auto glass repair and replacement in Chandler, we require all our auto glass technicians to have at least 3 years of experience performing windshield replacements and auto glass repair services.
Plus, we use OEM or equivalent car windshields and premium sealants on every windshield replacement service to help ensure the highest quality.
While we offer repair windshield replacement services for windshields and other auto glass like side glass, we don't currently offer power window repair.
4
Easy Insurance Claims
Insurance companies can make the auto glass claims process confusing, especially if this is your first time going through insurance for your auto glass or windshield repair in Chandler.
Our replacement company is already preapproved by all major auto insurance companies for auto glass replacement and auto glass repair. We can accept payment for your glass replacement from local companies here in the city of Chandler, AZ, as well as larger Arizona or national companies.
We handle the entire insurance claim process from start to finish, from the initial call with your insurance provider, all the way to billing your insurance provider.
Most Chandler residents with glass coverage won't need to pay anything out of pocket to have their windshield repaired or replaced.
5
100% Lifetime Warranty on Every Windshield Repair and Replacement
Our auto glass warranty is designed to help ensure a good experience for every customer.
Every customer receives our lifetime warranty, whether they have us perform a complete auto glass replacement or fast auto glass repair.
Our warranty lasts for your vehicle's life, and it covers any issues that may arise after your Chandler auto glass replacement. Our warranty covers all issues with parts and materials, plus all issues with labor and workmanship.
Call Pinnacle Auto Glass at 480.907.3982 now to get a free quote and schedule your windshield replacement appointment!
Serving Chandler & All Nearby Areas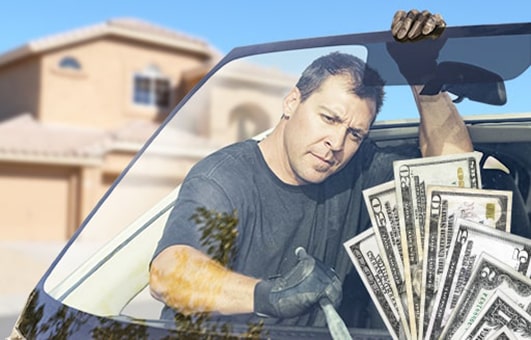 Choose any location in Chandler or Valley-wide to fix your glass.
Popular Chandler Neighborhoods We Visit:
Avoid Windshield Chips in Chandler
Most windshield damage happens from other traffic while driving on the freeway, so keep your new glass looking sharp by avoiding the Loop 101 and 202 when you can (try Dobson Rd or Pecos Rd instead!).
Auto Glass Prices in Chandler
Average Cost of Auto Glass Services in Chandler
This table shows average costs from our database of auto glass quotes for various Chandler services.
Service
Average Price*
Low Price*
High Price*
Windshield Replacement
$295
$140
$1535
Side Window Replacement
$225
$165
$820
Rear Window Replacement
$330
$170
$825
Auto Glass Replacement Pricing Estimates for Popular Vehicles in Chandler
Windshield and auto glass prices vary significantly by vehicle year, make and model.
This table shows estimated prices for some popular Chandler vehicles.
Vehicle
Glass Type
Estimated Price*
2006 Honda Civic 4 Door Sedan
Front
$345
2007 Honda Accord 4 Door Sedan
Front
$215
2012 Chrysler 300 4 Door Sedan
Front
$320
2012 Kia Soul 4 Door Hatchback
Front
$310
2015 Toyota Prius 4 Door Hatchback
Front
$305
2016 Hyundai Veloster 3 Door Hatchback
Front
$340
2016 Nissan Sentra 4 Door Sedan
Front
$315
2017 Ford F Series F150 4 Door Crew Cab
Front
$230
2017 Nissan Rogue 4 Door Utility
Side
$180
2022 Mazda MX-5 Miata 2 Door Convertible
Front
$440
*Prices are estimates only. Final price depends on vehicle.
Chandler Windshield FAQ
---
How much does a windshield replacement cost in Chandler?
Most customers in Chandler pay $0 for new glass if their auto insurance policy has glass coverage.
Chandler customers with a deductible on their insurance policy generally pay less than $50 for their new glass. We can help pay the deductible in many cases.
The average cost of a new windshield in Chandler for customers paying out-of-pocket is $250-$500.
How much cash back can I get for a Chandler windshield replacement?
The average cash back amount we offer to Chandler customers for a new windshield through insurance is $75-$100.
The cash back amount for each customer varies based on what kind of vehicle they have and their auto insurance policy details. The max available is $275.
Do you offer same day auto glass replacement in Chandler?
Yes, we have a limited number of same day auto glass appointments available each day in Chandler.
Same day availability depends on what kind of auto glass your vehicle needs, plus the location in Chandler where you'd like us to meet you for your repair or replacement.
If you drive a common vehicle like a Toyota Camry or a Ford F150 and you'd like us to meet you at a popular Chandler location like Crayola Experience Chandler or Tumbleweed Park Recreation Center, there's a good chance we can come fix your glass today.
Where in Chandler can I schedule my mobile auto glass replacement?
Our mobile service area covers any location in Chandler. Some of the popular areas in Chandler where we meet our customers to fix their glass include around Chandler Fashion Center, in the Downtown Chandler area, and along major roads like Ray Rd, Chandler Blvd, Dobson Rd and Alma School Rd.