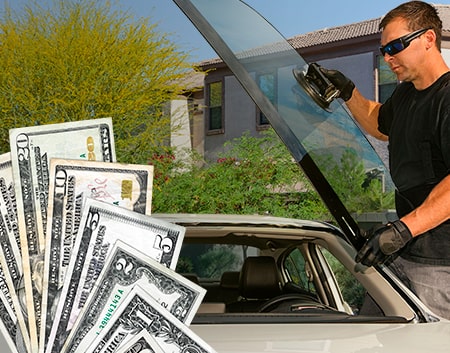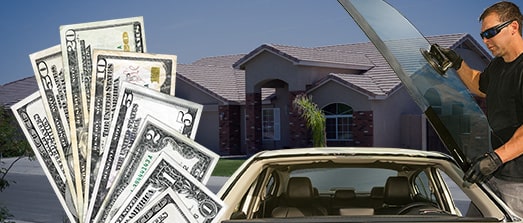 Windshield Replacement Florence AZ:

up to $275 Cash Back. BBB A+
Call the top Florence windshield replacement shop today for up to $275 free cash AND free chip repairs when you use insurance.
We also include a lifetime warranty with every Florence auto glass service. BBB A+. Call today for a free quote!
Or request a free quote
Join Hundreds of Our Florence Auto Glass Customers
Work With the Top Auto Glass Team in Florence and Get Cash Back
Florence drivers can get as much as $275 cash back when they choose us for their windshield replacement projects. We have been satisfying customers for 20+ years in Florence and the wider Valley.
Contact us today at 480.907.3982!
Glass Services From a BBB A+ Company in Florence
Thousands of drivers in Florence and the surrounding cities have chosen us over the past 2 decades. Our experienced technicians, flexible and free mobile service and unbeatable guarantees have earned us loyal customers throughout the metro area.
Free Mobile Service and a Lifetime Warranty
Our mobile services are available to all Florence customers without extra fees. 100% of our work and all our parts are under warranty for as long as you own your vehicle. When you work with us, we strive to provide complete convenience and peace of mind.
Our Company Now Offers up to $275 Cash Back
Cash Back Offer Details
Florence residents using insurance qualify for up to $275 in free cash.
The actual value of the deal depends on policy details and vehicle type.
One of the best cash back deals in Florence.
Includes $300 in chip protection for your new glass!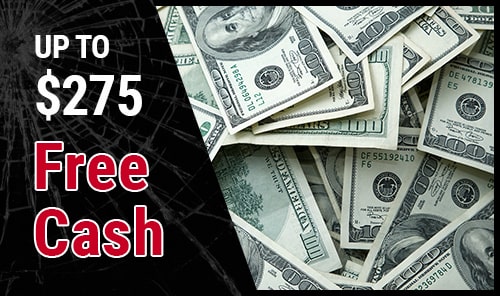 Why Choose Our Glass Pros for Your Replacement or Repair?
1
As Much as $275 Cash Back
Florence auto owners can choose to pay us through insurance or cover the service themselves out-of-pocket. Either way, we are the best place to replace windshield in Florence!
If you use insurance to cover windshield replacement, you qualify for up to $275 glass windshield money back, depending on your policy and vehicle model.
We offer excellent value to customers who pay themselves using credit cards, debit, checks, or cash. All our services, from windshield replacement to door glass or back window repair, are competitively priced. We will provide complete pricing details before we start working so you know exactly what you are getting.
2
Mobile Service in Florence and the Wider Valley Is Always Free
Regardless of your address, if you live in Florence, we can send our technicians right to your location on the same day or soon thereafter. We never charge more for mobile service and can respond rapidly if we have a team in the area, and your glass is in stock at our shop.
3
OEM Parts and Professionals With 3+ Years of Experience
We rely on the best parts (either OEM parts or OEM-equivalents) when replacing or repairing auto glass. Rapid-cure urethane adhesive ensures the glass remains secure and is street-ready as soon as possible.
Our technicians are some of the best in the business. Before they install a windshield for any of our clients, our techs need to have 3 or more years of professional experience. They have ANSI training, are fully licensed, and have the know-how to work with almost any type of vehicle. They can help with calibration and other preparations to ensure the new glass meets your exact specifications.
4
Pre-Approved to Work With Your Insurer
We already have the approval to work with all major auto insurance companies, and we can handle the details quickly so you can get the coverage you deserve and have a hassle-free windshield repair.
We can even help with policies requiring deductible payments. Often, we can help cover some or all of the cost so your out-of-pocket fee is as close to $0 as possible.
5
100% Warranties and 100% Peace of Mind
Our warranties cover parts and workmanship, and they last for the lifespan of your vehicle. How can we make such guarantees? Because we use superior glass, rely on the best techniques, and hire only experienced technicians, we have confidence that our work will outlive the other components in your vehicle.
Call us at 480.907.3982 for your windshield replacement today!
Our Technicians Come to You in Any Florence Neighborhood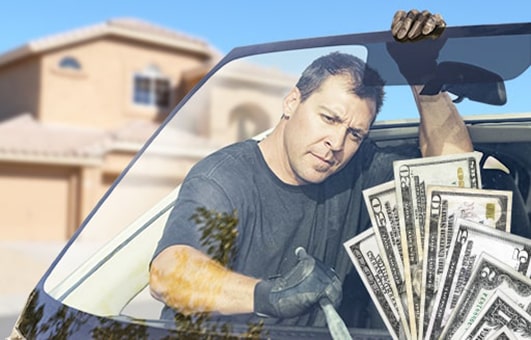 We can come to any address in Florence, and all areas of Greater Phoenix
The Florence Neighborhoods Where We Work Include:
Florence Gardens
Magic Ranch
Magma Ranch
Merrill Ranch
Avoid Windshield Damage in Florence, AZ
The main roads in Florence are State Routes 287 and 79. The risk of getting chipped or cracked auto glass is higher on these roads because of the speeds. However, there are some alternatives for avoiding these thoroughfares if you are traveling locally. The main streets where you can avoid the highway include E Adamsville Road, E Butte Ave, and, of course, Park Street and Main Street in the heart of town. If your glass gets chipped or cracked despite your best efforts to avoid road debris, reach out to our Florence shop right away. We can provide fast, guaranteed service to get you back on the road ASAP.
Florence Auto Glass FAQ
---
Can you tell me your process to get a new windshield in Florence with cash back?
Sure! There are 4 basic steps to get free cash with your new windshield in Florence:
1. Call our customer service team at 480.907.3982 or request a quote.
2. We will work with your auto insurance provider to set up a claim for your windshield replacement service.
3. We will schedule a mobile service to install your new windshield. We can have a technician meet you anywhere in Florence that works for you.
4. Get your free cash! After we've replaced your glass, we'll mail you a check for your free cash back amount.
Can you send a technician to meet me in Florence for my auto glass?
Yes, we sure can! We provide all our services including windshield replacement and auto glass repair to our customers in the Florence area.