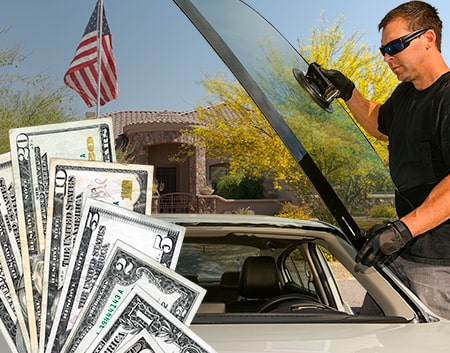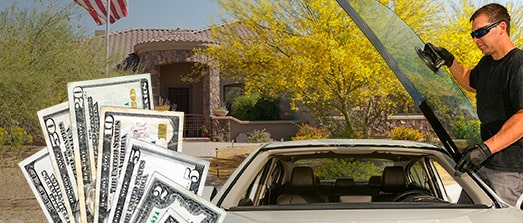 Windshield Replacement Litchfield Park AZ:

up to $275 Cash Back. BBB A+
The best deals for windshield replacement in Litchfield Park: up to $275 free cash PLUS free chip repairs with payment through insurance.
We also include a 100% lifetime warranty on all new Litchfield Park auto glass. BBB A+. Get a free quote now!
Or request a free quote
Join Thousands of Our Litchfield Park Auto Glass Customers
Auto Glass and Cash Back
Drivers who work with us get access to one of the best auto glass repair deals in Litchfield Park: Up to $275 cash back plus a 100% lifetime warranty and $300 of complementary chip insurance!
Call 480.907.3982 today!
Two Decades of Satisfied Litchfield Park Auto Glass Customers
Thousands of our satisfied customers are still relying on the auto glass we replaced for them. Since all our work is under a lifetime warranty, their satisfaction will continue for as long as they own their vehicle.
Free Mobile Service and Lifetime Warranties
We can come to any location in Litchfield Park and the wider Valley, and our technicians never charge extra to bring their services to you.
Yes, we have lifetime warranties on our work, but you can also get coverage that goes beyond this. Our $300 chip insurance can help your glass look like new indefinitely.
Up to $275 Cash Back for Litchfield Park Windshield Replacements
Cash Back Offer Details
Qualify for up to $275 cash back by using your insurance to cover the windshield replacement.
Cash amounts vary depending on your policy and vehicle.
Among the highest cash back in Litchfield Park.
$300 of chip insurance included.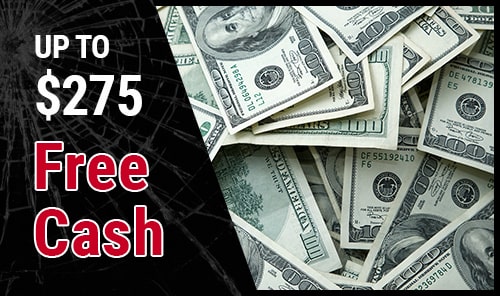 Why Choose to Get Your Glass Repair or Replacement from Us?
1
Up to $275 in Free Cash
Customers who use an insurance claim to cover the cost of their windshield get up to $275 money back windshield replacement, depending on their insurer and vehicle.
This is one of the best free-cash offers in Litchfield Park, but some customers will choose to pay out of pocket. We offer competitive pricing for drivers choosing to pay themselves with debit, credit, cash, or check.
In addition to windshield replacement, we also offer services covering all the other windows on your vehicle. Whatever auto glass service you need, we are the best windshield repair near me in Litchfield Park!
2
Reaching Litchfield Park and the Valley With FREE Mobile Service
In many cases, we can get a technician to your location the same day that you call us (depending on when you contact us and whether we have your glass in stock at our shop).
Mobile service is completely free. You get the same price that you would by bringing your car to our shop.
3
The Best Service and Parts
We only use approved parts, such as OEM parts or approved alternatives, in our work. You can be confident that you are getting the best glass options available.
Our technicians are also among the best at their profession. Before they repair or replace a windshield, they need to have at least 3 years of professional experience.
If you appreciate quality, we are your top choice in Litchfield Park. Call today!
4
Approved by Insurance Companies
Some drivers are understandably apprehensive about working with insurance providers. We are pre-approved to work with all major auto insurers, so we can handle all the paperwork and other aspects of the process. You can simply provide the details and then go about your day. Let us take it from there./p>
Another reason drivers are worried about working with insurers is that they have concerns about deductibles. If your policy requires a deductible payment, we might be able to help. In some instances, we can cover part or all of this payment so that you can avoid out-of-pocket expenses.
5
Our Work Is Always Fully Guaranteed
We have confidence in our technicians and parts choices, and we're sure enough that we offer complete warranties on both materials and labor.
This is a limit-free guarantee that lasts for as long as you own the vehicle.
Serving Litchfield Park, AZ, & All Nearby Areas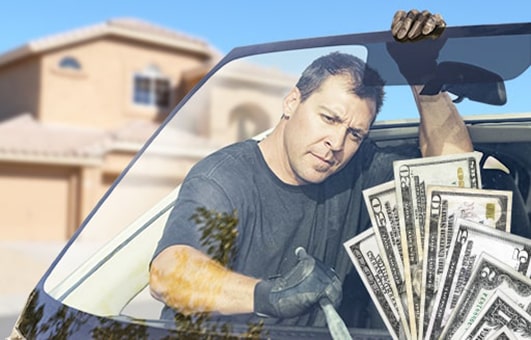 Our technicians can come to your home or business anywhere in Litchfield Park or the Phoenix Valley.
The Litchfield Park neighborhoods where we work include:
Cachet at the Wigwam
La Casa Linda Condos
Litchfield Greens
Plaza in the Park
Renaissance Villas on the Park
Tierra Verde
Village and Litchfield Park
Villas at Litchfield Park
Avoid Windshield Damage in Litchfield Park
You are more likely to experience windshield damage when traveling through the main thoroughfares of Litchfield Park. Camelback Road, Dysart Road, and N. Litchfield Road are some of the most common culprits when it comes to glass cracks and chips. Some quieter streets, such as Old Litchfield Road, Wigwam Blvd, and Villa Nueva Drive, may have less traffic and fewer instances of road debris flying into your windshield. If your glass does get damaged, you want to rely on a trustworthy company like ours with a proven track record and lifetime warranty. Call us today to get the qualities you need in an auto glass repair company!
Litchfield Park Auto Glass FAQ
---
I'm interested in replacing my windshield in Litchfield Park and getting cash back. How does it work?
Great! There are 4 steps to getting free cash with a new windshield in Litchfield Park:
1. Call us at 480.907.3982 or request a quote.
2. We will set up a claim for your new glass with your auto insurance provider. In most cases, the claim will cover the whole cost of the service.
3. Then we'll schedule your mobile auto glass appointment to install your new windshield.
4. Get your cash! Finally, we'll mail you a check that you can deposit or cash to get your free cash.
What auto glass services do you offer in Litchfield Park, AZ?
Our technicians can take care of any broken auto glass with a mobile service right to you in Litchfield Park. Minor damage can often be repaired if it's caught in time, or we can also do a full auto glass replacement in Litchfield Park for glass with more serious damage.