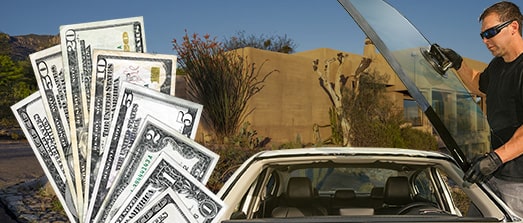 Windshield Replacement & Auto Glass

Repair in Fountain Hills, AZ. BBB A+
Get your windshield replaced in Fountain Hills and receive up to $275 cash back with insurance.

Pinnacle Auto Glass is BBB A+-rated for quality, and we include a 100% lifetime warranty on every Fountain Hills auto glass service. Call now!
Or request a free quote
The #1 Auto Glass Company in Fountain Hills
Choose the Fountain Hills Cash Back Experts
The Pinnacle Auto Glass team is the #1 choice for a great windshield replacement in or around Fountain Hills with great free cash back.
Call Pinnacle Auto Glass at 480.907.3982 today for your auto glass needs and take advantage of 20+ years of auto glass experience, 750,000+ windshield replacements for customers around the Valley, and more than $10 MILLION paid in cash back.
Fast, Convenient Service 7 Days a Week
Is there a chip or crack on your windshield that you'd like fixed in the Fountain Hills area? We are open 7 days a week, so we can get you scheduled quickly — sometimes even the same day.
Up to $275 Cash Back with New Windshield in Fountain Hills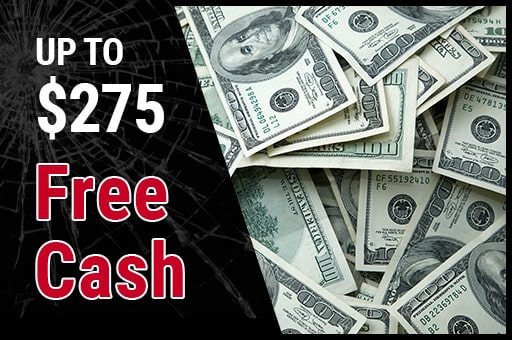 Cash Back Offer Details
Get up to $275 cash back with Fountain Hills windshield replacement using insurance
Cash back varies based on vehicle & insurance
Among Fountain Hills's highest cash back amounts
All insurance accepted for your convenience
Plus, get free mobile service anywhere in Fountain Hills or Valley-wide
Why Choose Us for Your Repair or Replacement in Fountain Hills?
1
Up to $275 FREE CASH with Any Windshield Replacement Using Insurance
Our company consistently offers some of the highest windshield cash back in the Fountain Hills area and all Greater Phoenix.
Right now, we are offering up to $275 cash back with insurance for residents of Fountain Hills and Maricopa County, AZ.
2
FREE Mobile Auto Glass Service in Fountain Hills and Greater Phoenix
We include free mobile service to any location you'd like with every auto glass replacement or windshield repair in Fountain Hills.
Our mobile technicians can meet you at any location in Greater Phoenix for either an auto glass repair or auto glass replacement service.
3
Quality Materials and Experience on Every Auto Glass Service
We use quality materials with every auto glass repair and windshield replacement. Materials we use include OEM or equivalent windshields and fast-curing urethane sealant for our windshield replacements.
We also require every one of our mobile auto glass technicians to have more than 3 years of industry experience performing windshield repair, windshield replacement, door window repair and other auto glass services.
We don't offer power window repair in Fountain Hills at this time, but we will be happy to replace your side door window glass or your rear window glass. We can work on any make or model of passenger vehicle made since 1981.
4
Preapproved by Insurance Companies
Most of our Fountain Hills auto glass customers choose to pay for their services using their auto insurance company.
We work with all insurance companies, and we're preapproved by the major ones. Our customer service team are experts in the insurance claim process and in keeping your out-of-pocket price at $0 or as close to $0 as possible.
5
100% Lifetime Warranty on Every Auto Glass Repair and Replacement
We are a family-owned business focused on quality and value for our customers. To ensure quality and customer satisfaction with every service, our company include a 100% warranty that's good for the lifetime of your vehicle.
Our extended lifetime warranty covers any issues with the labor, workmanship and materials of your Fountain Hills auto glass repair or auto glass replacement.
Meet Your Tech Anywhere in Fountain Hills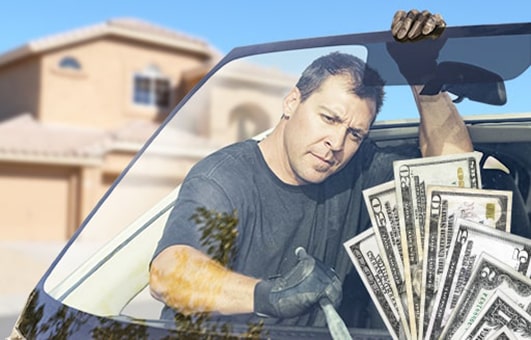 We can send a technician to meet you anywhere in Fountain Hills or Vallley-wide to fix your glass.
Popular Fountain Hills Neighborhoods We Service:
Avoid Windshield Chips in Fountain Hills
High-speed roads and freeways are notorious culprits for windshield damage. Try avoiding Shea Blvd in Fountain Hills if you can and choosing slower streets instead. Your windshield will thank you!
Auto Glass Prices in Fountain Hills
Average Cost of Auto Glass Services in Fountain Hills
The table beneath shows average costs from our quote database for various auto glass services in the Fountain Hills area.
Service
Average Price*
Low Price*
High Price*
Windshield Replacement
$310
$170
$895
Side Window Replacement
$205
$170
$310
Rear Window Replacement
$365
$195
$630
Auto Glass Replacement Pricing Estimates for Popular Vehicles in Fountain Hills
Windshield and auto glass prices vary by vehicle details including year, make and model, and features like ADAS.
To get an idea of prices, the table below shows estimated prices to replace the windshield or auto glass on some common vehicles in Fountain Hills.
Vehicle
Glass Type
Estimated Price*
2011 Chevrolet Tahoe 4 Door Utility
Front
$290
2014 BMW Alpina B7 4 Door Sedan
Front
$500
2015 Mini Cooper Hardtop 2 Door Hatchback
Front
$325
2020 Nissan Maxima 4 Door Sedan
Front
$415
*Prices are estimates only. Final price depends on vehicle.
Fountain Hills Windshield FAQ
---
What's the average cost of a Fountain Hills windshield replacement service?
On average, a new windshield in Fountain Hills costs $280-$410 for customers who pay themselves.
For customers who use insurance, the average cost is close to $0 since they only have to cover their insurance deductible and most policies in Arizona don't have one.
Can I get cash back for a windshield replacement in Fountain Hills?
Yes, if you use your car insurance to pay for the service. We offer up to $275 for insurance customers, with the average cash back amount in Fountain Hills ranging between $60-$115. The exact amount you can get is determined by your vehicle and insurance.
Is same day auto glass replacement available for customers in Fountain Hills?
We can often schedule your service the same day if we already have your glass in stock and we a have a technician who will be in your area with an opening in their schedule.
If you drive a common vehicle like a Chevrolet Camaro and you want to meet in a popular spot like Firerock for your service, there's a greater chance we can do your service today.
Does your service area for mobile auto glass replacement cover anywhere in Fountain Hills?
Yes, we meet our customers throughout Fountain Hills. We can come right to your work, home or anywhere else in any Fountain Hills neighborhood like Eagle Mountain, Sunridge Canyon or Firerock.