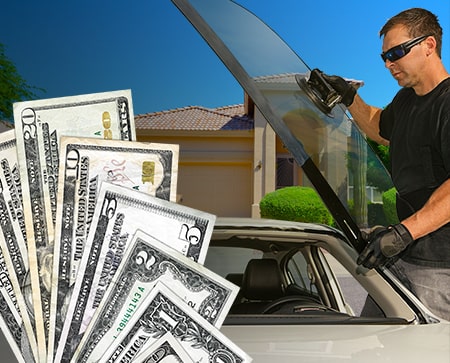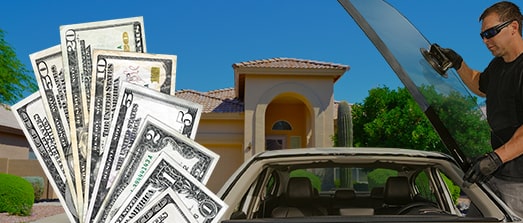 Windshield Replacement & Auto

Glass Repair in Peoria, AZ. BBB A+
Choose our shop for your windshield replacement in Peoria and get up to $275 cash back with insurance payment.

You'll also get a 100% warranty on your Peoria auto glass service, backed by our BBB A+ shop. Get a free quote today from Pinnacle Auto Glass!
Or request a free quote
The #1 Auto Glass Company in Peoria
$10+ Million Paid to Peoria and Valley Customers
When Peoria residents need a repair or a windshield replacement with great free cash back deals, they call Peoria's #1 auto glass company, Pinnacle Auto Glass!
We have paid out $10+ MILLION in cash back and performed over 750,000 windshield replacements and repair services in Peoria and the Phoenix Area.
Family-Owned with Decades of Experience
We are a family-owned mobile auto glass business with over 20 years of experience providing auto glass replacement and auto glass repair services in Peoria and the Valley.
With decades of experience and hundreds of thousands of Valley customers, we make fixing your auto glass in Peoria fast and convenient.
Up to $275 Cash Back with New Windshield in Peoria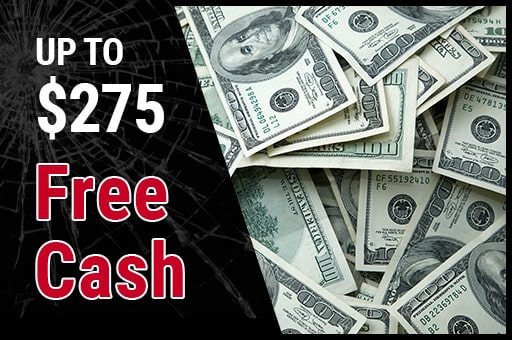 Cash Back Offer Details
Get up to $275 cash back with Peoria windshield replacement service using insurance
Cash back varies based on vehicle & insurance
Among Peoria's highest cash back amounts
Pre-approved for insurance by all major providers
Includes free mobile service in Peoria or Valley
Why Choose Us for Your Repair or Replacement in Peoria?
1
Up to $275 FREE CASH to Replace Your Windshield
We consistently offer some of the best auto glass cash back amounts in Peoria and the Valley.
Get up to $275 when you replace your windshield using your insurance company. Our cash back offer is available not just in Peoria, AZ, but for drivers anywhere in the Phoenix area.
2
Mobile Service for FREE Anywhere in Peoria and the Valley
We know that everyone has busy schedules and it can be inconvenient to try and fit a glass appointment into your daily routine. When you call to schedule your auto glass appointment, simply let your customer service representative know your desired service location and time in Peoria, AZ.
One of our mobile technicians will then meet you there for your windshield replacement or windshield repair.
3
Quality-Focused Auto Glass Service
We focus on all aspects of your auto glass repair or replacement service to help ensure quality and customer satisfaction.
We use good materials like OEM or OEE windshields and premium, quick-drying urethane with all our windshield replacements. Plus, unlike most other auto glass repair companies, we require every one of our auto glass technicians to have at least 3 years of hands-on experience.
We offer side window replacement (or replacement power window services) but we don't currently offer power window repair. Door glass and rear window glass is tempered instead of laminated, so it can't be repaired for window repair safety.
4
Accepted by All Insurance Companies
Most of our Peoria auto glass customers use their auto insurance to pay for their auto glass repair or windshield replacement service, but the insurance process can sometimes be confusing.
We can work with any insurance provider for your repair or windshield replacement, and we are experts in the claims process. We bill your insurance provider directly and handle the repair claim for you.
5
100% Lifetime Warranty Protection with Every Repair and Replacement
All our auto glass and windshield services include a powerful, lifetime warranty good throughout the entire state of Arizona and the United States.
In the event of any issues with your windshield repair or replacement service, you'll have 100% warranty coverage on all work performed for the lifetime of your vehicle.
Call Pinnacle Auto Glass at 480.907.3982 today to speak with the auto glass experts in our customer service center and schedule your mobile auto glass appointment!
Schedule Your Mobile Appointment Anywhere in Peoria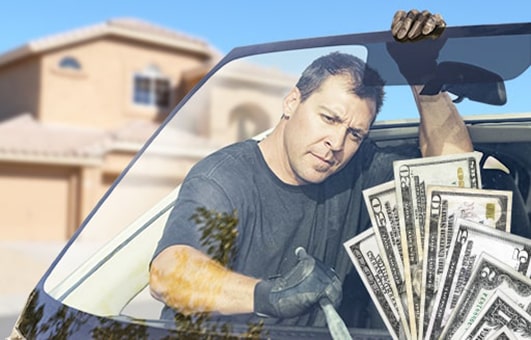 Choose the best spot for you to fix your glass in Peoria or Valley-wide and we'll meet you there
Popular Peoria Neighborhoods We Service:
Avoid Windshield Chips in Peoria
Choosing surface streets instead of freeways is the key to keeping your windshield undamaged. Happy Valley Rd and Lake Pleasant Pkwy are great options to get around Peoria.
Peoria Windshield FAQ
---
How much does it cost for a windshield replacement in Peoria?
The cost to get a new windshield in Peoria depends on if you pay through your car insurance or if you pay out-of-pocket.
Most customers using insurance will pay $0 unless their policy has a deductible.
Customers paying out-of-pocket pay on average $245-$385.
Does a Peoria windshield replacement qualify for the cash back offer?
Yes, Peoria customers who use insurance get $55-$105 on average, with max amounts up to $275.
The vehicle and insurance policy determine the actual amount for each customer.
Do you have same day availability for auto glass replacement in Peoria?
Yes, we have limited same day appointments in Peoria. We need to have the right glass in stock and a technician in your desired area, so it's not always possible to meet the same day.
If you have a popular car like a Chevrolet Camaro or a Jeep Compass and you want to meet in a popular spot like the Peoria Sports Complex or Historic Old Town, then there's a good chance we can meet you today.
Where should I meet my technician in Peoria for my auto glass replacement?
Our service area covers all Peoria neighborhoods, from Cibola Vista to Foxfire to Westwing Mountain and more. Whereever you want to meet your technician in Peoria, we can do it.