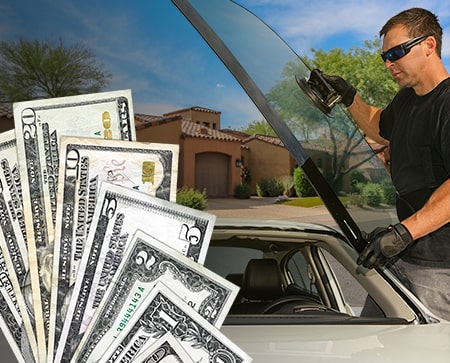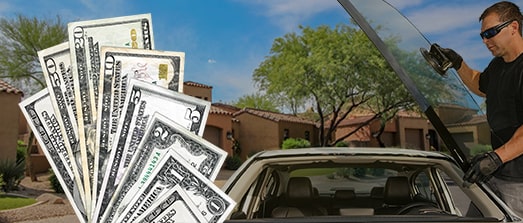 Scottsdale Windshield Replacement:

up to $275 Cash Back. BBB A+
Schedule an appointment with the top windshield replacement shop in Scottsdale. Get up to $275 free cash back with insurance.
Every Scottsdale auto glass service is backed by our 100% warranty and BBB A+ quality. Call Pinnacle Auto Glass today for your free quote!
Or request a free quote
23,300+ Scottsdale Windshield Replacement & Windshield Repair Customers
Scottsdale's Best Cash Back Deals
Call our auto glass company today for a quality windshield repair or windshield replacement Scottsdale AZ. You'll get professional service at any location in Scottsdale or around the Valley, plus great free cash back deals up to $275 back!
The Experience to do a Great Job on Your Glass. BBB A+
With more than 20 years of experience and tens of thousands of Scottsdale auto glass customers, our team of repair and replacement experts has the skill and experience to do a great job on your auto glass in Scottsdale.
Give Pinnacle Auto Glass a call now for all your Scottsdale windshield replacement and auto glass needs! Our shop can often schedule a professional, mobile service the same day you call in (or in just a day or two).
Up to $275 Free Cash Back with Windshield Replacement Scottsdale AZ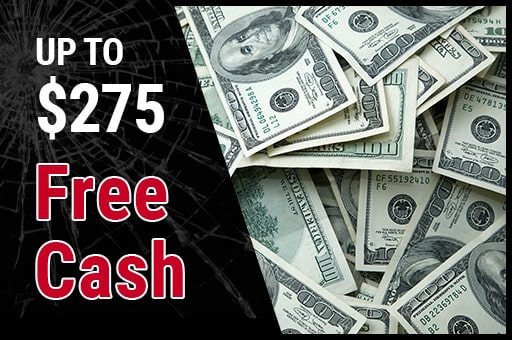 Cash Back Offer Details
Get up to $275 cash back with windshield replaced through insurance in Scottsdale or the Valley
Cash amount varies based on vehicle & insurance
Among Scottsdale's best cash amounts
Why Choose Us for Your Auto Glass Repair or Windshield Replacement
1
Up to $275 FREE CASH with Windshield Replacement
Our Scottsdale customers get up to $275 windshield replacement cash back when they replace their windshield in Scottsdale, Arizona, or the Greater Phoenix Area through insurance.
Prefer to pay for your service out of pocket? Or just need a windshield repair? Our shop has some of the best auto glass prices in Scottsdale for glass repair or complete replacement service.
We accept all major forms of payment for your repair or replacement in Scottsdale, including cash, card or check.
2
FREE Mobile Service to You in Scottsdale or Valley-Wide
Our auto glass repair company Phoenix mobile repair technicians come right to your home, work or anywhere else for your windshield repair or auto glass replacement in Scottsdale, Arizona. We can also meet you anywhere else around the Valley if you need a replacement or glass repair somewhere else around town instead of in Scottsdale.
3
Quality and Expertise with Every Service
Quality and safety are important to us with every repair and replacement service we perform in Scottsdale or Valley-wide. Our goal is to make sure your windshield repair service is done properly. If a replacement is required, we want to make sure we do a great job on that as well.
For this reason, our shop technicians have a minimum of 3 years of experience replacing windshields and performing auto glass repair, and we use materials like OEM or equivalent auto glass and premium urethane adhesives to ensure quality work.
If your vehicle requires calibration after we install your new windshield, we can help you with windshield calibration.
4
Insurance Company Approved
Our shop is approved by all auto insurance companies and we make insurance claims quick and easy for your glass repair or replacement service in Scottsdale.
Our shop will bill your insurance provider directly for our services, so most customers pay $0 out of pocket cost for either auto glass repair or auto glass replacement in Scottsdale, AZ.
5
Customer Satisfaction Guaranteed
For window repair safety and peace of mind, our shop includes a 100% warranty on every Scottsdale auto glass repair or replacement service that covers both materials and labor.
It doesn't matter how long it's been since your service. If you find a problem after one of our services, please call Pinnacle Auto Glass right away and we'll be happy to take care of it!
Windshield & Auto Glass Services for All Communities in Scottsdale, AZ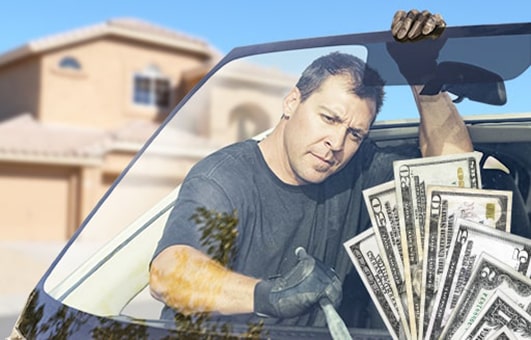 We can meet you anywhere in Scottsdale to fix your glass with our professional repair or replacement services.
Popular Scottsdale Neighborhoods We Service:
Avoid Windshield Chips in Scottsdale
The main cause of windshield chips in Scottsdale is driving on Loop 101. Once you get your auto glass fixed, try using Hayden Rd instead when you're driving in Scottsdale to reduce your chances of annoying rock chips in your new glass! If your auto glass gets broken and you need an auto glass repair windshield replacement service, give us a call right away. We can often schedule your repair or replacement the same day you call in!
Scottsdale Auto Glass FAQ: Your Repair & Replacement Questions Answered
---
What is the process for getting free cash back with a new windshield in Scottsdale, AZ?
There are 4 simple steps to get a new windshield plus cash:
1. Call us at 480.907.3982 or request a quote.
2. We'll handle your claim with your insurance provider.
3. We'll meet you anywhere in Scottsdale, AZ or Valley-wide to install your windshield or perform any other services you need for your auto glass.
4. Get your free cash! We'll mail you a check for your cash within 14 business days of your service. Once your check arrives, deposit it or cash it!
What types of Scottsdale auto glass services do you offer?
All of them! From replacing your front windshield to car door glass to rear windshield, we can fix any broken glass on your car, truck or SUV in Scottsdale!
Note that we only do auto glass work. We can install a replacement power window on your vehicle in Scottsdale or around the Valley, but we don't currently offer power window repair.