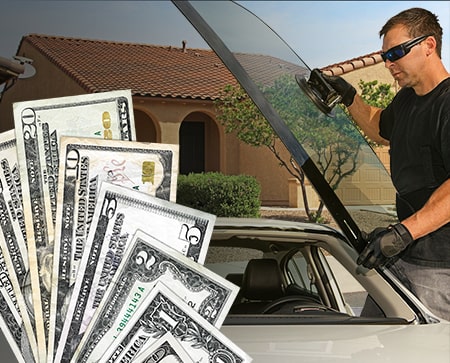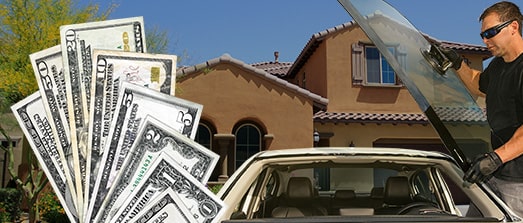 Windshield Replacement & Auto

Glass Repair in Mesa, AZ. BBB A+
Get a windshield replacement in Mesa through your insurance & receive up to $275 free cash!

You'll also receive a 100% lifetime warranty on your new Mesa auto glass from our BBB A+ shop. Call Pinnacle Auto Glass today for a free quote!
Or request a free quote
The #1 Auto Glass Company in Mesa
Serving Mesa, AZ, & Surrounding Areas for 20+ Years
If you're looking for an auto glass company in Mesa with great cash back deals, you've come to the right place to fix your cracked windshield!
Our company provides mobile auto glass services in Mesa and throughout Greater Phoenix. We have been repairing and replacing windshields in Mesa for more than two decades.
Mesa's Best Windshield Replacement & Repair
Our auto glass specialists can expertly fix your broken auto glass in Mesa and get you back on the road fast with a quality repair or auto glass replacement.
Call Pinnacle Auto Glass at 480.907.3982 today to schedule your service and find out why we're better than the other windshield repair and windshield replacement companies.
Up to $275 Free Cash Back with New Windshield in Mesa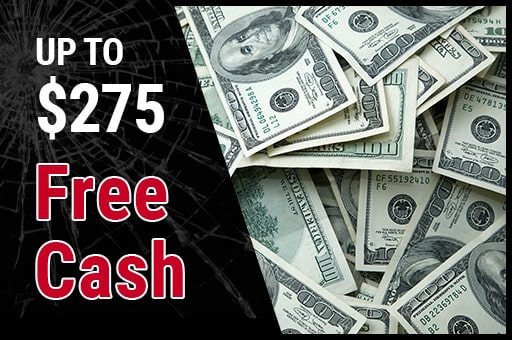 Cash Back Offer Details
Get up to $275 FREE cash for replacing your front windshield using insurance
Cash varies based on vehicle & insurance
Among Mesa's highest cash amounts
We accept all insurance coverage
Free mobile auto glass service included
Why Choose Us for Your Replacement or Repair in Mesa?
1
Up to $275 FREE CASH with New Front Windshield
When you use your insurance to replace your broken windshield in Mesa with Pinnacle Auto Glass, you'll qualify for the best cash back offer in Arizona!
For our Mesa auto glass customers who prefer to pay for their new glass out-of-pocket, we have some of the cheapest auto glass prices in Mesa, Arizona.
2
FREE Mobile Service Near You in Mesa & Valley-Wide
Our mobile technicians provide quality mobile windshield replacement services in Mesa and in all surrounding locations around Greater Phoenix, with same day glass repair services available for many locations.
Mesa is the largest city in the Southeast Valley, and one of the fastest growing cities in the country. Our mobile technicians can meet you for your service at any nearby location like Apache Junction, San Tan Valley or Queen Creek. We also meet Arizona residents at other Valley locations like Cave Creek.
In many cases, we can offer same day service in Mesa or throughout Phoenix, AZ! Same day availability varies according to what replacement glass you need and where you want to meet your technician.
3
Licensed and Insured, BBB A+
We are a BBB-accredited shop with an A+ rating from the Better Business Bureau.
Our auto glass technicians are trained to ANSI standards, and they are licensed and insured to repair or replace your broken windshield. We also require all our technicians to have at least 3 years of auto glass experience.
4
Approved by All Insurance Providers
Most Mesa residents pay for their auto glass replacement or windshield repair in Mesa, Arizona, using their auto insurance policy.
We accept all insurance, and we handle all the insurance claim paperwork for you.
In addition to car windshield replacements, we also perform side window replacement for all modern vehicles. We can install a replacement side window for you and it will be covered by most policies. (Glass replacement for side and rear car windows doesn't qualify for replacement cash back. Windshield replacement cash is only available for front replacements.)
5
100% Lifetime Warranty on All Windshields & Auto Glass
We know issues sometimes happen, so we include a 100% lifetime warranty with every replacement and repair service in Mesa, AZ.
We are proud of our auto glass services, and we want to make sure every customer receives great service and the highest quality repair or replacement.
We are ready to help Mesa residents with all your windshield replace needs! Call Pinnacle Auto Glass at 480.907.3982 now to get started!
Meet Your Technician at Any Location in Mesa, AZ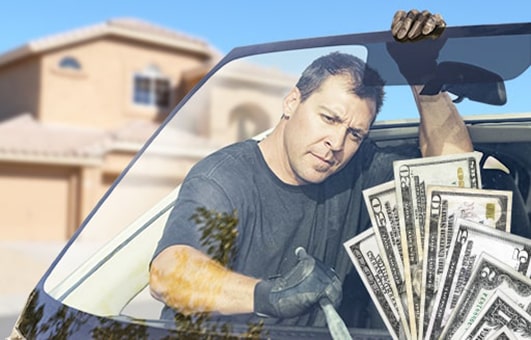 Choose anywhere in Mesa or Valley-wide to fix your glass.
Popular Mesa Neighborhoods We Service:
Avoid Windshield Chips in Mesa
There are few things more annoying than getting a chip or crack on brand new glass. Ditch the US 60/Superstition Fwy and Loop 202 when you can to avoid unnecessary glass damage.
Auto Glass Prices in Mesa
Average Cost of Auto Glass Services in Mesa
The following table shows average costs from our auto glass quote database for various services in Mesa.
Service
Average Price*
Low Price*
High Price*
Windshield Replacement
$270
$130
$1580
Side Window Replacement
$220
$120
$680
Rear Window Replacement
$335
$130
$835
Auto Glass Replacement Pricing Estimates for Popular Vehicles in Mesa
Auto glass is priced differently from vehicle to vehicle based on the vehicles specifications and features.
The table below shows estimated prices for replacing glass on some popular Mesa vehicles.
Vehicle
Glass Type
Estimated Price*
1995 Chevrolet G Series Van Van
Front
$235
1997 Toyota Tercel 2 Door Sedan
Quarter
$220
2003 Mitsubishi Eclipse 2 Door Coupe
Front
$225
2008 Chevrolet Impala 4 Door Sedan
Front
$235
2012 Honda Civic 4 Door Sedan
Front
$265
2015 Jeep Grand Cherokee 4 Door Utility
Front
$400
2015 Toyota Corolla 4 Door Sedan
Front
$240
2017 Ford F Series F150 2 Door Standard Cab
Front
$320
2017 Nissan Pathfinder 4 Door Utility
Front
$375
2018 GMC Acadia 4 Door Utility
Front
$410
2018 Jeep Compass MP 4 Door Utility
Front
$420
*Prices are estimates only. Final price depends on vehicle.
Mesa Windshield FAQ
---
What is the average cost of a windshield replacement in Mesa?
The average cost to get a new windshield installed in Mesa is $150-$350 for out-of-pocket payment.
For Mesa customers using their auto insurance to cover their service, the cost is $0 in most cases. Some policies have a deductible, but we can often pay some or all of the deductible amount.
How much free cash back will I get paid for my Mesa windshield replacement?
Mesa customers receive $50-$100 on average when they get a new windshield using insurance for payment.
The max cash back amount is $275. The cash amount you receive varies based on your vehicle and your insurance policy.
Can you meet me the same day in Mesa for my auto glass replacement?
Yes, we often have some same day auto glass appointments available in Mesa.
In order to meet you the same day for your service, we need to have your vehicle's glass in stock and a technician in the area where you want to have your glass fixed.
If you have a popular vehicle like a Kia Forte or a Jeep Wrangler and you'd like to meet you in a busy Mesa location like Superstition Springs or Mesa Riverview, there's a good chance we will be able to fix your glass today.
Where can I schedule my auto glass replacement service in Mesa?
Our technicians meet customers anywhere throughout Mesa.
Choose a popular shopping spot for your mobile auto glass appointment like Dana Park, a local park like Red Mountain Park, any business along a popular Mesa road like Power Rd, or your home or work.