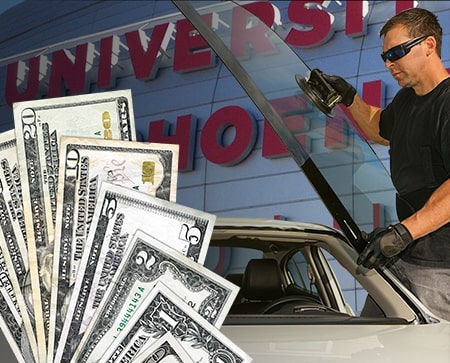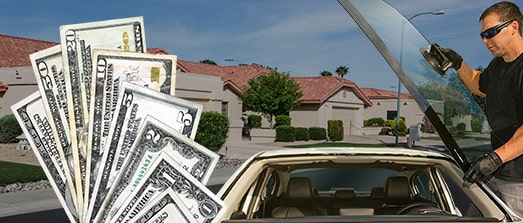 Windshield Replacement & Auto

Glass Repair in Glendale, AZ. BBB A+
Windshield replacement in the Glendale area with the best deals: up to $275 free cash with insurance.

100% lifetime warranty on all Glendale auto glass and BBB A+-rated for your peace of mind. Get a free quote today from Pinnacle Auto Glass!
Or request a free quote
The #1 Auto Glass Company in Glendale
Lifetime Warranty, Mobile Service and Great Cash Back in Glendale
Fix your auto glass fast and get Glendale's best cash back deals when you choose Pinnacle Auto Glass for your windshield replacement!
We include a lifetime warranty with every repair or replacement, plus free mobile service anywhere you'd like in Glendale or the Phoenix area.
Expert Windshield Replacement & Repair in Glendale
To keep your vehicle operating safely, it's important to get chips and cracks in your windshield fixed promptly. Our team of skilled technicians provides expert windshield replacement and repair services in Glendale so you and your family stay safe in your vehicle.
With 750,000+ customers in Glendale and around the Valley, we have the experience and skills to take care of all your auto glass needs.
Call Pinnacle Auto Glass at 480.907.3982 today and get a free quote to fix your auto glass in Glendale!
Up to $275 Cash Back with New Windshield in Glendale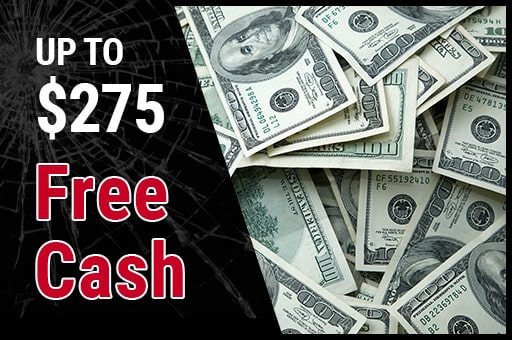 Cash Back Offer Details
Get up to $275 cash back with insurance windshield replacement (not available with repair)
Cash back varies based on vehicle & insurance
Among Glendale's highest replacement cash back
All insurance accepted
Plus, you'll receive free mobile service in Glendale or Valley
Why Choose Us for Your Repair or Replacement in Glendale?
1
Up to $275 Windshield CASH BACK
Our auto glass company's cash back amounts for replacement are consistently among the highest in Glendale and the entire Phoenix area!
We are now offering up to $275 cash with any Glendale front windshield replacement that uses your auto insurance company for payment.
If you don't have insurance coverage, we also have some of the cheapest windshield replacement prices in Glendale for customers paying out-of-pocket for repair or replacement.
2
FREE Service Anywhere in Glendale or around the Phoenix Area
Mobile service near me in Glendale or Valley-wide is included at no charge with all our auto glass services including windshield repair or replacement. We can meet you at any location you find that works best for you!
We can schedule your auto glass repair or windshield replacement appointment 7 days a week in Glendale, often the same day you call us!
3
Quality Parts and Expert Auto Glass Repair and Replacement
Our auto glass repair technicians are all required to have 3 or more years of auto glass experience performing windshield repairs and windshield replacements.
Our shop uses quality replacement parts for all our professional auto glass services in Glendale such as fast-drying urethane sealant and OEM or equivalent windshields.
4
We Work with All Insurance Companies
Insurance claims for windshield repair or replacement can be confusing. When you get your Glendale auto glass repair done through insurance, we handle the whole process for you and our company gets directly paid by your provider.
Most Glendale customers don't pay anything out of pocket for their auto glass replacement service.
5
Lifetime Warranty on All Auto Glass Services
Every auto glass service we provide in Glendale comes with our 100% lifetime warranty to ensure service quality and customer satisfaction. Our warranty is one of Arizona's best for windshield repair and replacement! It covers any parts or labor issues for the life of your vehicle.
Meet Your Glass Technician At Any Glendale Location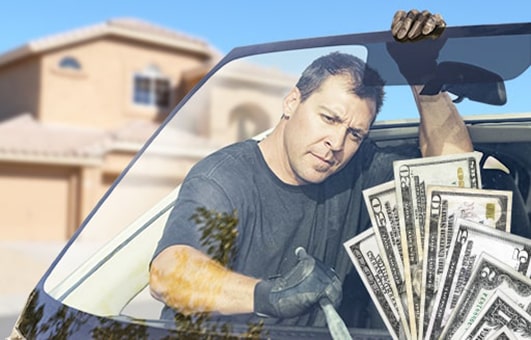 We can meet you at any place in Glendale or throughout the Valley to fix your glass.
Popular Glendale Neighborhoods We Service:
Avoid Windshield Chips in Glendale
Don't ever drive on Loop 101 in Glendale! Well, that may be a little extreme. Freeways and large trucks are the primary enemies of windshields, so if you can use a surface street alternative in Glendale then glass chips will be a lot less likely.
Glendale Windshield FAQ
---
How much will I pay for a Glendale windshield replacement?
If you use your insurance for payment, your cost will be $0 unless your policy has a deductible. If you have a deductible, we can pay it for you in many cases.
If you pay out of pocket, the average cost for Glendale customers to get a new windshield is $240-$410.
What kind of cash back can I get for a windshield replacement in Glendale?
Our Glendale customers receive $60-$120 on average for a new windshield through insurance, with the highest amount possible being $275.
Exact amounts for each customer are determined by vehicle details and insurance policy coverage.
Can I have a technician meet me today in Glendale for my auto glass replacement?
We can schedule your appointment today in some cases.
In order to do so, we need to have the correct glass in stock for your vehicle and a technician in the area where you'd like to meet for your service.
Popular vehicles like the Chevrolet Tahoe or Volkswagen Tiguan and popular Glendale spots like Arrowhead Mall or Westgate Entertainment District have the best chance of a same day appointment.
Can I schedule my auto glass replacement appointment anywhere in Glendale?
Yes, choose any spot in Glendale for your appointment. The two most common places we meet customers are their work or their home, so we're familiar with all the major Glendale neighborhoods like Arrowhead Ranch, Arrowhead Lakes, Marshall Ranch and Cortina.