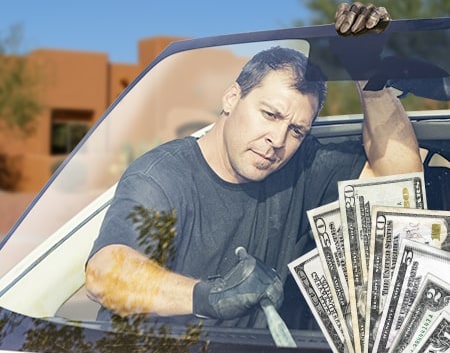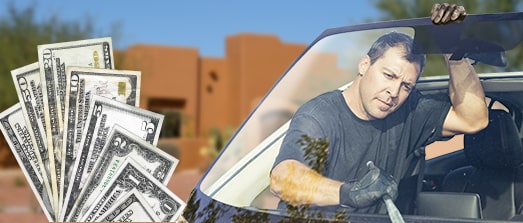 How Windshield & Auto Glass Claims

Work: Pay $0 & Free Cash
Learn how the claims process works so you can get your windshield or auto glass fixed for $0 AND get free cash back!
Most Pinnacle Auto Glass customers with insurance pay $0 out of pocket. ALL customers get a 100% lifetime warranty and BBB A+ quality.
Or request a free quote
What Types of Damage Does Insurance Cover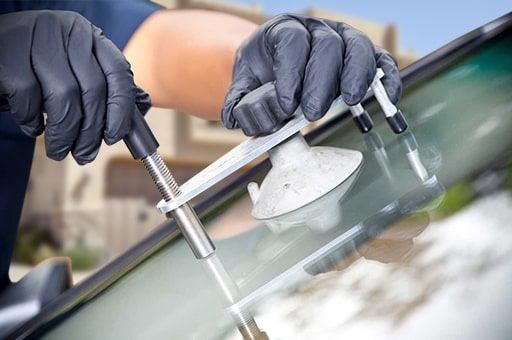 Most Policies Cover the Entire Cost of Any Repairs
Windshield repair is covered by insurance policies with glass coverage.
If your damage is repairable, we can perform a windshield glass repair at any location around town at no cost to you.
Most Policies Cover Replacements but May Have a Deductible
If you have significant damage requiring a complete replacement, that will also be covered by your policy in most cases.
Most of the time there will not be a deductible. This means that your insurance company will pay all of the cost of the repairs.
Some policies do include a deductible, but if we replace your windshield Pinnacle Auto Glass will often be able to pay some or all of it for you! This will help ensure your cost stays as close to $0 as possible!
Verifying Your Damage to Get Approved for Replacement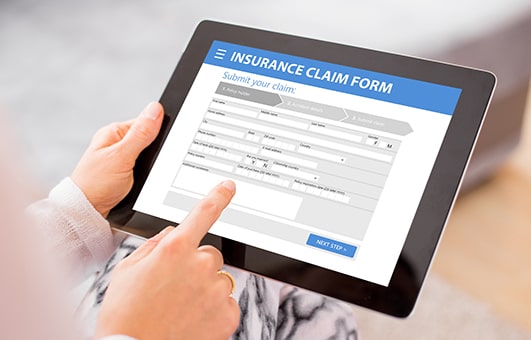 To help prevent fraud, most insurance companies today have a verification process you will need to complete in order to have your replacement approved.
Verification is normally done with a special app on your phone or tablet:
The process involves installing the app, taking pictures of the damage, and submitting it for approval.
The insurance company will then review the damage and let you know if it's approved for a total replacement.
The whole process generally takes less than an hour from when you submit the damage to getting it approved.
IMPORTANT
Insurance companies often try very hard to get you to accept a repair even if you have significant damage like 4 or 5 chips. You don't need to accept their "recommendation" for a repair if you would rather have a new windshield. In most cases with multiple chips or other significant damage, you can simply let them know firmly that you want a new windshield.
3-Way Phone Call to Set Up Your Claim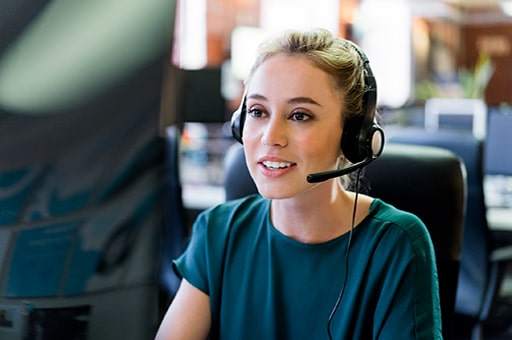 When you call Pinnacle Auto Glass to set up your glass service, we will initiate a 3-way call with a representative from your insurance company:
During this call, we will set up the insurance claim and schedule your mobile service appointment. This call normally takes about 10-15 minutes from start to finish.
Once your claim is started and your service appointment scheduled, then you'll just need to complete the verification process on the phone app to get your windshield approved for replacement. This normally takes about 5-10 minutes.
Choose the Valley's Experts for Your Repair or Replacement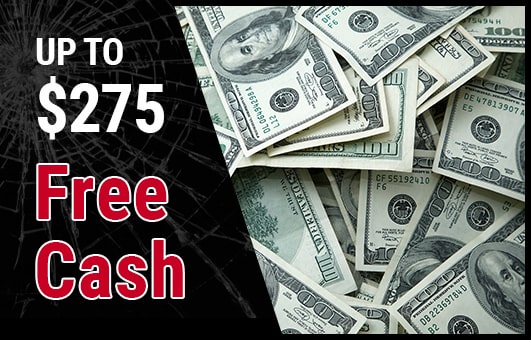 We offer expert windshield repair and replacement for the laminated glass on your vehicle, plus we can replace door windows or other tempered glass.
Eligible for Special Offers Like Cash Back
If your windshield can't be repaired and needs to be replaced, use your insurance and you'll be eligible for our special offers including cash for windshield replacement!
We Work with All Insurance Companies
We can work with any company your car is insured through.
Over the years we've worked with all the major insurance companies here in Arizona, plus most smaller ones as well.
Here are some of the major insurance companies we work with, and some observations we have from working with them.
Allstate
Allstate is a large car insurance provider that is almost 100 years old. It was originally founded by the Sears company and sold its insurance products through the famous Sears catalog. In 2021, it wrote $27+ billion in premiums, making it the fourth-biggest provider of car insurance in the US1.
Getting your windshield replaced or repaired with Allstate in Arizona:
Allstate has a strong financial rating2 as a company, which means it is well-able to pay out on its claims.
Allstate's claims experience is around average or slightly below average, according to Allstate reviews collected by J.D. Power4 and Marketwatch3.
We've replaced many tens of thousands of windshields through Allstate. We accept Allstate for both repairs and replacements, and we are already approved by them.
American Family
American Family Insurance originally started by selling car insurance to farmers in the Midwest in the 1920s. Today, it's a Fortune 500 company with more than $9 billion in revenues as of 20175.
Replacing or repairing your windshield with American Family in Arizona:
Since it's such a large company with many customers in Arizona, we've replaced and repaired thousands of windshields through American Family.
American Family has a lower-than-average customer claims experience6
It also has a lower-than-average customer service rating based on surveys from customers6
We accept American Family for all types of windshield work, and we can help you with the claims process even if their customer service isn't the best.
Geico
Geico is the second largest provider of auto insurance in the United States. Its name is an abbreviation of "Government Employees Insurance Company". Even though it has "government" in its name, it is not a government company and has never been affiliated with a government organization.
Using Geico for replacing or repairing your windshield in Arizona:
According to US News7, Geico has an average rating for customer claims experience.
Most Geico policies don't have a deductible, so Geico policyholders pay $0 out of pocket in most cases to get their windshield replaced or repaired.
Geico is a well-run company owned by Warren Buffet's Berkshire Hathaway, so there are no issues with claim payment.
We're pre-approved by Geico and we know their claims process inside and out.
Liberty Mutual
Liberty Mutual is an American insurance company that offers car insurance and many other types of insurance products. It was originally founded in 1912, making it more than 100 years old!
In addition to its operations here in the United States, it also operates in many other countries around the world.
Windshield replacements and repairs in Arizona using Liberty Mutual:
Windshield claims are easy with Liberty Mutual. They have an excellent set of digital tools for customers to set up and manage their claims8.
Customer satisfaction for claims handling by Liberty Mutual is lower than the industry average8, so they can be lacking on the customer support and human interaction side even though their website and apps are great.
We've worked with Liberty Mutual on tens of thousands of claims. If you get stuck or have questions and are having issues with their support, we can help you out in most cases and make sure everything proceeds smoothly from start to finish.
Progressive
Progressive is a large insurance company focused on personal and commercial auto insurance. As its name implies, it is a forward-thinking company responsible for many innovations in the insurance space. For example, it was the first auto insurance company to have a website!
Things to know when replacing or repairing your windshield through Progressive in Arizona:
Compared to other insurance companies, Progressive has an intuitive and well-thought-out set of digital tools, including their website and app. They make the claims process pretty easy to understand.
Their customer service and claims handling is rated at the bottom of the list, according to US News9. Customers who've had at least 1 claim with Progressive rate them significantly worse than those who have had none, which implies they weren't happy with the service received.
If you have Progressive, don't worry about customer service! Our team can help with any problems - we've done thousands and thousands of windshield services through Progressive.
State Farm
State Farm is the largest car insurance provider in the United States, with almost $80 billion in revenue in 201910. It's also the largest provider of property and casualty insurance.
Like most other large insurance companies, State Farm was started about 100 years ago.
Using State Farm for your windshield replacement or repair in Arizona:
State Farm is a well-reviewed insurance provider, with both low rates and good customer service11.
In both of the areas that matter for windshield service, claims handling and customer satisfaction, State Farm performed well according to US News.
Over the years we have performed more than 100,000 windshield installs with State Farm. We are experts in how they handle claims and we can help you out with any questions during the process.
Resources
1 https://content.naic.org/sites/default/files/research-actuarial-property-casualty-market-share.pdf
2 https://ratings.ambest.com/CompanyProfile.aspx?ambnum=1978&URatingId=3049708&bl=0&AltSrc=1&PPP=&AltNum=0&Ext_User=&Ext_Misc=&Portal=0&Site=
3 https://www.marketwatch.com/picks/guides/insurance/allstate-auto-insurance-review/
4 https://www.jdpower.com/business/press-releases/2021-us-insurance-shopping-study
5 http://fortune.com/fortune500/american-family-insurance-group/
6 https://www.usnews.com/insurance/auto/cheapest-car-insurance-companies
7 https://www.usnews.com/insurance/auto/geico-car-insurance-review
8 https://www.nerdwallet.com/reviews/insurance/liberty-mutual
9 https://www.usnews.com/insurance/auto/progressive-car-insurance-review
10 https://fortune.com/company/state-farm-insurance-cos/fortune500/
11 https://www.usnews.com/insurance/auto/state-farm-car-insurance-review