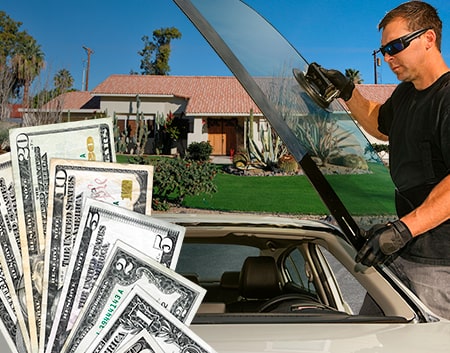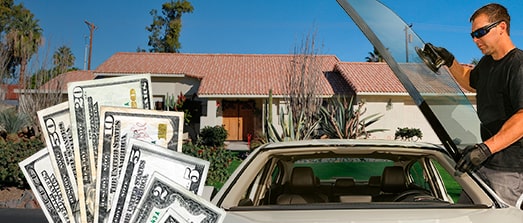 Windshield Replacement & Auto

Glass Repair in New River, AZ. BBB A+
The windshield replacement experts in New River: get up to $275 cash back.

100% warranty on all New River auto glass services. Pinnacle Auto Glass is BBB A+. Get a free quote today!
Or request a free quote
The #1 Auto Glass Company in New River
Professional Auto Glass with Cash Back in New River
Pinnacle Auto Glass is the #1 choice for New River residents seeking exceptional auto glass repair and replacement services. Not only do we have highly-skilled technicians and lifetime warranties, but we also offer up to $275 cash back with a new windshield replacement!
A BBB A+ Auto Glass Company
Every day, thousands of drivers in New River and the Phoenix Metro rely on auto glass repaired or replaced by the Pinnacle Auto Glass team. We have been in business for more than two decades, so our work and reputation have stood the test of time.
Free Mobile Service and a Lifetime Warranty
New River customers do not need to come to our local shop. We provide FREE mobile service, with experienced technicians bringing parts and materials right to your location and getting your vehicle road-ready within an hour.
Our relationship with our customers doesn't end when our technicians drive away. Thanks to our lifetime warranties, we cover our work and parts for as long as you own your vehicle.
Call Pinnacle Auto Glass at 480.907.3982 for a free quote to fix your windshield or auto glass!
Up to $275 Cash Back with New Windshield in New River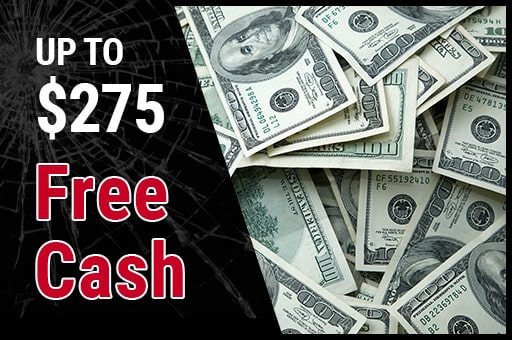 Cash Back Offer Details
Customers paying for new windshields through their insurer qualify for up to $275 cash back
The actual amount varies, depending on the insurer, policy details, and vehicle
One of the highest-paying local cash back deals
We work with any insurance company
We include free mobile service in New River and Valley
Why Choose Us for Your Repair or Replacement in New River?
1
Up to $275 in Free Cash
If you use your insurance to pay for a new front windshield replacement, you will qualify for up to $275 in free cash. Actual amounts vary, but this is one of the top cash back glass deals in New River.
You do not need to use your insurance. If you don't want to make a claim, lack glass coverage, or simply prefer to pay yourself, we offer low prices and the same great service and warranties on all windshield, side-window, and back-glass repairs and replacements. You can pay via check, cash, debit, or credit.
2
FREE Mobile Service Everywhere in New River and the Entire Phoenix Valley
We never charge extra when mobile technicians come to your location for a repair or replacement. Not only is it free, but we usually get there very quickly. We can often offer same-day service if we have a tech in the area and your glass in stock at our shop.
3
Top Professionals and the Best Parts
Every technician working for us has at least 3 years of professional auto glass experience. They are fully licensed to work in New River and trained to provide the highest level of service.
Parts selection is another essential aspect of our business. We only use OEM parts or OEM-equivalent alternatives. We also use great materials. For instance, our quick-curing urethane adhesive is stronger and gets you back on the road faster.
4
We Can Work With Any Insurer
We are pre-approved to work with all major insurers in New River. This means you do not have to wait for us to get approval. We can push the process along quickly and deal directly with the insurer so you do not have to complete any additional paperwork.
If you have a deductible, we can sometimes work with you and your insurer to cover most or all of this cost. Our goal in doing this is to get your final out-of-pocket bill to as close to $0 as possible.
5
All Work Is 100% Guaranteed
Our warranty coverage lasts for your vehicle's lifetime. Our warranty is included with every customer, whether you get a quick windshield repair or a full auto glass replacement.
Call Pinnacle Auto Glass now to schedule your service!
Schedule Your Appointment At Any Location in New River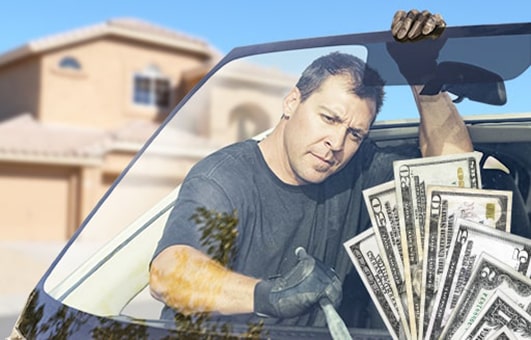 Our service area includes every address in New River and all areas of Greater Phoenix
Popular New River Neighborhoods Where We Work:
Anthem East Side
Apache Peak
Apache Peak Ranch
Bascom Hills
Black Canyon Retreat
Desert Hills Estate
Estates North
New River Paradise
Avoid Windshield Damage in New River
New River's busiest highway, Interstate 17 (also called Arizona Veterans Highway), is the site of many of the incidents that cause windshield cracks or chips. If you are traveling locally, you can easily avoid I-17 by using roads like Gavilan Peak Parkway, Memorial Drive, and Daisy Mountain Drive. Meridian Drive and Anthem Way also loop through town.
New River Windshield FAQ
---
How much is a New River area windshield replacement service?
For customers in New River who use their auto insurance, the average price is $0 because insurance pays for the service.
For those who pay out-of-pocket, the average price is $190-$345.
How much cash back can I get for a windshield replacement in New River?
New River customers can get up to $275 for a new windshield with insurance. The average cash back in New River for new windshields is $50-$95. Actual cash amounts vary based on vehicle and insurance coverage.
Can I have my auto glass replacement in New River performed today?
In some cases we will be able to fix your glass today, but there are a few requirements.
We need to have a technician available to meet you and we need to already have your glass in stock.
Same day appointments are easiest for customers with popular vehicles like a Nissan Frontier and who want to meet near popular spots in town like the New River Kiwanis Park.
What is your New River service area for auto glass replacement appointments?
Our team covers the entire New River area, so we meet our customers at local neighborhoods like Apache Peak Ranch, Soft Winds Desert View Estates and anywhere else in the New River area.