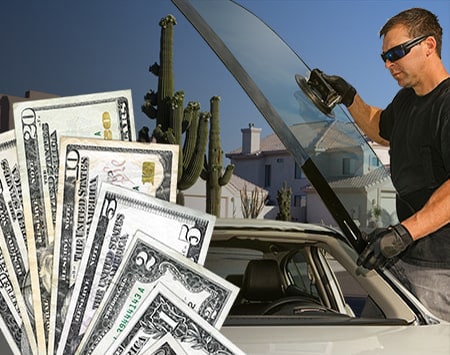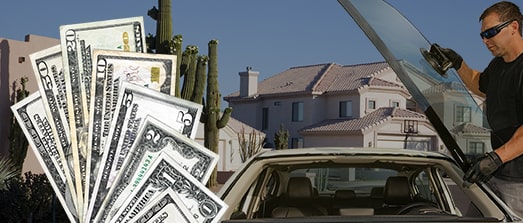 Apache Junction Windshield Replacement:

up to $275 Cash Back. BBB A+
Pinnacle Auto Glass customers receive up to $275 cash back with any windshield replacement in Apache Junction using insurance.
Plus, we provide a 100% lifetime warranty on every Apache Junction auto glass service. BBB A+. Call now for your free quote!
Or request a free quote
3,840+ Apache Junction Auto Glass Replacement & Repair Customers
Friendly Service and Great Cash Back
Call our friendly Pinnacle Auto Glass customer service team today at 480.907.3982 for your windshield replacement in Apache Junction, AZ. You'll get the best auto glass cash back deals backed by a 100% lifetime warranty.
The Experience to do the Job Right
Our team has the experience and expertise to do a great job on your replacement or repair. We've replaced more than 750,000 total windshields Valley-wide over the past 20 years, and we've completed more than 3,000 Apache Junction windshield replacement services.
If you've been trying to find a professional, reliable auto glass shop, you've come to the right place!
Up to $275 Free Cash Back with Windshield Replacement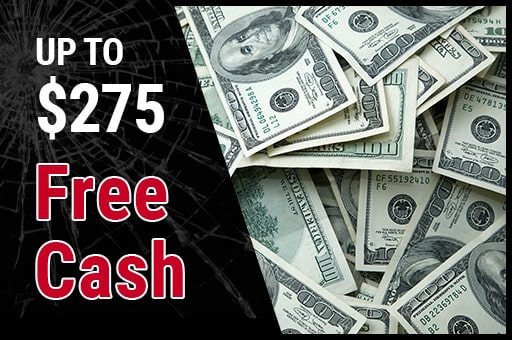 Cash Back Offer Details
Get up to $275 cash back with insurance windshield replacement in Apache Junction
Cash back varies based on vehicle & insurance
Among Apache Junction's highest cash back
Why Choose Us for Your Windshield Repair or Replacement in Apache Junction, Arizona
1
Up to $275 FREE CASH with New Windshield Replacement
Our company has paid out more than $10 million in cash back over the past 2 decades to residents of Apache Junction and the Greater Phoenix Area.
We have some of the best cash back on windshield replacement in Arizona! We're currently offering up to $275 to customers who use insurance to pay for a complete windshield replacement service.
For customers who choose to pay for their service out-of-pocket, we accept cash, check or card and we have some of the lowest prices in town!
2
FREE Mobile Service Right to Your Car's Location
Our mobile auto glass technicians can come to any location in Apache Junction to perform a windshield repair or a complete windshield replacement. We also provide mobile windshield repair Phoenix throughout the Phoenix Metro Area if you'd prefer to meet in a different part of town.
3
Quality and Expertise with Every Repair and Replacement
A lot of our company's business comes from good reviews from previous customers. To help maintain the quality of our windshield repair and replacement services, we use quality materials like OEM or equivalent auto glass and windshields.
We also require all auto glass technicians to have 3 or more years' experience performing auto glass repair and windshield replacement.
We can work on any modern vehicle make and model.
4
Fast and Easy Insurance Claims, Approved by All Insurance Companies
Most Pinnacle Auto Glass customers use their auto insurance company to pay for their auto glass replacement or windshield repair in Apache Junction, but the insurance claims process for new windshields and glass repair can be confusing without help.
With more than 750,000 auto glass repair and replacement services completed in Apache Junction and Metro Phoenix, our team has expert knowledge of the entire claims process at all the major insurance companies.
We work directly with your insurance provider, and we get paid directly by them.
We work directly with your insurance provider, and we get paid directly by them. We can repair your glass using insurance, or perform a complete replacement if new glass is required.
5
100% Lifetime Warranty for Your Peace of Mind
We know that sometimes issues happen, so our company backs up our Apache Junction auto glass replacement and repair services with a powerful 100% lifetime warranty that lasts for the life of your vehicle.
Contact Pinnacle Auto Glass today at 480.907.3982 if you have any questions or if you're ready to get started!
Auto Glass Repair & Replacement Anywhere in Apache Junction, AZ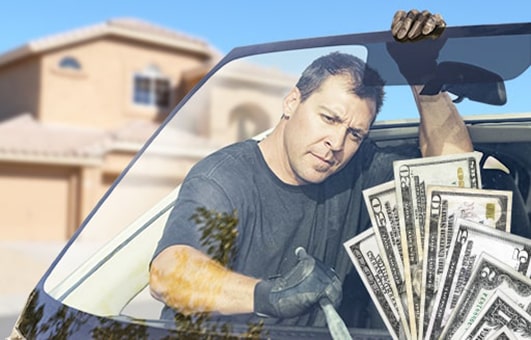 Choose any location in Apache Junction to fix your glass.
Popular Apache Junction Neighborhoods We Service:
Avoid Windshield Chips in Apache Junction
Freeway driving is pretty common when you're going to or leaving Apache Junction, but the US 60/Superstition Fwy can do a number on your windshield! Try Southern Ave or Baseline Ave to keep it looking good.
Apache Junction Mobile Auto Glass FAQ
---
How do I get free cash back with my Apache Junction windshield replacement?
1. Call us at 480.907.3982 or request a quote.
2. We'll take care of the entire claim with your auto insurance company.
3. We'll come to you in Apache Junction, AZ, or Valley-wide to put in your new glass.
4. Get your free cash back!
Do you offer other auto glass services in Apache Junction, AZ?
Absolutely! We can take care of any of your auto glass needs in Apache Junction.
In addition to replacements, we also offer repairs, car door glass replacement and rear window replacement.
For a free quote to fix any glass damage, call 480.907.3982 or fill out our quote form.