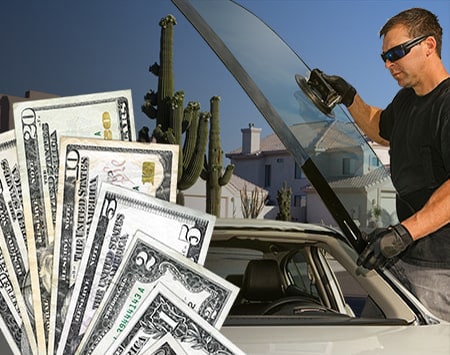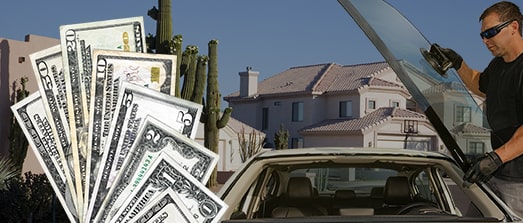 Windshield Replacement & Auto Glass

Repair in Apache Junction, AZ. BBB A+
Pinnacle Auto Glass customers receive up to $275 cash back with any windshield replacement in Apache Junction using insurance.

Plus, we provide a 100% lifetime warranty on every Apache Junction auto glass service. BBB A+. Call now for your free quote!
Or request a free quote
The #1 Auto Glass Company in Apache Junction
Friendly Service and Great Cash Back in Apache Junction
Call our friendly Pinnacle Auto Glass team today at 480.907.3982 for your windshield needs in Apache Junction, AZ. You'll get the best auto glass cash back deals backed by a 100% lifetime warranty.
The Experience to do the Job Right
Our team has the experience and expertise to do a great job on your replacement or repair. We've replaced more than 750,000 windshields Valley-wide over the past 20 years. In the Apache Junction area alone, we've installed more than 3,000 new windshields to date.
If you've been trying to find a professional, reliable auto glass shop, you've come to the right place!
Up to $275 Free Cash Back with New Windshield in Apache Junction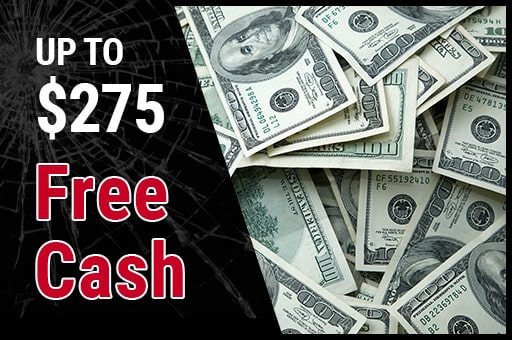 Cash Back Offer Details
Get up to $275 cash back with front windshield through insurance in Apache Junction
Cash back varies based on vehicle & insurance
Among Apache Junction's highest cash back
We work with any insurance
Includes free mobile windshield service in Apache Junction or Valley
Why Choose Us for Your Repair or Replacement in Apache Junction?
1
Up to $275 FREE CASH with New Windshield Replacement
Our company has paid out more than $10 million in cash back over the past 2 decades to residents of Apache Junction and the Greater Phoenix Area.
We have some of the best cash back offers in Arizona! We're currently offering up to $275 to customers who use insurance to pay for a complete windshield replacement service.
For customers who choose to pay for their service out-of-pocket, we accept cash, check or card and we have some of the lowest prices in town!
2
FREE Mobile Service Right to Your Car's Location
Our mobile auto glass technicians can come to any location in Apache Junction to perform a windshield repair or a complete windshield replacement. We also provide mobile service throughout the Phoenix Metro Area if you'd prefer to meet in a different part of town.
3
Quality and Expertise with Every Repair and Replacement
A lot of our company's business comes from good reviews from previous customers. To help maintain the quality of our windshield repair and replacement services, we use quality materials like OEM or equivalent auto glass and windshields.
We also require all auto glass technicians to have 3 or more years' experience performing auto glass repair and windshield replacement.
We can work on any modern vehicle make and model.
4
Fast and Easy Insurance Claims, Approved by All Insurance Companies
Most Pinnacle Auto Glass customers use their auto insurance company to pay for their auto glass replacement or windshield repair in Apache Junction, but the insurance claims process for new windshields and glass repair can be confusing without help.
With more than 750,000 auto glass repair and replacement services completed in Apache Junction and Metro Phoenix, our team has expert knowledge of the entire claims process at all the major insurance companies.
We work directly with your insurance provider, and we get paid directly by them.
We work directly with your insurance provider, and we get paid directly by them. We can repair your glass using insurance, or perform a complete replacement if new glass is required.
5
100% Lifetime Warranty for Your Peace of Mind
We know that sometimes issues happen, so our company backs up our Apache Junction auto glass replacement and repair services with a powerful 100% lifetime warranty that lasts for the life of your vehicle.
Contact Pinnacle Auto Glass today at 480.907.3982 if you have any questions or if you're ready to get started!
Schedule Your Appointment At Any Location in Apache Junction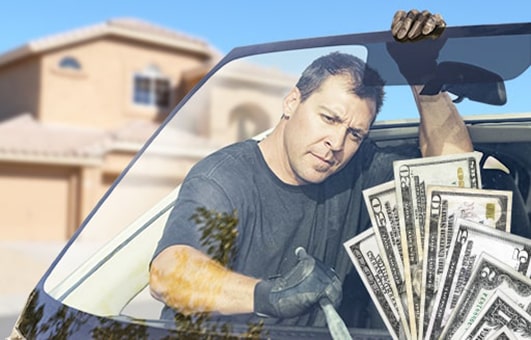 Choose any location in Apache Junction or Valley-wide to fix your glass.
Popular Apache Junction Neighborhoods We Service:
Avoid Windshield Chips in Apache Junction
Freeway driving is pretty common when you're going to or leaving Apache Junction, but the US 60/Superstition Fwy can do a number on your windshield! Try Southern Ave or Baseline Ave to keep it looking good.
Auto Glass Prices in Apache Junction
Average Cost of Auto Glass Services in Apache Junction
This table shows average prices from our auto glass quote database for different services in Apache Junction.
Service
Average Price*
Low Price*
High Price*
Windshield Replacement
$265
$130
$700
Side Window Replacement
$215
$165
$355
Rear Window Replacement
$295
$180
$750
Auto Glass Replacement Pricing Estimates for Popular Vehicles in Apache Junction
Exact pricing for a new windshield or auto glass completely depends on the type of vehicle you have.
To get an idea for pricing, the table below shows estimated glass prices for various common vehicles we've worked on in the Apache Junction area.
Vehicle
Glass Type
Estimated Price*
1999 Ford Windstar Mini Van
Back
$305
2005 Toyota Avalon 4 Door Sedan
Front
$290
2008 Volkswagen GTI 4 Door Hatchback
Front
$335
2011 Honda CR-V 4 Door Utility
Front
$300
2015 Ford Focus 4 Door Sedan
Front
$395
2017 Chevrolet Equinox 4 Door Utility
Front
$310
2017 Hyundai Sonata 4 Door Sedan
Front
$340
2018 Chevrolet Malibu 4 Door Sedan
Front
$305
2020 Kia Niro Hybrid 4 Door Utility
Front
$520
2020 Nissan Sentra 4 Door Sedan
Front
$510
*Prices are estimates only. Final price depends on vehicle.
Apache Junction Windshield FAQ
---
What is the cost of an Apache Junction windshield replacement?
For customers paying with insurance, the cost is $0 in most cases unless the policy has a deductible.
Apache Junction customers who elect to pay themselves pay on average $195-$365 to get a new windshield installed.
Can I get free cash back with a windshield replacement in Apache Junction?
Yes, customers using insurance get on average $50-$100 in Apache Junction.
Your vehicle and insurance determine the exact amount you qualify for, with the maximum amount being $275.
Is it possible to have my auto glass replacement today in Apache Junction?
Yes, in some cases we can meet you today. We need to have the glass already in stock for your vehicle, plus have a technician ready to meet you in your desired time and spot.
This means it's easiest to get a same day appointment if you want to meet in a popular Apache Junction area like Goldfield Ghost Town or Superstition Farm and you have a popular vehicle like a Dodge Charger or Challenger.
Can you meet me anywhere in Apache Junction for auto glass replacement?
Yes, our mobile service includes all Apache Junction areas and neighborhoods including Acoma Estates, Desert Harbor, Sunrise Canyon and more.