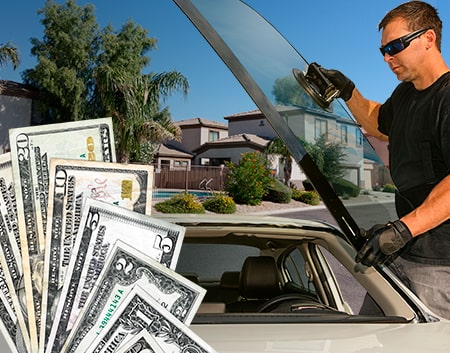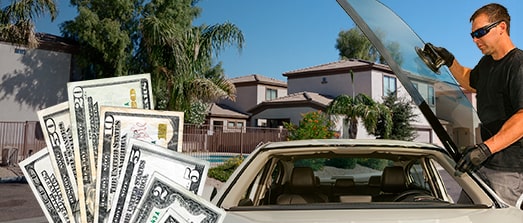 Windshield Replacement San Tan Valley AZ:

up to $275 Cash Back. BBB A+
Look no further for the best Santan Valley windshield replacement: get up to $275 cash back PLUS free repairs with insurance.
We include a 100% warranty on every San Tan Valley auto glass service, and we are rated BBB A+. Call now for a free quote!
Or request a free quote
Join Thousands of Our San Tan Valley Auto Glass Customers
Get Guaranteed Auto Glass Service and Cash Back in San Tan Valley
San Tan Valley drivers who choose our auto glass repair shop can earn up to $275 cash back. We also provide peace of mind with OEM parts, experienced mobile technicians, and life warranties for all windshield and window repairs and replacements.
Call 480.907.3982 to learn more!
San Tan Valley's BBB A+-Rated Auto Glass Repair Shop
We have built a reputation throughout the Phoenix Metro area over the past two decades by providing excellent service and industry-leading guarantees to all our customers. Thousands of satisfied customers can attest to our reliability!
Free Mobile Service and a Lifetime Warranty
We serve every street in San Tan Valley. Our technicians come directly to your home for no extra charge and handle the job quickly. We can often provide same-day repairs.
They leave you with road-ready auto glass and a lifetime warranty on parts and labor. You won't have to worry about problems with parts or labor for as long as you own your vehicle.
As Much as $275 Cash Back on San Tan Valley Auto Glass Services
Cash Back Offer Details
Insured customers get up to $275 cash back.
The final cash back total depends on the policy and vehicle type.
One of the best cash back offers in San Tan Valley.
Includes $300 in chip insurance to cover repairs if needed.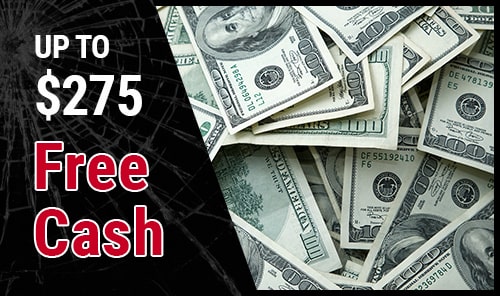 Why Choose Our Business for Your Auto Glass Needs in San Tan Valley?
1
New Windshields Can Bring Up to $275 in Free Cash
Every customer who uses their auto insurance to cover the cost of their windshield replacement may qualify for as much as $275 cash back. That's right, windshield replacement that gives money back!
Meanwhile, those who pay out-of-pocket or whose insurance doesn't cover auto glass can still enjoy our competitive pricing and the same great service warranties! We accept all forms of direct payment, including cash, debit, credit, and checks.
Our service goes well beyond windshields. We also cover repairs and replacements for side and rear glass. (These glass components can't be replaced because they're made differently than windshields.)
2
FREE Mobile Service in San Tan Valley and Every Corner of the Phoenix Metro
We can often offer same day windshield replacement or next-day service to customers in San Tan Valley. We do not have any extra fees for mobile service. Technicians will arrive at your location at the scheduled time and complete the work right there.
The timing may depend on whether we have technicians in the area on a given day and if we have the necessary glass in stock at our San Tan Valley shop. Call 480.907.3982 now to check availability!
3
Highly-Skilled Auto Glass Professionals
We have earned BBB accreditation and an A+ rating by relying on skilled professionals. Each of our auto glass technicians has 3+ years of experience and is fully licensed and trained.
We rely only on OEM or approved replacement parts. Cutting-edge materials, like rapid-curing urethane adhesive, offer greater reliability and get you back on the road faster.
4
All Major Auto Insurance Accepted
You have two options when working with us: paying through your insurance or out-of-pocket with debit, credit, cash, or check.
Our company is already approved by all major auto insurers covering San Tan Valley drivers. They know us and our reputation, so the process is almost always smooth. After we have the necessary information, we handle all the paperwork and payment processing, so you don't have to worry about anything.
In some cases, we can help customers whose insurance requires a deductible by covering either part or all of the cost.
5
Industry-Leading Warranties
We offer some of the longest warranties in the industry. Our parts and labor are both guaranteed for as long as you own your vehicle. Of course, other auto services might match this, but it is impossible to beat it!
These warranties provide peace of mind, but they also ensure safety on the road. If something isn't right, we will repair it so that it does not cause larger issues later on.
Call 480.907.3982 to schedule service today!
Expert Service to All Communities in San Tan Valley, AZ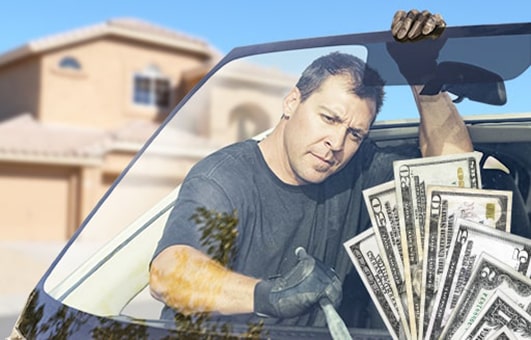 Our service area reaches every street in San Tan Valley and the Phoenix Metro area.
Popular San Tan Valley Neighborhoods Where We Work:
Johnson Ranch
Links Estates
Pecan Creek
San Tan Heights
Skyline Ranch
Trailside Village
Avoid Windshield Damage in San Tan Valley
San Tan Valley lacks busy interstate highways. However, the E. Hunt Highway sees its share of windshield damage from road debris. There are a couple of alternative routes for local drivers, such as Johnson Ranch Blvd and Gantzel Road, connecting with Bella Vista Road, as well. If you still experience a damaged windshield, our expert services, lifetime warranties, and potential cash back bonuses are only a call away.
San Tan Valley Auto Glass FAQ
---
Who can get a new windshield in San Tan Valley and be eligible for cash back?
Our Santan windshield cash offer is available to anyone who gets a new windshield using their auto insurance for payment. Here's how:
1. Call 480.907.3982 or request a quote.
2. Your customer rep will set up a 3-way call with your auto insurance provider to start the insurance claim for your new windshield.
3. After the claim has been set up, then your customer rep will schedule your mobile appointment to put in your new windshield. We can meet you anywhere in San Tan Valley that works for you.
4. Get your free cash! Once your service is complete, we will put a check in the mail to you with your free cash!
Do you charge for mobile service to San Tan Valley to fix my auto glass?
No, we never charge for mobile service! We can meet you anywhere you'd like in San Tan Valley for your mobile auto glass replacement or repair service.