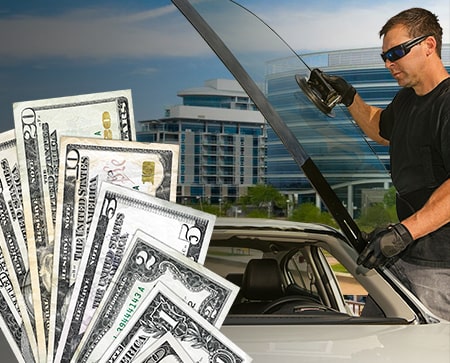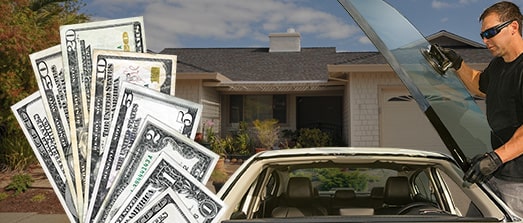 Tempe Windshield Replacement:

up to $275 Cash Back. BBB A+
Choose the top-rated windshield replacement company in Tempe to receive up to $275 free cash back with insurance.
Every Tempe auto glass customer receives our 100% lifetime warranty. BBB A+ for quality. Call the Pinnacle Auto Glass team today for a free quote!
Or request a free quote
17,350+ Tempe Auto Glass Customers
Quality and Cash Back
Looking for a quality auto glass repair or windshield replacement in Tempe, AZ, with the best auto glass cash back? Call Pinnacle Auto Glass at 480.907.3982 today to schedule your appointment! We often have same day service available to customers in Tempe.
$10 Million+ Paid to Hundreds of Thousands of Valley Customers
Our business has performed tens of thousands of windshield replacements for Tempe residents over the past 20 years, along with hundreds of thousands more auto glass services for customers throughout the Valley.
We've also paid out $10+ MILLION in cash back to customers in the city of Tempe, AZ, and the Greater Phoenix Area.
Call Today and Take Advantage of Decades of Experience
Call our company today for your auto glass in Tempe, AZ! You'll take advantage of the best cash back offers in Tempe, plus more than 2 decades of experience and auto glass expertise.
Up to $275 Windshield Replacement Cash Back with Tempe Windshield Replacement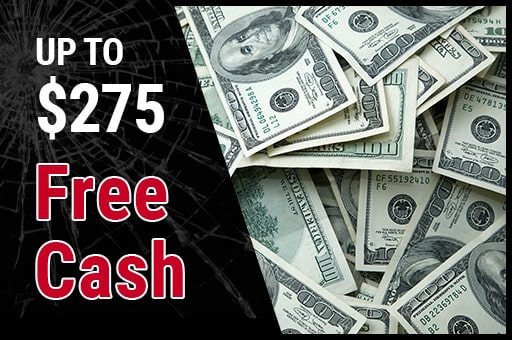 Cash Back Offer Details
Get up to $275 cash back with Tempe windshield replacement using insurance
Windshield replacement cash varies based on vehicle & insurance
Among Tempe's highest replacement cash back
Why Choose Us for Your Windshield Repair or Mobile Windshield Replacement
1
Up to $275 FREE CASH
When you use your auto insurance to pay for a new windshield replacement in Tempe from Pinnacle Auto Glass, we can offer you up to $275 windshield cash back.
The cash back amount depends on your insurance policy coverage and your vehicle make and model. Give our Pinnacle Auto Glass team a call and we can give you a free cash back quote in just a few minutes!
2
NEVER Any Charge for Mobile Windshield Replacement Valley-Wide
Our mobile auto glass technicians come right to you for your Tempe auto glass repair or windshield replacement service. Common service locations are your home or your work, but we can go anywhere else that's convenient!
(We also install windshields anywhere else around the Valley, if there's a location outside Tempe that's more convenient for you.)
3
Quality Auto Glass Replacement and Repair
As a local, family business, we focus on quality for every auto glass replacement and windshield repair in Tempe!
Our windshield replacement Phoenix technicians are licensed and certified, and we require every auto glass technician to have at least 3 years of experience doing windshield replacement and auto glass repair services.
We use quality materials such as OEM or equivalent glass, and fast-drying urethane for windshield replacements.
In addition to our services for the general public, we also offer commercial service for light commercial vehicles based on passenger vehicle platforms.
4
Experts in Paying through Auto Insurance Companies
Our auto glass shop is preapproved by the main insurance companies that operate in Tempe and Arizona, and we can work with any insurance companies for your mobile windshield replacement.
We don't leave you on your own to struggle through the glass replacement claim process with your insurance provider.
We handle the entire insurance claim for you from start to finish, and our company gets paid directly by your insurance company for your Tempe windshield repair or replacement service.
5
100% Lifetime Warranty Protection
Our lifetime warranty covers problems that may pop up after your service, whether they were caused by the materials themselves or the labor and workmanship.
Warranty coverage extends throughout Arizona, the US, and beyond.
Call Pinnacle Auto Glass today for a free auto glass replacement or repair quote and to schedule your service appointment in Tempe or the Valley!
Auto Glass Repair or Windshield Services Anywhere in Tempe, AZ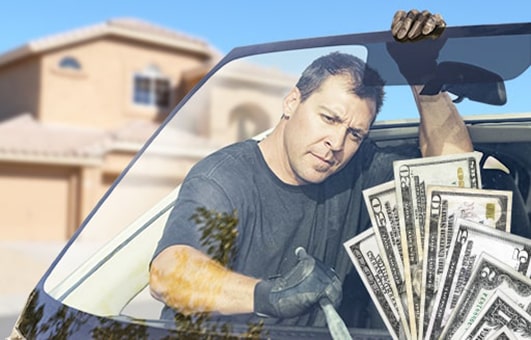 We can meet you anywhere you'd like in the Tempe area to fix your glass.
Popular Tempe Neighborhoods We Service:
Avoid Windshield Chips in Tempe
The main culprit for windshield chips and cracks is freeway driving. Try Rural Rd or McClintock Dr instead of the Loop 202 or Loop 101 (unless it's summer and AZ DOT is doing its annual summer road maintenance).
Auto Glass & Repair FAQ
---
How does your free cash back offer work in Tempe?
It's a quick, 4-step process:
1. Call us at 480.907.3982 or request a quote.
2. We'll set up a claim with your your insurance provider to handle payment for your glass.
3. We'll come put in your new windshield in Tempe, AZ or Valley-wide.
4. Get your free cash back!
Do you offer other services besides new windshields in Tempe, AZ?
Yes! In addition to installing a new windshield in your vehicle, we can also replace your car door glass or your rear windshield.
Give us a call today at 480.907.3982 or fill out our quote form and we'll be happy to give you a free quote for whatever service you need!