Windshield Inspection: What You Need to Know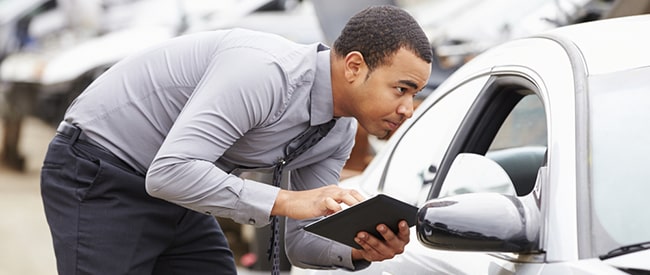 This page explains how windshield inspections work, and it provides an overview of things you'll need to know if your insurance company requires an inspection before approving your windshield replacement.
January 1, 2021
Because of COVID, most inspections are no longer performed in person by an inspector but are handled through an app on your phone. Your insurance company will send you the app download link and instructions if applicable.
For additional questions, or if you'd like a quote to fix your glass and get cash back, call Pinnacle Auto Glass at 480.907.3982!
What Is a Windshield Inspection?
A windshield inspection is a service inspection of your glass damage that some insurance companies require before approving a claim to replace your windshield.
Insurance companies have increasingly started requiring inspections in Arizona over the past few years because of unscrupulous, fly-by-night auto glass shops. These shops submit fraudulent claims to the insurance companies to replace windshields that aren't damaged or don't require a replacement.
To combat this fraud, insurance companies use inspections from approved, third-party inspection services to verify the damage and confirm a windshield replacement is appropriate.
What Happens During a Windshield Inspection?
1
Mobile Inspector
During a windshield inspection, a mobile inspector will come check your vehicle's windshield to verify that it is damaged and needs a windshield replacement.
2
Time and Place of Your Choosing
Inspection services can arrange to meet you and your vehicle at whatever location and time is convenient for you.
3
Findings Reported Directly to Insurance Company
During the inspection, the inspector will check your glass damage to see if it may require a replacement. They will then report their findings directly to your auto insurance company. In most cases, you won't need to be present for the inspection.
Do I Need to Agree with the Inspector's Recommended Service?
Windshield inspection companies are hired by insurance companies, so they are incentivized by insurance companies to push you towards a repair instead of an automobile glass replacement.
Windshield inspectors will often recommend repair for windshields with significant damage like 4-5+ large chips.
IMPORTANT
You do not need to accept the windshield inspector's recommendation if you feel your windshield damage warrants a new windshield. You can tell your insurance company you want a complete replacement. In many cases, they will cover a windshield replacement if there are multiple chips or a large chip, even if the windshield inspector recommended a repair.
Will I Need a Windshield Inspection?
Not all windshield replacements require an inspection:
Out of Pocket?
No
If you are paying for your auto glass service out of pocket, you will never need a windshield inspection.
Using Insurance?
Maybe
If you are using your auto insurance to cover your auto glass service, then your insurance company will let you know if they require an inspection. If you do need an inspection, we will schedule your windshield replacement service after your inspection time.