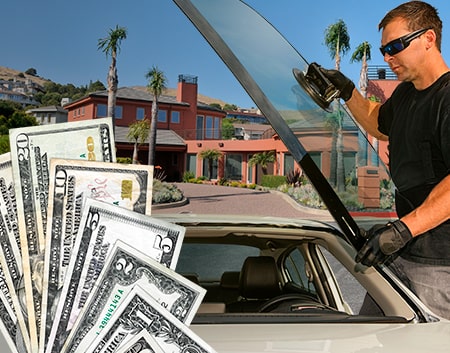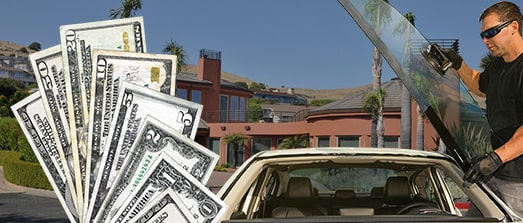 Windshield Replacement Maricopa AZ:

up to $275 Cash Back. BBB A+
The #1 windshield replacement offer in Maricopa: up to $275 free cash PLUS free chip repairs for vehicle life with insurance payment.
Every Maricopa auto glass service includes our 100% lifetime warranty. BBB A+ shop. Call us today for your free quote!
Or request a free quote
Join Thousands of Our Maricopa Auto Glass Customers
Get Cash Back from Our Maricopa Auto Glass Team
We offer up to $275 cash back for windshield replacement customers paying with insurance.
Call 480.907.3982 to get a free quote and see what you can get!
Professional Auto Glass Services With Guaranteed Results in Maricopa
Over the past 20 years, our technicians have crisscrossed Maricopa and the entire Valley area, installing and repairing windshields and auto glass. Thousands of satisfied customers can attest to the skills of our teams and the peace of mind that comes from our lifetime warranties.
Free Mobile Service and a Lifetime Warranty
We provide mobile service for every auto glass project. We are familiar with every road in Maricopa, so we can bring our services directly to you without charging you any extra fees.
Also, our parts and workmanship are under lifetime warranties. As long as you continue to own your car, you are covered by our satisfaction guarantee.
Local Auto Glass Experts Giving You up to $275 Cash Back
Cash Back Offer Details
Up to $275 cash back for auto owners who use their insurance for the replacement.
Value depends on insurance and vehicle.
One of the highest cash back promotions for auto glass in Maricopa.
$300 in chip insurance protection included!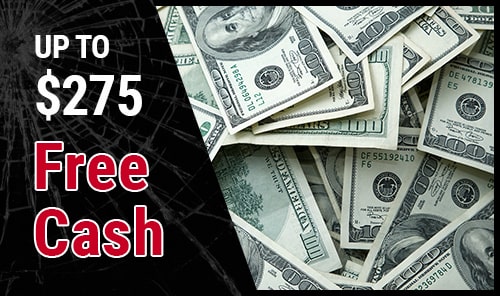 Why Choose to Hire Our Technicians for Your Windshield or Window Repairs?
1
Up to $275 Cash Back
All customers with auto glass insurance coverage can qualify for up to $275 in money back windshield replacement Arizona if they use their policy to pay for the replacement. Though the actual amount can vary, this is one of the more generous cash back deals in Maricopa and means most customers get free windshield replacement!
You can also choose to pay for your windshield replacement or any other car glass or window repairs with cash, debit, check, or credit. We offer plenty of value to those who want to pay themselves to avoid an insurance claim or whose coverage doesn't extend to auto glass repairs.
2
FREE Mobile Service in Maricopa and Throughout the Phoenix Valley
Our technicians can often provide same-day or next-day service in Maricopa, depending on their location and whether we have OEM or approved alternative glass in stock. You might think that this fast, convenient mobile service comes at an extra cost. However, it is always free for our customers!
3
Auto Glass Parts and Service to Meet the Highest Expectations
Our auto glass pros ensure complete satisfaction by taking care of every step of the job. They select the correct glass from our stock of OEM parts and OEM equivalent glass. They also keep state-of-the-art materials, like unbreakable, quick-drying urethane adhesive, stocked in their mobile workshops.
We can even help calibrate your windshield so that you are ready to hit the road again as soon as the adhesive cures.
Part of our reputation comes from only hiring some of the best pros in the industry. All our workers are trained to ANSI standards, each has at least 3 years of auto glass experience, and they are licensed for work in this industry.
4
We Handle the Insurance Details
You might be avoiding necessary windshield repairs because you are reluctant to deal with your insurance company. After 20+ years, we understand the insurance process very well. Since we are pre-approved to work with all major insurers, we can handle the busy work for you, so you can avoid having to deal with the process directly.
There is sometimes the question of a deductible. If your policy requires out-of-pocket payments before the insurance kicks in, maybe we can help. In some instances, we can cover part or all of the deductible, leaving you a minimal (or even a $0) bill.
5
Catch-Free Warranties
Our warranties cover both parts and labor. We are so confident that our work will stand the test of time that we guarantee it for as long as you own your car. We also leave windshield customers with $300 in chip insurance so that they can keep their glass looking like new for as long as possible.
Contact us for an appointment today!
Mobile Service Available in All Communities in Maricopa, AZ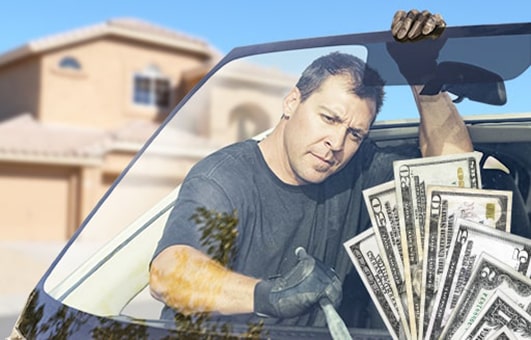 We serve every address in Maricopa and all areas in the Greater Phoenix Community
The Maricopa Neighborhoods Where We Work Include:
Cobblestone Farms
Glennwilde
Rancho El Dorado
Sorrento
Avoid Windshield Damage in Maricopa, AZ
State Route 347 is a common location for windshield damage with highway speeds kicking road debris up into your auto glass. The Maricopa Case Grande Highway is another common thoroughfare for chips and cracks. Unfortunately, you can't avoid these roads to get into or out of Maricopa. However, if your glass gets damaged while you are driving, reach out to us today for a free quote and excellent repair services.
Maricopa Auto Glass FAQ
---
What's the process for me to receive free cash with my Maricopa windshield replacement?
Our cash back process has 4 simple steps:
1. Begin by giving us a call at 480.907.3982 or request a quote.
2. Then we'll set up your insurance claim for your new windshield.
3. After that we'll schedule your mobile service appointment to put in your new glass.
4. Get your cash! After your service appointment, we will mail you a check for your cash back that you can either deposit or simply cash.
Does your mobile auto glass service area include Maricopa, AZ?
Yes, it sure does! We can meet you anywhere you'd like in Maricopa for your mobile auto glass service.