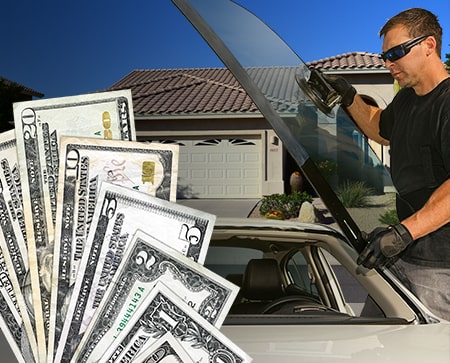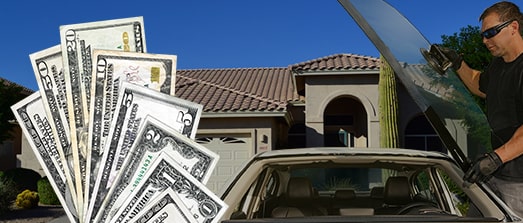 Windshield Replacement & Auto

Glass Repair in Buckeye, AZ. BBB A+
Choose the windshield replacement experts in Buckeye & receive up to $275 free cash!

Your new Buckeye auto glass will be installed by our BBB A+ technicians & backed by our 100% lifetime warranty. Get a free quote from Pinnacle Auto Glass today!
Or request a free quote
The #1 Auto Glass Company in Buckeye
Fast Service with the Best Cash Back
Call 480.907.3982 now to get your damaged auto glass repaired or replaced quickly in Buckeye, plus get the best auto glass cash back when you get a new windshield in Buckeye, AZ, through insurance!
12,000+ Buckeye Windshields
The Pinnacle Auto Glass team has completed more than 12,000 windshield repair and replacement services in Buckeye over the past 20+ years, and more than 750,000 auto glass services around the Valley.
Take Advantage of Our Experience
If you're looking for a trustworthy company to fix your vehicle's glass in Buckeye, call Pinnacle Auto Glass today and take advantage of decades of experience and hundreds of thousands of services performed!
Up to $275 Cash Back with New Windshield in Buckeye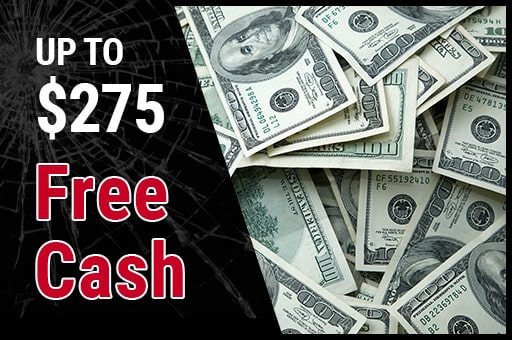 Cash Back Offer Details
Get up to $275 cash back with insurance replacement in Buckeye
Cash back varies based on vehicle & insurance
Among Buckeye's highest cash back amounts
All insurance accepted
Plus get free mobile service in Buckeye and Valley-wide
Why Choose Us for Your Repair or Replacement in Buckeye?
1
Up to $275 FREE CASH with Windshield Replacement
We are the Valley's experts in cash back, with more than $10 million in cash back paid out over the past 20 years.
We are now offering up to $275 cash when you pay for service with insurance in Buckeye or any other Valley location.
If you want to pay yourself and are looking for the best price, we have some of the lowest Valley prices for out-of-pocket customers!
2
FREE Mobile Service to Your Buckeye Location of Choice
Every Buckeye auto glass repair and replacement service we perform includes mobile service at no charge.
When you schedule your auto glass appointment with Pinnacle Auto Glass, simply let our customer service team know the time and place where you'd like to meet your technician for your mobile auto glass appointment.
3
Auto Glass Repair and Replacement with a Focus on Quality
When you choose Pinnacle Auto Glass for your windshield repair or Buckeye windshield replacement service, you'll receive quality parts and materials installed by an experienced auto glass technician.
We require all our technicians to have 3 or more years of hands-on experience performing auto glass repair and windshield replacement services.
We also use quality parts for every auto glass service like fast-drying, premium urethane sealant and OEM windshields or equivalent to help ensure every customer gets professional service and a great result.
Note that our auto glass company provides glass replacement, side glass replacement and glass repair, but we don't currently offer power window repair.
We can work on any modern vehicle make and model.
4
We Work Directly with Your Insurance Company
Our auto glass replacement company is preapproved by all the big auto insurance companies in Phoenix, and we can work with any insurance provider in the Phoenix Area for our glass repair services.
Most Buckeye customers with insurance coverage won't pay anything out of pocket for their windshield repair or windshield replacement service. If your insurance policy has a deductible, we can often pay it to keep your cost at $0 or close to $0 for your repair.
5
Strong Lifetime Warranty
We back all our Buckeye auto glass replacement and repair services with a 100% lifetime warranty.
Our warranty lasts for the life of your vehicle, and it provides full coverage against any issues with the parts or labor of your repair service.
Meet Your Mobile Tech At Any Buckeye Location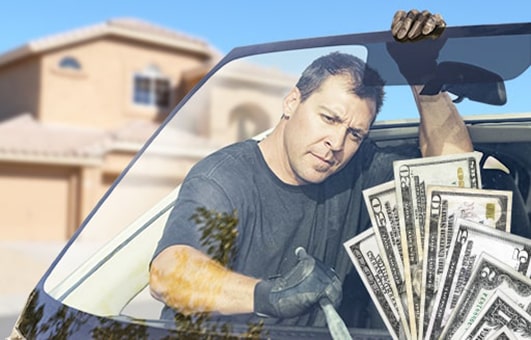 We can meet you at your location of choice in Buckeye or around the Valley to fix your glass.
Popular Buckeye Neighborhoods We Service:
Avoid Windshield Chips in Buckeye
Heading north and south on Rte 85 or east and west on the I-10/Papago Fwy can really do a number on your windshield. Keep it sharp by staying off the freeways when possible and using surface streets!
Auto Glass Prices in Buckeye
Average Cost of Auto Glass Services in Buckeye
The table below shows average costs from our quote database for different auto glass services in the Buckeye area.
Service
Average Price*
Low Price*
High Price*
Windshield Replacement
$285
$170
$1560
Side Window Replacement
$215
$165
$505
Rear Window Replacement
$365
$165
$805
Auto Glass Replacement Pricing Estimates for Popular Vehicles in Buckeye
Windshield and auto glass pricing varies from vehicle to vehicle based on features and specifications.
The following table shows estimated prices for getting a new windshield or glass installed on various popular Buckeye vehicles.
Vehicle
Glass Type
Estimated Price*
2000 Dodge Dakota Pickup 4 Door Crew Cab
Front
$270
2017 Kia Optima 4 Door Sedan
Front
$260
2020 Chevrolet Equinox 4 Door Utility
Front
$220
2020 Infiniti QX50 4 Door Utility
Front
$395
2021 BMW 540i 4 Door Sedan
Front
$495
2021 Toyota Highlander 4 Door Utility
Front
$395
2022 Nissan Altima 4 Door Sedan
Front
$405
2023 Hyundai Tucson 4 Door Utility
Front
$515
*Prices are estimates only. Final price depends on vehicle.
Buckeye Windshield FAQ
---
What is the average cost of a Buckeye windshield replacement?
The cost for your windshield replacement depends on if you pay out-of-pocket or through your auto insurance.
The average cost for Buckeye customers paying out of pocket to get a new windshield is $215-$385.
Customers using insurance for payment pay $0 or close to it in most cases. The only cost for them will be their insurance deductible, which we can often pay.
How much cash back do customers in Buckeye get for windshield replacement?
Customers in Buckeye receive $55-$105 for a new windshield on average, with a max amount of $275.
Your exact cash amount depends on your insurance policy and your vehicle year, make and model.
Can I schedule my auto glass replacement service today in Buckeye?
Yes, in some cases we can schedule your appointment today.
We need to have your glass in stock and a technician in the area in order for us to come out the same day.
This means that same day availability is easiest for common vehicles like the GMC Sierra 1500 or Ford Bronco and popular Buckeye spots like Verrado or the Buckeye Aquatics Center.
Where can I have a technician meet me in Buckeye for my auto glass replacement?
We can schedule your service at any location in Buckeye that you'd like. Many customers like to have us meet them at their work or their home, so we frequently visit Buckeye neighborhoods like Tartest, Vista De Montana and Rita West.