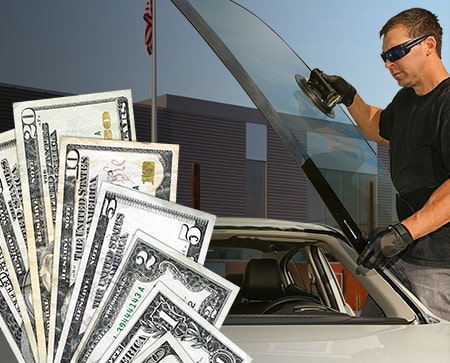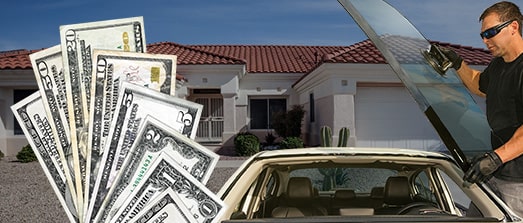 El Mirage Windshield Replacement:

up to $275 Cash Back. BBB A+
Pinnacle Auto Glass offers the best windshield replacement offer in El Mirage: up to $275 free cash back.
Plus, for your peace of mind we are BBB A+-rated and all El Mirage auto glass is backed by our 100% warranty. Get your free quote now!
Or request a free quote
3,410+ El Mirage Auto Glass Customers
Free Cash Back and Expert Service
Our team of Pinnacle Auto Glass pros is ready to perform an expert windshield replacement in El Mirage, AZ, with great free cash back deals if you pay through insurance. Plus, you'll receive free mobile service, a lifetime warranty, and more.
Decades of Experience and Hundreds of Thousands of El Mirage and Valley Customers
Our company has been in the Phoenix Metro Area for 20+ years, and we've performed more than 750,000 windshield replacements in El Mirage, Arizona, and the rest of the Valley.
Call Pinnacle Auto Glass at 480.907.3982 today to take advantage of more than 2 decades of experience and the best windshield replacement cash back in El Mirage!
Up to $275 Free Cash Back with Insurance Windshield Replacement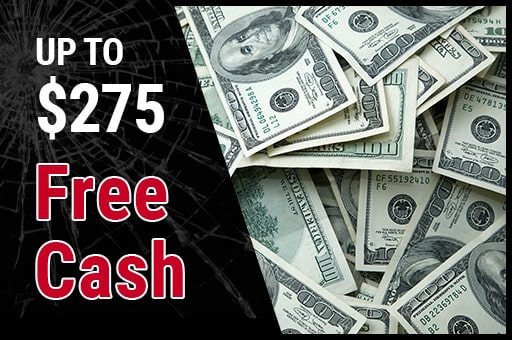 Cash Back Offer Details
Get up to $275 cash back with insurance El Mirage windshield replacement
Cash back varies based on vehicle & insurance
Among El Mirage's highest cash back amounts
Why Choose Us for Your Windshield Replacement or Auto Glass Repair in El Mirage, Arizona
1
Up to $275 FREE CASH with Windshield Replacement in El Mirage, AZ
When you use auto insurance to pay for a new windshield replacement in El Mirage from Pinnacle Auto Glass, you will qualify for up to $275 mobile windshield replacement with cash back! We consistently have some of the highest cash back amounts for residents of El Mirage, Arizona, and the Phoenix Metro Area.
2
FREE Mobile Auto Glass Service in El Mirage and the Phoenix Metro Area
One of our mobile auto glass technicians can come to your location anywhere in El Mirage, Arizona, or the entire Valley for your windshield replacement or auto glass repair service.
Plus, our company is open 7 days a week for glass repair Phoenix, so it's easy for El Mirage residents to schedule your appointment at a time and place that you choose. You tell us where you want to meet your technician for your El Mirage auto glass repair and we'll see you there!
3
Experienced Auto Glass Technicians and Quality Service
Our auto glass repair specialists all have 3 or more years of experience to help ensure a great customer experience with every auto glass repair or replacement service.
Customer satisfaction is important to us, and our company gets a lot of repeat business from great customer reviews, so we also use quality parts and materials with every auto glass service in El Mirage, Arizona, or around the Valley. These include OEM or equivalent windshields and fast-drying urethane for windshield replacements.
Whatever make and model of vehicle you have, we can work on it, even if you have an RV! In addition to your front windshield, we also repair or replace side door glass.
4
We Work with All Insurance Companies
Our company has replaced hundreds of thousands of windshields through insurance. We have a lot of experience handling insurance claims with all the major insurance companies, plus many of the small insurance companies. We can work with all auto insurance providers.
We handle the insurance claim for you, and we can deal directly with your insurance company. Most customers with insurance coverage won't have any cost for their auto glass repair or windshield replacement service.
5
Every Service is Backed by a 100% Lifetime Warranty
We have a 100% lifetime warranty that applies to every auto glass replacement or repair in El Mirage, Arizona, or across the Valley. Our lifetime warranty means your El Mirage auto glass service is protected for the life of your vehicle against problems with the labor or materials.
Call Pinnacle Auto Glass at 480.907.3982 today to speak with our friendly customer service team and schedule your appointment!
Repair or Replace Your Windshield Anywhere in El Mirage, AZ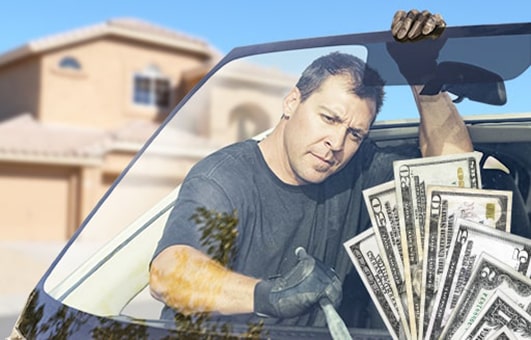 We can meet you anywhere in El Mirage to fix your glass.
Popular El Mirage Neighborhoods We Service:
Avoid Windshield Chips in El Mirage
Instead of using the US 60/Phoenix-Wickenburg Hwy or Northern Ave to go east or west, try surface streets like Cactus Rd or Olive Ave to prevent annoying glass chips!
El Mirage Windshield FAQ: Windshield Repair, Window Replacement, Specials & More
---
How does free cash back work with an El Mirage windshield replacement?
We make it quick and easy! Here's how:
1. Call us at 480.907.3982 or request a quote.
2. We will set up the claim for your new windshield with your insurance provider, and we'll take care of the claim paperwork for you.
3. We will have a technician meet you anywhere in El Mirage, AZ, or Valley-wide to put in your windshield.
4. Get your free cash back!
Will you be able to fix my vehicle's auto glass in El Mirage?
Yes! We provide our auto glass services for all modern vehicles made since 1981. We can work on cars, SUVs, pickup trucks, minivans and more. We can even work on many classics.
Give us a call at 480.907.3982 or complete our quote form for a free, no-obligation quote for your vehicle!