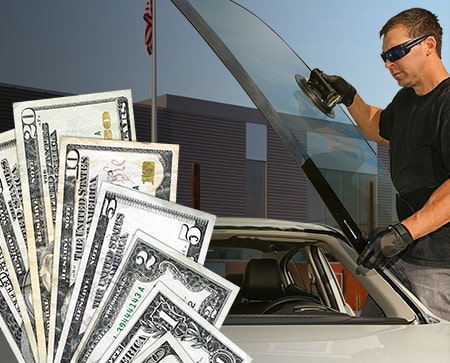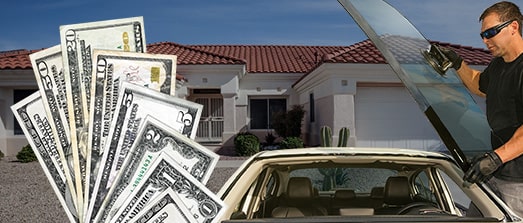 Windshield Replacement & Auto Glass

Repair in El Mirage, AZ. BBB A+
Pinnacle Auto Glass offers the best windshield replacement offer in El Mirage: up to $275 free cash back.

Plus, for your peace of mind we are BBB A+-rated and all El Mirage auto glass is backed by our 100% warranty. Get your free quote now!
Or request a free quote
The #1 Auto Glass Company in El Mirage
Free Cash Back and Expert Service in El Mirage
Our team of Pinnacle Auto Glass pros is ready to expertly replace your windshield anywhere in El Mirage with great free cash back deals if you pay through insurance. Plus, you'll receive free mobile service, a lifetime warranty, and more!
Decades of Experience and Hundreds of Thousands of El Mirage and Valley Customers
Our company has been in the Phoenix Metro Area for 20+ years, and we've performed more than 750,000 windshield replacements around the Valley.
Call Pinnacle Auto Glass at 480.907.3982 today to take advantage of more than 2 decades of experience and the best windshield cash offer in El Mirage!
Up to $275 Cash Back with New Windshield in El Mirage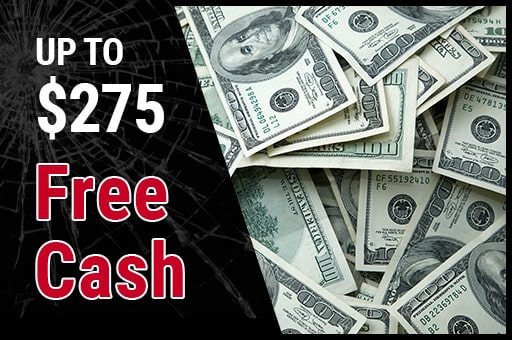 Cash Back Offer Details
Get up to $275 cash back with insurance El Mirage windshield replacement
Cash back varies based on vehicle & insurance
Among El Mirage's highest cash back amounts
All auto insurance accepted
Includes free mobile service in El Mirage & throughout the Valley
Why Choose Us for Your Replacement or Repair in El Mirage?
1
Up to $275 FREE CASH for Replacing Your Windshield Glass
When you use auto insurance to pay for a new windshield replacement from Pinnacle Auto Glass, you will qualify for up to $275 cash back! We consistently have some of the highest cash back amounts for residents of El Mirage, Arizona, and the Phoenix Metro Area.
2
FREE Mobile Auto Glass Service in El Mirage and the Phoenix Metro Area
One of our mobile auto glass technicians can come to your location anywhere in El Mirage, Arizona, or the entire Valley for your windshield replacement or auto glass repair service.
Plus, our company is open 7 days a week, so it's easy for El Mirage residents to schedule your appointment at a time and place that you choose. You tell us where you want to meet your technician for your El Mirage auto glass repair and we'll see you there!
3
Experienced Auto Glass Technicians and Quality Service
Our auto glass repair specialists all have 3 or more years of experience to help ensure a great customer experience with every auto glass repair or replacement service.
Customer satisfaction is important to us, and our company gets a lot of repeat business from great customer reviews, so we also use quality parts and materials with every auto glass service in El Mirage, Arizona, or around the Valley. These include OEM or equivalent windshields and fast-drying urethane for windshield replacements.
Whatever make and model of vehicle you have, we can work on it, even if you have an RV! In addition to your front windshield, we also repair or replace side door glass.
4
We Work with All Insurance Companies
Our company has replaced hundreds of thousands of windshields through insurance. We have a lot of experience handling insurance claims with all the major insurance companies, plus many of the small insurance companies. We can work with all auto insurance providers.
We handle the insurance claim for you, and we can deal directly with your insurance company. Most customers with insurance coverage won't have any cost for their auto glass repair or windshield replacement service.
5
Every Service is Backed by a 100% Lifetime Warranty
We have a 100% lifetime warranty that applies to every auto glass replacement or repair in El Mirage, Arizona, or across the Valley. Our lifetime warranty means your El Mirage auto glass service is protected for the life of your vehicle against problems with the labor or materials.
Call Pinnacle Auto Glass at 480.907.3982 today to speak with our friendly customer service team and schedule your appointment!
Meet Your Glass Technician Anywhere in El Mirage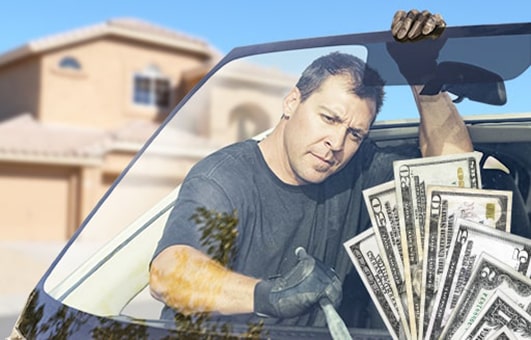 We can meet you anywhere in El Mirage or around the Valley to fix your glass.
Popular El Mirage Neighborhoods We Service:
Avoid Windshield Chips in El Mirage
Instead of using the US 60/Phoenix-Wickenburg Hwy or Northern Ave to go east or west, try surface streets like Cactus Rd or Olive Ave to prevent annoying glass chips!
Auto Glass Prices in El Mirage
Average Cost of Auto Glass Services in El Mirage
The table below shows average costs in El Mirage for different services, according to our database of auto glass quotes.
Service
Average Price*
Low Price*
High Price*
Windshield Replacement
$270
$170
$910
Side Window Replacement
$180
$155
$420
Auto Glass Replacement Pricing Estimates for Popular Vehicles in El Mirage
The price to replace a windshield or auto glass depends on the year, make and model of your vehicle.
The table below shows estimated prices for some popular El Mirage vehicles.
Vehicle
Glass Type
Estimated Price*
2001 Dodge Pickup 1500 2 Door Standard Cab
Front
$215
2006 Buick Lucerne 4 Door Sedan
Front
$220
2006 Buick Lucerne 4 Door Sedan
Front
$215
2009 Ford Econoline Extended Van
Front
$220
2015 Chrysler Town & Country Mini Van
Front
$250
2016 GMC Canyon 4 Door Crew Cab
Front
$280
2019 Honda Odyssey Mini Van
Front
$385
*Prices are estimates only. Final price depends on vehicle.
El Mirage Windshield FAQ
---
What does a windshield replacement in El Mirage cost?
The cost on average for a new windshield in El Mirage is $0 for customers using insurance, and $260-$375 for customers paying themselves.
For insurance customers with a deductible, we can pay it in many cases to keep their out-of-pocket cost as close to $0 as possible.
How much cash back does an El Mirage windshield replacement qualify for?
The exact cash back depends on your insurance policy and vehicle details. The average cash back for customers in El Mirage is between $50-$110. The maximum amount available is $275.
Are same day appointments available in El Mirage for an auto glass replacement?
Yes, in some cases we can meet you today in El Mirage.
Same day is not always available. We have to have your glass already in stock, plus have a technician in the area where you'd like to meet.
Same day appointments are more likely if you have a common vehicle like a Kia Stinger and you'd like to meet your technician in a popular spot like Downtown El Mirage.
What parts of El Mirage do your auto glass replacement technicians meet customers in?
Our service area includes anywhere in El Mirage. We can meet you at your home, work or anywhere else in any El Mirage neighborhood like Arizona Brisas, Rancho El Mirage or Agua Fria.