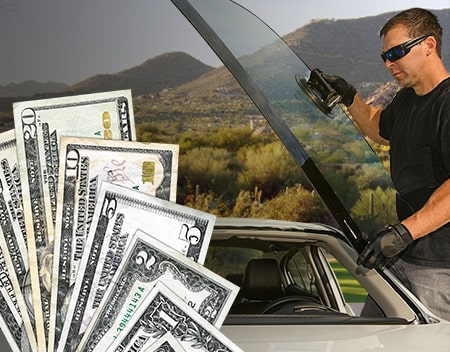 Windshield Replacement & Auto Glass

Repair in Cave Creek, AZ. BBB A+
Call today and get up to $275 free cash back with any windshield replacement in the Cave Creek area using auto insurance.

Pinnacle Auto Glass is a BBB A+-rated shop, and we back every Cave Creek auto glass service with a 100% warranty. Call now for your free quote!
Or request a free quote
The #1 Auto Glass Company in Cave Creek
Great Service and the Best Offers in Cave Creek
If you need to replace your windshield in Cave Creek and you'd like free cash back, call our auto glass experts now at 480.907.3982! You'll receive a great service, a lifetime warranty and Cave Creek's best cash back offers!
750,000+ Cave Creek and Valley Customers
Pinnacle Auto Glass has the experience and expertise to properly complete your auto glass repair or replacement, with 750,000 windshields replaced around the Phoenix Metro Area over the past 20+ years. Plus, we work with all insurance providers, and we are the Valley's cash back experts.
Up to $275 Cash Back with New Windshield in Cave Creek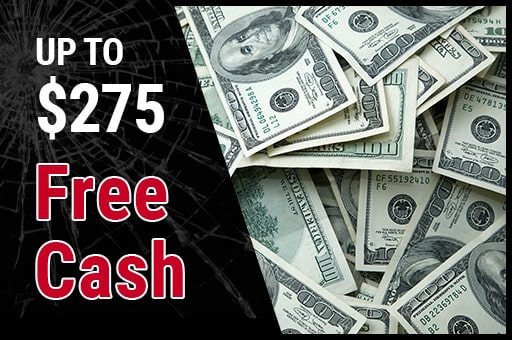 Cash Back Offer Details
Get up to $275 cash back with front windshield paid by insurance
Cash back varies based on vehicle & insurance
Among Cave Creek's highest cash back amounts
All vehicle insurance accepted
Includes free mobile service in Cave Creek or Valley
Why Choose Us for Your Repair or Replacement in Cave Creek?
1
Up to $275 FREE CASH for Replacing Your Windshield
Insurance customers can now get up to $275 when they get a new windshield using insurance in Cave Creek. Our cash back amounts are consistently among the highest around. Call Pinnacle Auto Glass for a free cash back quote in just a few minutes!
If you prefer to pay yourself, we have low prices on all our windshield and auto glass services!
2
Mobile Auto Glass Service Included for FREE in Cave Creek, AZ, and Greater Phoenix
We include free mobile service for our customers with all our auto glass services, so we come to your location of choice at no cost to you. Our goal is to make it as easy as possible to fit your Cave Creek auto glass repair into your schedule.
If you would like to meet your technician at a location outside the town of Cave Creek for your auto glass replacement or repair, no problem! Our mobile auto glass technicians are happy to meet you anywhere around the Phoenix Metro Area for your auto glass service.
3
Quality Parts and Expert Technicians for Quality Service
Quality service and customer satisfaction are important to us, as a local, family-owned auto glass replacement company. We use fast-drying, premium urethane and other quality materials for our auto glass repairs and replacements in Cave Creek and around the Valley.
Plus, our windshield technicians all have more than three years of experience performing glass repair services. This helps ensure quality workmanship with our windshield repair and auto glass replacement services in Cave Creek and the Phoenix Metro Area.
We work on all modern vehicles including RV glass, but we don't currently offer power window repair.
4
Insurance Company-Approved for Fast Insurance Claims
With decades of experience and hundreds of thousands of windshields replaced in Cave Creek and Maricopa County, AZ, we know all the ins and outs of the insurance claims process.
We work with all insurance companies in Arizona, and we handle all the paperwork for the insurance claim on your vehicle. We get paid by your insurance provider for our services, so most Cave Creek residents with insurance pay no cost for their auto glass services in Cave Creek, AZ.
If you have any questions during the insurance process, simply call our customer service phone number. We've worked with almost all insurance providers, so we know how they each work and we can normally answer any customer questions right away.
5
100% Lifetime Warranty Protection
Every auto glass replacement and repair service comes with strong, 100% lifetime warranty protection against potential problems that may occur with either materials or labor. Our warranty coverage extends beyond Arizona and covers the entire country.
As a family-owned windshield replacement company, we want to make sure every customer is happy with their decision to choose our company for their service. For any questions or concerns with our services, simply call Pinnacle Auto Glass 480.907.3982 and our customer service team will be happy to take care of them for you. We don't think you can find a better auto glass company in town! Schedule your appointment today to see for yourself!
Meet Your Technician Anywhere around Cave Creek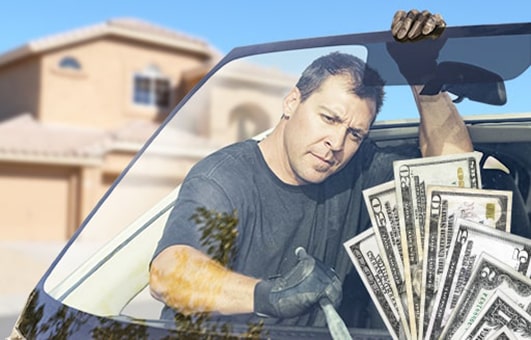 We can meet you wherever you'd like in Cave Creek or Valley-wide to fix your glass.
Popular Cave Creek Neighborhoods We Service:
Avoid Windshield Chips in Cave Creek
Try using Cave Creek Rd to get around - its slower speed limits keep those annoying glass cracks and chips away a lot better than the faster speed limits on other roads like Carefree Hwy.
Auto Glass Prices in Cave Creek
Average Cost of Auto Glass Services in Cave Creek
The table beneath shows average costs from our auto glass quote database for different Cave Creek services.
Service
Average Price*
Low Price*
High Price*
Windshield Replacement
$330
$215
$565
Side Window Replacement
$215
$180
$375
Auto Glass Replacement Pricing Estimates for Popular Vehicles in Cave Creek
The price each customer pays for a new windshield or auto glass depends entirely on their vehicle year, make and model.
To get an idea of pricing, the table below shows estimated prices for windshield or glass replacement on some popular Cave Creek vehicles.
Vehicle
Glass Type
Estimated Price*
1991 Mazda Miata 2 Door Convertible
Front
$235
1994 Geo Tracker 2 Door Convertible
Front
$220
1999 Dodge Grand Caravan Mini Van
Front
$225
2000 Chevrolet Silverado C1500 2 Door Standard Cab
Front
$220
2001 Ford Windstar Mini Van
Front
$265
2003 Kia Rio Cinco 4 Door Hatchback
Front
$225
2013 Toyota FJ Cruiser 4 Door Utility
Front
$250
2014 Chevrolet Suburban 4 Door Utility
Side
$215
*Prices are estimates only. Final price depends on vehicle.
Cave Creek Windshield FAQ
---
What does it cost for a Cave Creek area windshield replacement service?
Most of our customers in Cave Creek use their insurance to cover the cost of their new glass so they pay $0 out of pocket.
Customers paying themselves pay on average $300-$515.
Is cash back available for a windshield replacement in Cave Creek?
Yes, it requires a new front windshield paid for with insurance. Final cash amount is then determined by your vehicle and insurance details.
The average cash back for Cave Creek customers is $65-$125. The max amount we offer is $275.
Can you schedule my auto glass replacement service today in Cave Creek?
Yes, sometimes we are able to get customers on the schedule today. In order to do that, we need to have your vehicle's glass in stock already and a technician available where you want to meet.
This means it's easiest if you have a popular vehicle like a Subaru Outback and you'd like to meet at a popular spot for your service like Downtown Cave Creek.
What is the most popular place in Cave Creek to schedule an auto glass replacement service?
The most popular spot to get glass fixed is either at the customer's work or home. Our service area includes all of Cave Creek, so we meet our customers in all local neighborhoods including Rancho Manana, Mesquite Ranch, Hidden Valley, Willow Springs and more.