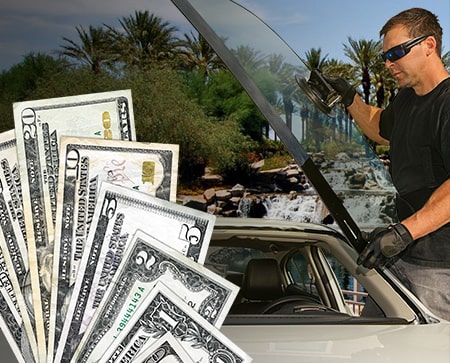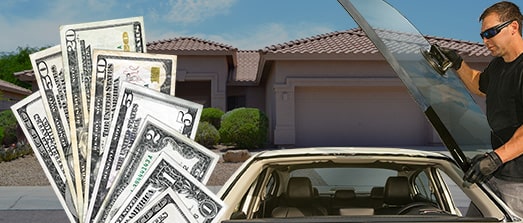 Surprise Windshield Replacement:

up to $275 Cash Back. BBB A+
Windshield replacement in the Surprise, AZ, area with up to $275 cash back for customers using insurance.
100% warranty with every Surprise auto glass service, plus Pinnacle Auto Glass is BBB A+-rated. Get a free quote for your glass today!
Or request a free quote
12,610+ Auto Glass Repair & Windshield Replacement Customers in Surprise, AZ
The Cash Back Experts in Surprise
Get free auto glass cash back and a quality windshield replacement in Surprise, AZ, when you call our auto glass experts today!
Expert Skills to Do the Job Right
With hundreds of thousands of windshields replaced in Surprise Arizona and elsewhere around the Valley, decades of experience, and more than $10 MILLION paid out in auto glass cash back, we have the skills and expertise to do the job right.
Up to $275 Free Cash Back with Surprise Windshield Replacement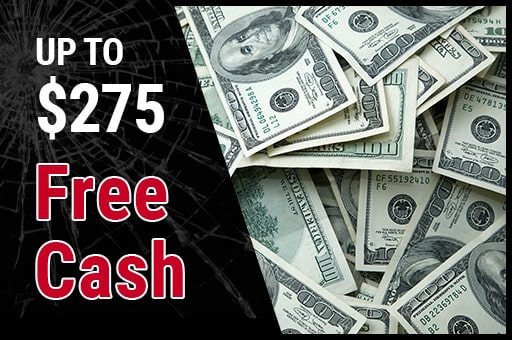 Cash Back Offer Details
Get up to $275 cash back with insurance windshield replacement in Surprise
Cash back varies based on vehicle & insurance
Among Surprise's highest cash back amounts
Why Choose Us for Your Surprise Auto Glass Replacement or Windshield Repair
1
Up to $275 FREE CASH with Windshield Replacement in Surprise, AZ
We are the auto glass cash back company! We're now offering up to $275 Phoenix cash for windshield with any Surprise windshield replacement through insurance.
2
FREE Mobile Repair or Replacement Anywhere in Surprise and the Valley
Our goal is to make your Surprise auto glass repair or replacement as convenient as possible.
Our mobile service technicians can meet our customers anywhere in Surprise or the surrounding area for mobile windshield repair and replacement. Just let us know the best location for you to meet your technician, whether it's in Surprise or the rest of the Phoenix area.
3
Focused on Quality for Every Auto Glass Repair and Replacement
Be confident that your Surprise auto glass replacement or repair will be done correctly. We use quality materials like OE or equivalent windshields and auto glass.
We provide repair windshield replacement services and side window replacement for all types of vehicles, but we do not currently offer power window repair.
Our glass replacement company also has a policy that our technicians have at least 3 years of experience with auto glass repair and replacement.
4
Preapproved by All Insurance
Most Valley residents use their auto insurance to pay for their auto glass repair services. We work with all insurance companies, and we're already preapproved by all the major ones for glass replacement and repair.
If you've never worked with insurance for your auto glass repair services, don't worry. We will take care of the claim and paperwork for you.
5
100% Lifetime Warranty with Your New Windshield or Auto Glass Repair
Pinnacle Auto Glass is a family-owned auto glass repair shop based here in Arizona. Customer satisfaction and safety is important for our company, whether we're performing a quick auto glass repair in Surprise or any other service for Valley residents.
When you choose our auto glass repair company for your auto glass services, we include a 100% lifetime warranty. Our warranty provides total protection for your vehicle's lifetime from any materials or labor issues with your Surprise auto glass service.
Call Pinnacle Auto Glass at 480.907.3982 today to schedule an appointment for your windshield repair or replacement service and get back on the road fast!
Repair or Replace Your Glass Anywhere in Surprise, Arizona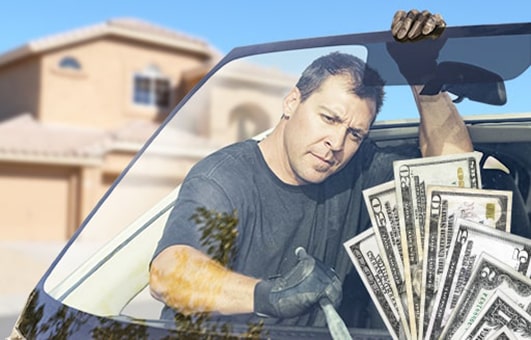 One of our technicians can meet you anywhere in Surprise for your auto glass.
Popular Surprise Neighborhoods We Service:
Avoid Windshield Chips in Surprise
Watch out for driving on Loop 303, especially during rush hour. Bell Rd and Reems Rd are great alternatives that are safer and more reliable for your glass!
FAQ: Arizona Cash Offer, Free Quote & More
---
How does getting a Surprise windshield replacement with cash back work?
It's easy! There are 4 steps to replace your glass and get cash:
1. Call us at 480.907.3982 or request a quote.
2. Your customer representative will set up your claim with your insurance provider. We'll handle all the paperwork for your claim for you.
3. We'll schedule a technician to meet you anywhere in Surprise or around the Valley and replace your windshield.
4. Get your free cash back!
Will I need to totally replace my auto glass or can I just get a chip repair?
It depends. Small chips and cracks are often repairable, but large damage typically requires a complete replacement.
Call 480.907.3982 or fill out our quote form and we'll give you a free quote to take care of your specific glass damage!