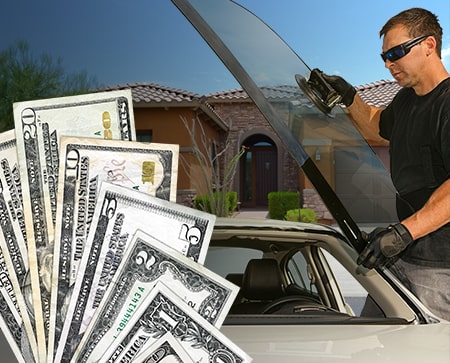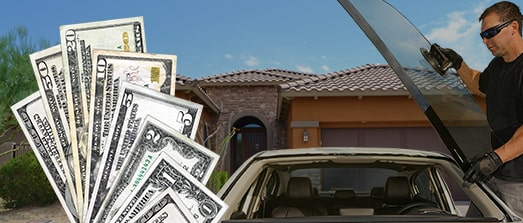 Windshield Replacement & Auto

Glass Repair in Avondale, AZ. BBB A+
Get expert service with up to $275 free cash with a windshield replacement in Avondale using insurance for payment.

Your Avondale auto glass service will be backed by our 100% lifetime warranty and BBB A+ service. Get a free quote from Pinnacle Auto Glass now!
Or request a free quote
The #1 Auto Glass Company in Avondale
Fix Your Windshield Fast in Avondale with Great Cash Back
When you need to fix your cracked windshield in Avondale, AZ, plus great cash back deals if you're using auto insurance, call the Pinnacle Auto Glass experts to get back on the road fast!
20+ Years and Thousands of Avondale Customers
We have over 20 years of experience providing auto glass repair and replacement in Avondale and the whole Valley.
We offer professional auto glass services for any vehicle make and model. Call 480.907.3982 now to get started!
Up to $275 Free Cash Back with New Windshield in Avondale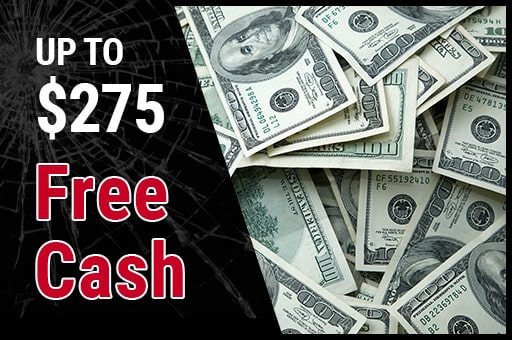 Cash Back Offer Details
Get up to $275 cash back with front windshield through insurance
Cash back varies based on vehicle & insurance
Among Avondale's highest cash back amounts
All insurance companies accepted
Plus get free mobile service throughout Avondale or Valley
Why Choose Us for Your Repair or Replacement in Avondale?
1
Up to $275 FREE CASH
Receive the most cash back (up to $275) from us when you replace your windshield through your auto insurance company.
We also have cheap prices for windshield replacements and repairs if you prefer to pay for your Pinnacle Auto Glass service yourself.
2
Maximum Convenience with FREE Mobile Service 7 Days a Week
We include free mobile service right to your location with every auto glass replacement or auto glass repair in Avondale, AZ, so scheduling your service appointment is easy and convenient.
Our services are available anywhere in town if you need to meet your technician somewhere besides Avondale.
3
Quality Parts and Expertise
Every one of our Avondale auto glass services uses quality parts like OEM or equivalent windshield glass.
Our company also requires all our auto glass technicians to have 3+ years of windshield replacement and repair experience.
4
Fast Insurance Claims for Windshield Repair and Replacement
More than 80% of Avondale residents pay for their auto glass service through their insurance.
Our company is already preapproved by all large auto insurance companies, and we handle your whole windshield claim for you. Most Avondale residents with car insurance that covers auto glass won't have to pay anything to get their auto glass repaired or replaced.
5
Every Auto Glass Service Includes a Lifetime Warranty
We include a 100% lifetime warranty with every Avondale windshield replacement and repair service, providing full protection against potential problems with any of the materials or labor on your new glass.
Give Pinnacle Auto Glass a call at 480.907.3982 to schedule your appointment!
Meet Your Technician At Any Avondale Location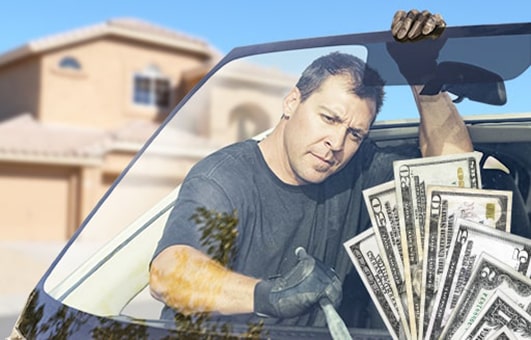 Pick any spot in Avondale or throughout the Valley to fix your glass.
Popular Avondale Neighborhoods We Service:
Avoid Windshield Chips in Avondale
The I-10/Papago Fwy is notorious for inflicting rock chips and cracks on innocent windshields. Try surface streets instead like Van Buren St or McDowell Rd to keep your windshield free from its clutches and in need of an Avondale windshield repair!
Auto Glass Prices in Avondale
Average Cost of Auto Glass Services in Avondale
The following table shows average prices in Avondale from our quote database for different auto glass services.
Service
Average Price*
Low Price*
High Price*
Windshield Replacement
$265
$145
$795
Side Window Replacement
$215
$135
$475
Rear Window Replacement
$335
$170
$785
Auto Glass Replacement Pricing Estimates for Popular Vehicles in Avondale
Windshield and auto glass pricing depends entirely on your vehicle and its year, make and model.
The table beneath shows estimated pricing for a number of popular vehicles in Avondale.
Vehicle
Glass Type
Estimated Price*
2002 Cadillac Escalade 4 Door Utility
Front
$190
2004 Toyota Camry 4 Door Sedan
Front
$275
2011 Ford Focus 4 Door Sedan
Front
$235
2013 Nissan Altima 4 Door Sedan
Front
$325
2013 Volkswagen CC 4 Door Sedan
Front
$325
2022 Ford F Series F150 4 Door Super Cab
Front
$525
*Prices are estimates only. Final price depends on vehicle.
Avondale Windshield FAQ
---
How much does a windshield replacement cost for Avondale customers?
If you pay out-of-pocket, the average cost of a windshield replacement for customers in Avondale is $220-$375.
If you use your auto insurance for payment, your cost will be $0 in most cases. The exception would be if your policy has a deductible. We can often pay your dedutible for you if you have one to keep your cost close to $0.
How much cash back will I get paid for an Avondale windshield replacement?
The average cash back for a new windshield is $60-$100.
The exact amount you qualify for will depend on your vehicle and your auto insurance policy details. The max cash amount is $275.
Is same day auto glass replacement available to customers in Avondale?
Yes, we have some day appointments available in Avondale.
The availability depends on a few factors such as if we have your glass in stock, if we'll have a technician in the area you'd like to meet and if there's enough time left in the day to complete your service.
Popular vehicles like the Toyota RAV4 or Honda CR-V and popular Avondale locations like Harkins Theatres Gateway Pavilions 18 are more likely to have an appointment available today.
What are some places in Avondale where I can schedule my auto glass replacement?
We visit customers throughout Avondale to fix their auto glass. We can meet you at a local entertainment venue like Ak-Chin Pavilion or Phoenix International Raceway, or at your home or work in any Avondale neighborhood such as Dysart Ranch, Palm Meadows or Garden Park.