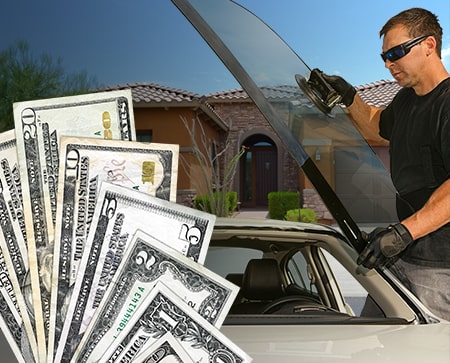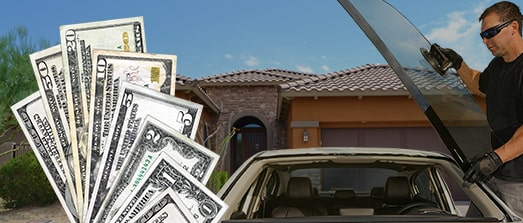 Avondale Windshield Replacement:

up to $275 Cash Back. BBB A+
Get expert service with up to $275 free cash with a windshield replacement in Avondale using insurance for payment.
Your Avondale auto glass service will be backed by our 100% lifetime warranty and BBB A+ service. Get a free quote from Pinnacle Auto Glass now!
Or request a free quote
8,180+ Avondale Auto Glass Customers
Fix Your Windshield Fast with Great Cash Back
When you need a windshield replacement in Avondale, AZ, plus great cash back deals if you're using auto insurance, call our Pinnacle Auto Glass experts to get back on the road fast!
20+ Years and Thousands of Avondale Customers
We have over 20 years of experience providing auto glass repair and replacement in Avondale and the whole Valley.
We offer professional auto glass services for any vehicle make and model. Call 480.907.3982 now to get started!
Up to $275 Free Cash Back with Windshield Replacement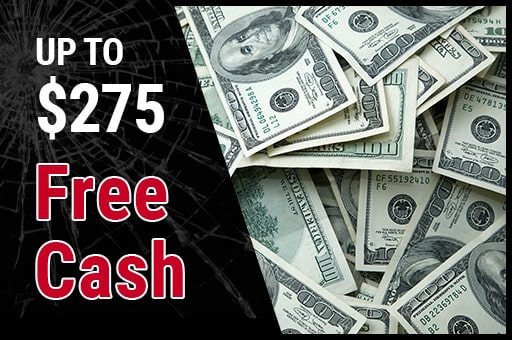 Cash Back Offer Details
Get up to $275 cash back with new windshield through insurance
Cash back varies based on vehicle & insurance
Among Avondale's highest cash back amounts
Why Choose Us for Your Windshield Repair or Auto Glass Replacement in Avondale, Arizona
1
Up to $275 FREE CASH
Receive the most cash back windshield replacement (up to $275) from us when you replace your windshield through your auto insurance company.
We also have cheap prices for windshield replacements and repairs if you prefer to pay for your Pinnacle Auto Glass service yourself.
2
Maximum Convenience with FREE Mobile Service 7 Days a Week
We include free mobile service right to your location with every auto glass replacement or auto glass repair in Avondale, AZ, so scheduling your service appointment is easy and convenient.
Our services like mobile windshield replacement Phoenix are available anywhere in town if you need to meet your technician somewhere besides Avondale.
3
Quality Parts and Expertise
Every one of our Avondale auto glass services uses quality parts like OEM or equivalent windshield glass.
Our company also requires all our auto glass technicians to have 3+ years of windshield replacement and repair experience.
4
Fast Insurance Claims for Windshield Repair and Replacement
More than 80% of Avondale residents pay for their auto glass service through their insurance.
Our company is already preapproved by all large auto insurance companies, and we handle your whole windshield claim for you. Most Avondale residents with car insurance that covers auto glass won't have to pay anything to get their auto glass repaired or replaced.
5
Every Auto Glass Service Includes a Lifetime Warranty
We include a 100% lifetime warranty with every Avondale windshield replacement and repair service, providing full protection against potential problems with any of the materials or labor on your new glass.
Give Pinnacle Auto Glass a call at 480.907.3982 to schedule your appointment!
Replace or Auto Glass Repair in Avondale, AZ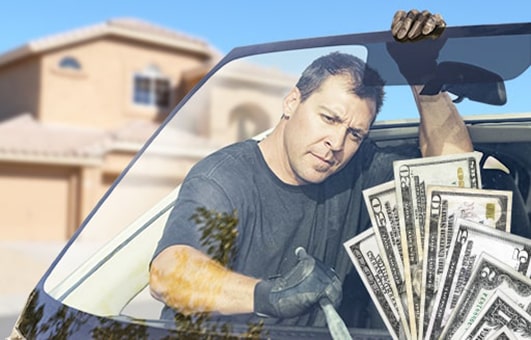 Pick any spot in Avondale to fix your glass.
Popular Avondale Neighborhoods We Service:
Avoid Windshield Chips in Avondale
The I-10/Papago Fwy is notorious for inflicting rock chips and cracks on innocent windshields. Try surface streets instead like Van Buren St or McDowell Rd to keep your windshield free from its clutches and in need of an Avondale windshield repair!
FAQ: Get an Auto Glass Quote, Offers & More
---
How does free cash back work if I get a windshield replacement in Avondale through insurance?
We make it quick and easy! Here's how:
1. Call us at 480.907.3982 or request a quote.
2. We'll work with your insurance provider and handle the whole claim for you.
3. We'll send a glass technician out to you in Avondale or Valley-wide to install your new windshield.
4. We'll send you your free cash back!
What kinds of vehicles do you offer auto glass services for in Avondale?
We can work on any modern vehicle produced from 1981 - now, plus many popular classic cars and trucks.
Give us a call at 480.907.3982 or request a quote and we'll be happy to give you a free quote to fix your glass!