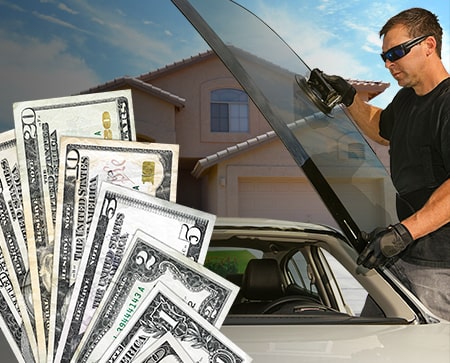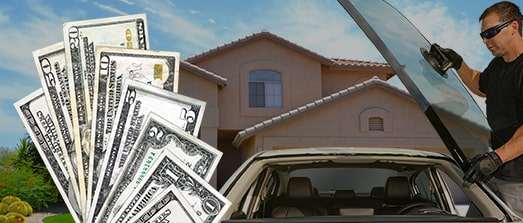 Goodyear Windshield Replacement:

up to $275 Cash Back. BBB A+
Call the windshield replacement experts in Goodyear today and you'll get up to $275 free cash back with insurance.
You'll also get a 100% warranty on your new Goodyear auto glass from our BBB A+-rated shop. Call Pinnacle Auto Glass now for your free quote!
Or request a free quote
7,100+ Goodyear Mobile Windshield Replacement Customers
Expert Technicians and Free Cash Deals
Our expert technicians are available for your windshield replacement in Goodyear, AZ, and you'll get up to $275 in free cash back if you use your auto insurance with Pinnacle Auto Glass!
Millions Paid Out to Our Customers over 20+ Years
Our company has more than 20 years of experience performing auto glass repair and replacement in Goodyear, AZ, and the Greater Phoenix Area. We've completed more than 750,000 windshield replacements and auto glass repair services, and we've paid out more than $10 MILLION in free cash back.
Local, Family-Owned Company
Give Pinnacle Auto Glass a call today at 480.907.3982 for a quality auto glass service and great cash back from a local, family-owned company!
Up to $275 Free Cash Back with Goodyear Windshield Replacement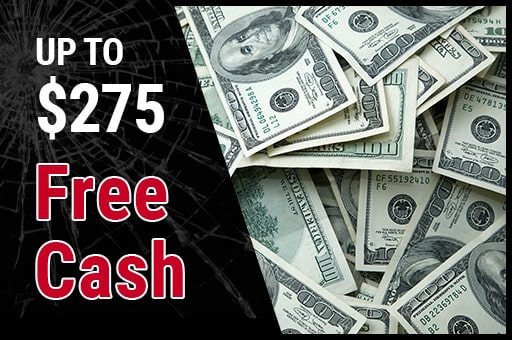 Cash Back Offer Details
Get up to $275 cash back with insurance windshield replacement in Goodyear
Cash back varies based on vehicle & insurance
Among Goodyear's highest cash back amounts
Why Choose Us for Your Goodyear Auto Glass Replacement or Windshield Repair?
1
Up to $275 FREE Windshield Replacement CASH Back
Goodyear residents get up to $275 free cash back windshield Arizona with any replacement that you pay for through your auto insurance company.
2
FREE Mobile Service at Any Goodyear or Valley Location
Simply tell us your preferred location for your mobile auto glass repair or replacement in Goodyear, AZ, (or anywhere in the Phoenix area), and we'll have a mobile technician meet you there. Our mobile auto glass repair Phoenix service area covers Goodyear, AZ, and almost any location within 100 miles of Phoenix, AZ.
3
Quality Windshield Materials and Experienced Technicians
Our mobile auto glass technicians have 3 years or more of hands-on experience with auto glass repair and auto glass replacement, and they use quality materials such as fast-curing windshield sealant and OEM or equivalent windshields.
4
Preapproved by Insurance for Fast Claims
Most of our auto glass customers use insurance to pay for their Goodyear windshield replacement or repair.
Our customer service representatives are experts in the insurance claim process, and we are approved for windshield replacement service and mobile windshield replacement. We accept all insurances. We do not currently offer power window repair service.
Customer satisfaction is important to us, as a family-owned auto glass shop serving Goodyear, Arizona, so we focus on dealing with the insurance company for Goodyear residents and making it as quick and easy as possible.
5
100% Lifetime Warranty for Your Protection
Every Goodyear auto glass replacement or repair is backed by a 100% lifetime warranty that covers all parts and labor. Our warranty coverage lasts for your vehicle's lifetime, and it's good in Arizona and throughout the entire country.
Call Pinnacle Auto Glass 480.907.3982 today for a fast windshield repair or replacement quote in Goodyear, Arizona!
Windshield Replacement & Auto Glass Repair Anywhere in Goodyear, Arizona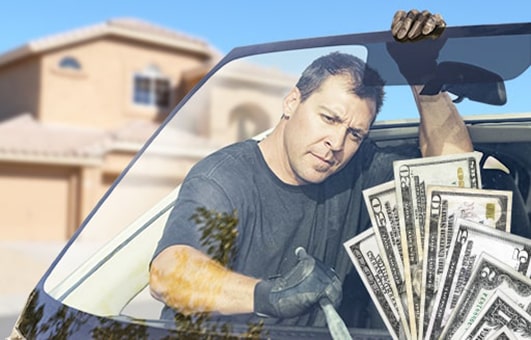 Meet your technician at any location in Goodyear to fix your glass.
Popular Goodyear Neighborhoods We Service:
Avoid Windshield Chips in Goodyear
If you watch out for driving on Loop 303 or the I-10/Papago Fwy then your windshield will really thank you! Freeway driving dramatically increases your chance of glass damage like chips and cracks.
Goodyear AZ FAQ: Windshield Replacement Service or Auto Glass Repair Services, Cash, etc.
---
How does your Goodyear windshield replacement cash back process work?
There are 4 steps to get new glass and cash:
1. Call us at 480.907.3982 or request a quote.
2. We will work with your insurance provider to set up a claim and handle all the paperwork.
3. We will work with you to schedule a time for a mobile technician to come meet you in Goodyear or Valley-wide for your windshield installation.
4. Get your free cash back!
How do I get a Goodyear auto glass quote?