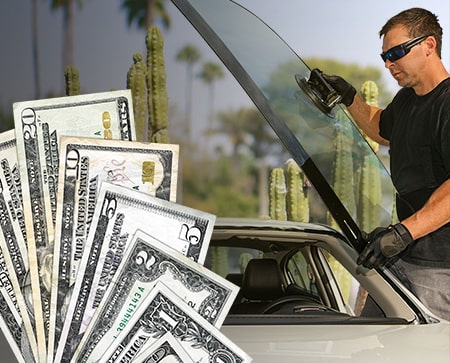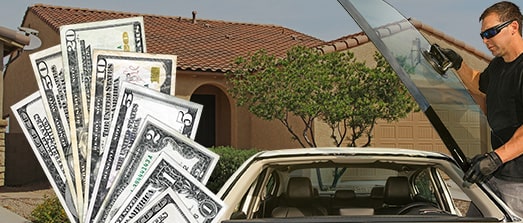 Windshield Replacement & Auto

Glass Repair in Sun City, AZ. BBB A+
Expert mobile windshield replacement in the Sun City area with up to $275 free cash.

100% warranty included with every Sun City auto glass service. Rated BBB A+. Call Pinnacle Auto Glass now for a fast, free quote!
Or request a free quote
The #1 Auto Glass Company in Sun City
Great Cash Back Deals with No Hassle in Sun City
Our team of local auto glass experts takes the hassle out of replacing your windshield in Sun City or around the Valley, plus we offer great free cash back deals.
Call Pinnacle Auto Glass at 480.907.3982 today and take advantage of our company's decades of experience and hundreds of thousands of auto glass customers in Sun City and the Valley.
With 750,000+ Valley Customers, We're the Team to Trust
You'll get the best Sun City auto glass cash, a 100% lifetime warranty on your auto glass or windshield repair, and convenient mobile auto glass service right to your location of choice.
Trust the team with more than 750,000 customers in Sun City and Valley-wide!
Up to $275 Cash Back with New Windshield in Sun City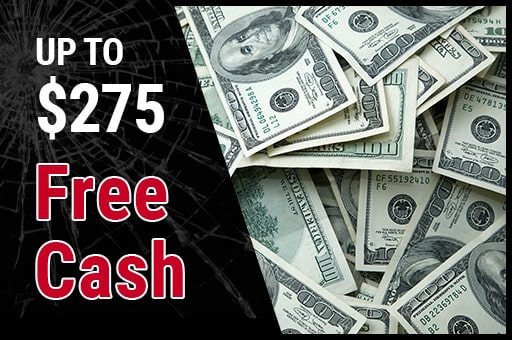 Cash Back Offer Details
Get up to $275 cash back with Sun City windshield replacement using insurance
Cash back varies based on vehicle & insurance
Among Sun City's highest cash back amounts
All insurance accepted
Free mobile service in Sun City or Valley-wide
Why Choose Us for Your Repair or Replacement in Sun City?
1
Up to $275 FREE CASH for Replacing Your Windshield in Sun City, AZ
When you replace your windshield with insurance, you will be eligible for up to $275 cracked windshield cash back from our company!
If you'd prefer to pay yourself to get your glass replaced in Sun City, Arizona, we also accept cash, credit or debit cards and checks.
2
FREE Mobile Service to Any Sun City or Valley Location
Our mobile technicians cover the city of Sun City, Arizona, and the whole Valley. When you call and schedule your appointment, just let your customer service representative know the best location for you.
Want to meet your auto glass technician at one of the many local golf courses or in Sun City West? We'll see you there for your mobile windshield replacement or auto glass repair!
3
Auto Glass Replacements and Repairs with a Focus on Quality
Quality auto glass services require good materials and expert knowledge. We use good materials like OEM or equivalent windshields and auto glass for our glass replacement services in Sun City, AZ, and throughout the Valley.
Our company also requires each one of our auto glass technicians to have at least three years of experience performing windshield repair services and windshield replacement.
We can repair or replace auto glass on any modern make and model of vehicle, including vehicles with ADAS systems. We can also help with windshield calibration if your vehicle requires it.
4
Auto Glass Insurance Experts
We've performed over 750,000 windshield replacements for residents of the city of Sun City, Arizona, and the rest of the Valley, most using auto insurance. We handle your claim for you and bill your auto insurance provider directly.
Most Arizona customers who choose to use their auto insurance company to pay for their windshield replacement or auto glass repair services won't need to pay anything out of pocket.
5
100% Lifetime Warranty for Your Peace of Mind
Customer satisfaction is always a priority for our company, as a family-owned, local auto glass business.
In the event of any issues with your Sun City auto glass replacement or repair service, you'll be fully protected by our lifetime warranty against materials problems or workmanship issues.
Meet Your Technician Anywhere in Sun City for Your Appointment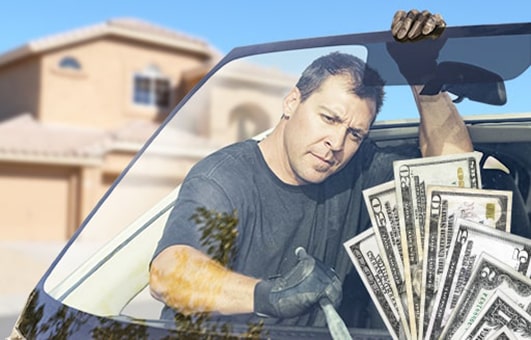 We can meet you at any spot in Sun City or Valley-wide to fix your glass.
Popular Sun City Neighborhoods We Service:
Avoid Windshield Chips in Sun City
Grand Ave is convenient when you're driving around in Sun City, but the high speeds & traffic volume mean a higher chance of chips and cracks. Try Thunderbird Rd or 99th Ave instead!
Auto Glass Prices in Sun City
Average Cost of Auto Glass Services in Sun City
The following table shows average costs from our database of quotes for various auto glass services in Scottsdale.
Service
Average Price*
Low Price*
High Price*
Windshield Replacement
$265
$170
$700
Side Window Replacement
$215
$165
$645
Rear Window Replacement
$295
$190
$660
Auto Glass Replacement Pricing Estimates for Popular Vehicles in Sun City
Auto glass prices vary from vehicle to vehicle.
This table shows estimated prices for replacing the auto glass on a number of common vehicles in the Scottsdale area.
Vehicle
Glass Type
Estimated Price*
1976 Chevrolet Series 50-65-70 2 Door Conventional Cab
Front
$210
1985 Mitsubishi Montero 2 Door Utility
Front
$240
1994 Nissan Sentra 4 Door Sedan
Front
$235
2012 BMW X5 4 Door Utility
Front
$265
2012 Chevrolet Cruze 4 Door Sedan
Front
$270
2012 Jaguar XF 4 Door Sedan
Front
$270
2012 Volkswagen Jetta 4 Door Sedan
Front
$205
2013 Nissan Juke 4 Door Utility
Front
$200
2016 Ford Explorer 4 Door Utility
Front
$225
2019 Honda Odyssey Mini Van
Front
$305
*Prices are estimates only. Final price depends on vehicle.
Sun City Windshield FAQ
---
How much is a windshield replacement in Sun City?
The average price of a new windshield in Sun City is $250-$415 for customers who pay out-of-pocket, or $0 for customers who use their auto insurance for payment.
How much cash back can I get for a Sun City windshield replacement?
The average amount of cash back for Sun City customers is $50-$90, with the exact amount determined by your vehicle and insurance policy details. The maximum amount of cash back is $275.
Can I schedule an appointment in Sun City today for my auto glass replacement?
Yes, same day appointments are available in some cases. We can meet you the same day if we have your glass in stock and a tech available where you want to meet. Customers with popular vehicles like a Hyundai Santa Cruz and who want to meet in popular spots like RISE: Rio Institute for Senior Education are more likely to get a same day appointment.
What is your service area in Sun City for mobile auto glass replacement appointments?
Our service area covers all of Sun City. We meet our customers throughout Sun City neighborhoods like Heritage Sun City and Sun City Manor at their work, home, school or anywhere else.