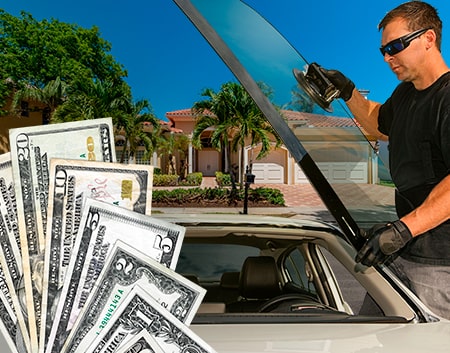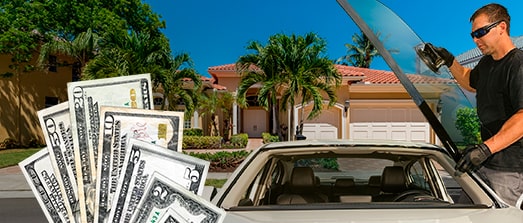 Windshield Replacement Black Canyon City AZ:

up to $275 Cash Back. BBB A+
With any Black Canyon City windshield replacement paid by insurance, you can receive up to $275 cash back AND free chip repairs for your vehicle's life!
We back your Black Canyon City auto glass with a 100% lifetime warranty and BBB A+ quality. Call now and get your free quote!
Or request a free quote
Join Hundreds of Our Black Canyon City Auto Glass Customers
Cash Back and Expert Auto Glass Repair in Black Canyon City
Black Canyon City drivers should not leave their auto glass repair and replacement to chance. Not only do we offer superior service and parts, but we provide up to $275 cash back for customers using auto insurance!
A BBB A+ Windshield Glass Expert in Black Canyon City
We have spent over 20 years providing superior service and peace of mind to auto owners in Black Canyon City. Our satisfied customers include thousands of drivers in the Phoenix Metro who are currently relying on the auto glass we replaced or repaired.
Free Mobile Service and a Lifetime Warranty
If your home is anywhere in Black Canyon City or surrounding areas, we can bring our services directly to you. We never charge extra for mobile service. Our technicians come right to your home, get the job done, and leave you with a lifetime warranty for their work and all the glass and other parts they installed.
Contact us today at 480.907.3982 to schedule mobile service!
Black Canyon City Glass Services with up to $275 Cash Back
Cash Back Offer Details
The value of the cash back deal is up to $275.
The actual amount depends on the insurer's policies and your vehicle details.
Our cash back award is one of the most generous in the Valley.
Bonus: $300 of chip coverage is included.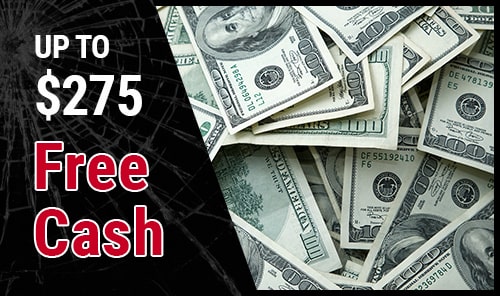 Why Choose to Get Your Windshield Repaired or Replaced by Our Team?
1
Receive Up to $275 in Free Cash
Drivers who get their windshields replaced with us can get up to $275 cracked windshield repair money back. To qualify, you only need to use your insurance to cover the replacement.
We do not require you to pay through your auto insurer for your car glass replacement near me. We also have competitive pricing and the exact same services and warranties for those who pay themselves. You can use your debit or credit card, cash, or a check to cover the out-of-pocket cost.
Though we offer excellent windshield replacement services, that is not all we do. We also provide rear glass and door window repairs and replacements.
2
Free Mobile Service on Every Street in Black Canyon City and the Phoenix Metro
We can bring our expertise right to your street, driveway, or parking lot. We never charge extra for mobile services. Also, depending on the type of glass you need and the location of our technicians, we can often get the job done on the same day or early the following day. Call 480.907.3982 to check availability for your vehicle and desired service location!
3
Technicians Trained to Meet the Highest Standards
We have earned a BBB A+ rating thanks to the skills of our technicians and our access to premium parts.
Our technicians need at least 3 years of professional experience before we send them out on service calls. They are trained to ANSI standards, fully-licensed, and have access to OEM parts or approved alternatives.
In addition to high-quality replacement glass, we use cutting-edge materials, like fast-curing urethane adhesive, to ensure safety and help you get back on the road as soon as possible.
4
We're Already Connected to Major Insurance Providers
We've developed connections with all major insurance companies over the past 20+ years in the auto glass industry. Because we have their pre-approval, we can get right to work with the details of your repair. We handle the paperwork and facilitate payment, so you do not have to do anything after providing the necessary info.
If your policy has a deductible, we work to limit your out-of-pocket expenses. We may be able to cover part or all of the deductible to get your payment as close to $0 as possible.
5
Our Work Is 100% Guaranteed
We offer full warranties. Not for 1 year or 2 years, but for as long as you own your car! If the parts we selected break or our technician made an error, we will make the necessary repairs, free of charge.
Call 480.907.3982 to arrange your windshield replacement today!
Serving Black Canyon City, AZ & All Nearby Areas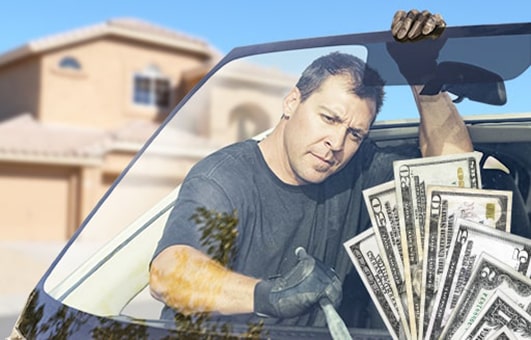 Our service area includes every corner of Black Canyon City and the entire Valley.
The Black Canyon City Neighborhoods We Serve Include:
Avoid Windshield Damage in Black Canyon City
There is one main highway in Black Canyon City. Because of the speed and traffic on Interstate 17 (also known as the Arizona Veterans' Highway), it is the place where you are most likely to experience windshield damage. Local drivers can avoid this road by using the Old Black Canyon Highway or looping around on side streets like Mud Springs Road. If your glass does get cracked or chipped, and you need fast, reliable mobile service, give us a call right away.
Black Canyon City Auto Glass FAQ
---
What is your process for free cash back with a new windshield in Black Canyon City?
There are 4 steps to our Black Canyon City cash back offer:
1. Start by calling our team at 480.907.3982 or request a quote.
2. Your customer service representative will set up your insurance claim for your new windshield.
3. Then we'll schedule your mobile windshield replacement anywhere in Black Canyon City or Valley-wide.
4. After your service, we'll mail your check with your free cash. Deposit or cash it!
What types of auto glass can you fix in Black Canyon City?
We service all types of auto glass except small parts like mirrors (which you can just get from your auto dealer). We fix front windshields, broken car door glass and back glass.