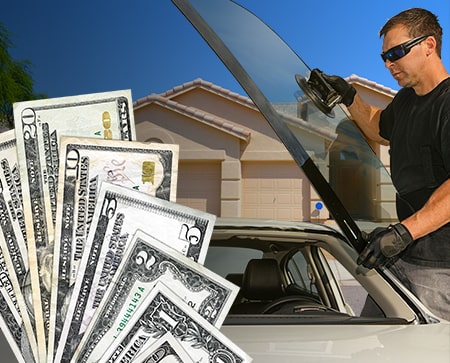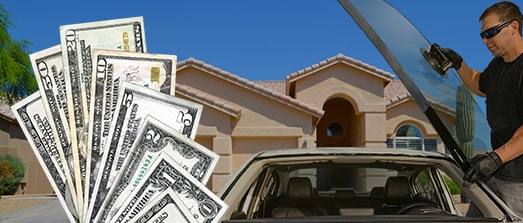 Windshield Replacement & Auto

Glass Repair in Carefree, AZ. BBB A+
Call the #1 windshield replacement team in Carefree today & you'll get up to $275 cash back.

Pinnacle Auto Glass will back your new Carefree auto glass with our powerful lifetime warranty & BBB A+ quality. Get a quote now!
Or request a free quote
The #1 Auto Glass Company in Carefree
Carefree's Auto Glass Experts
Call our Carefree auto glass pros today at 480.907.3982 for great cash back deals and a quality windshield replacement.
In many cases, Pinnacle Auto Glass will be able to send out a technician to repair or replace your auto glass in Carefree or around the Valley within 1 business day or less!
Quality Materials, 100% Warranty and Decades of Experience
Our experienced technicians use quality materials for all our auto glass services, and we back every windshield replaced with a 100% lifetime guarantee that's good anywhere in the US.
We've performed over 750,000 auto glass services in Carefree, AZ, and the Valley over the past 2+ decades, so we have the expertise for a great auto glass service.
Carefree's Best Cash Deals
We offer the best auto glass cash in Carefree for windshield replacements through insurance. Call Pinnacle Auto Glass at 480.907.3982 now for your fast, free quote!
Up to $275 Cash Back with New Windshield in Carefree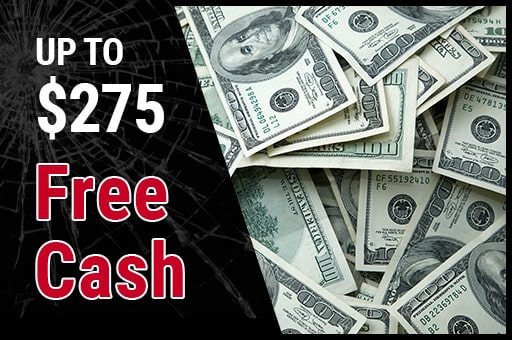 Cash Back Offer Details
Get up to $275 cash back with front windshield through insurance
Cash back varies based on vehicle & insurance
Among Carefree's highest cash back amounts
We accept all auto insurance
Free mobile service included in Carefree and the Valley
Why Choose Us for Your Repair or Replacement in Carefree?
1
Up to $275 FREE CASH for Replacing Your Windshield
All insurance customers are eligible for cash back up to $275 with a new windshield replacement.
If you want your glass replaced out-of-pocket, we also accept cash, card or check.
2
FREE Mobile Services in Carefree, AZ, or Valley-Wide
We never charge our customers for mobile service - it's included at no cost with every auto glass repair and replacement service.
Our mobile windshield repair technicians cover the entire Phoenix Metro Area. We can meet you for your auto glass service at any location you'd, whether it's in the town of Carefree, AZ, somewhere close like Cave Creek, or all the way across the Valley.
3
Quality Auto Glass Services in Carefree, AZ
Pinnacle Auto Glass is a local, family-owned auto glass replacement company focused on quality, so all our technicians are required to have 3 or more years of on-the-job experience performing all kinds of windshield and auto glass repair services.
In addition to experienced technicians, every auto glass repair or replacement that we perform in Carefree, AZ, or Valley-wide uses high quality materials like OEM or equivalent windshields and auto glass.
We work on every passenger make and model of vehicle made since 1981. This includes any model of car, truck, SUV, minivan or van, RV or light commercial vehicles.
4
Most Carefree Drivers with Insurance Pay $0
Our team has performed hundreds of thousands of windshield replacements in Carefree, AZ, and Greater Phoenix, AZ over the last 2 decades, and most of them used auto insurance to pay for the service. Insurance customers typically pay $0 or close to it for their service.
We're very familiar with the whole claims process and we are already preapproved by the major auto insurance providers. We can accept a policy from any auto insurance company, and we work directly with your insurance company to make your claim quick and easy.
Prefer to pay yourself instead of using insurance? No problem! We have low prices on all our auto glass services for customers who want to pay themselves, whether you need a quick windshield repair or a mobile auto glass replacement in Carefree, AZ.
5
Backed by a 100% Lifetime Warranty
Our lifetime warranty is one of the strongest available, because customer satisfaction and reviews are important to us. It's included at no extra cost with every windshield repair and replacement service, and every car window and back glass service.
Our lifetime warranty covers any parts or labor issues with your Carefree auto glass replacement or repair, and it lasts for your vehicle's lifetime.
Schedule Your Appointment Anywhere in Carefree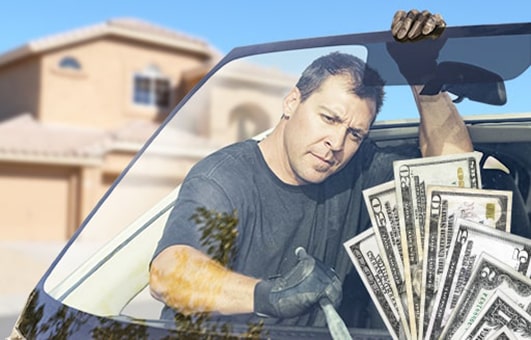 We can meet you at any Carefree or Valley location to fix your glass.
Avoid Windshield Chips in Carefree
The faster the traffic (and the more of it), the more likely glass damage like chips and cracks becomes. Avoid Pima Rd if you can and try entering or leaving Carefree via Carefree Rd/Tom Darlington.
Auto Glass Prices in Carefree
Average Cost of Auto Glass Services in Carefree
This table shows average, low and high prices from our database of quotes for various Carefree auto glass services.
Service
Average Price*
Low Price*
High Price*
Windshield Replacement
$340
$195
$585
Side Window Replacement
$180
$165
$335
Auto Glass Replacement Pricing Estimates for Popular Vehicles in Carefree
The price of a new windshield or auto glass depends on the specific vehicle you have.
This table shows pricing estimates for installing a new windshield or glass on various popular Carefree vehicles.
Vehicle
Glass Type
Estimated Price*
1999 Mercedes Benz CLK320 2 Door Convertible
Front
$325
2001 Nissan Pathfinder 4 Door Utility
Front
$235
2006 Lexus LS 430 4 Door Sedan
Front
$230
2007 Saturn Ion 4 Door Sedan
Front
$225
2016 Toyota Tundra Pickup 2 Door Standard Cab
Front
$340
2019 Audi Q5 4 Door Utility
Front
$510
2019 Subaru Outback 4 Door Station Wagon
Front
$360
2021 Lincoln Navigator 4 Door Utility
Front
$430
2021 Tesla Y 4 Door Utility
Front
$585
*Prices are estimates only. Final price depends on vehicle.
Carefree Windshield FAQ
---
What is the price for a windshield replacement service in Carefree?
The average price for customers paying out of pocket is $270-$415.
Most customers use their insurance for payment so the only amount they may have to pay is their policy deductible (if they have one).
How do I get a Carefree windshield replacement plus cash back?
Simply get a new front windshield and pay through your car insurance.
Carefree customers receive $70-$130 on average, with max amounts up to $275. Exact amounts vary by vehicle and insurance.
If I need to get my auto glass replacement done fast, can I schedule it today in Carefree?
In some cases, yes we will be able to schedule your service today.
We need to already have your vehicle's glass in stock and have a technician in the area with some available time on their route.
If you have a common vehicle like a Jeep Grand Cherokee or a Porsche Macan, then the likelihood of us being able to schedule your appointment today is higher.
What is your mobile service area in Carefree for auto glass replacement appointments?
We meet our customers throughout Carefree. We can come to any local neighborhood, including Carefree Ironwood Estates, Carefree Villas, Carefree Casas and more.