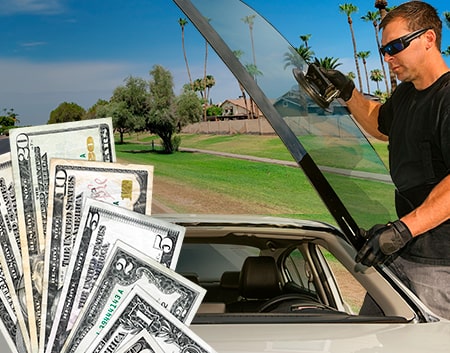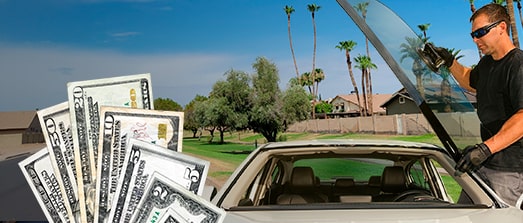 Windshield Replacement & Auto Glass

Repair in Wickenburg, AZ. BBB A+
Windshield replacement in the Wickenburg area with the best offers in town: up to $275 free cash back with insurance.

BBB A+. 100% lifetime warranty included with all Wickenburg auto glass services. Get a free quote from Pinnacle Auto Glass now!
Or request a free quote
The #1 Auto Glass Company in Wickenburg
Excellent Auto Glass Service With Great Cash Back in Wickenburg
Excellence at every step of the process. We start with a free quote, then provide professional auto glass repair and replacement services to our Wickenburg customers. We also offer up to $275 cash back and a lifetime parts and labor warranty.
Call Pinnacle Auto Glass at 480.907.3982 today to get your free quote!
Your Trustworthy Local Glass Pros in Wickenburg
We have thousands of satisfied windshield replacement customers in Wickenburg and the Great Phoenix area. Our attention to detail, demand for quality, and lifetime warranties have helped us thrive in the auto glass industry for over two decades.
Mobile Service and Unbeatable Guarantees
You do not have to come to our local shop. We will come to your address, anywhere in Wickenburg, free of additional charge. After we expertly handle your auto glass replacement or repair, we will leave you with a lifetime warranty for parts and workmanship.
Up to $275 Cash Back with New Windshield in Wickenburg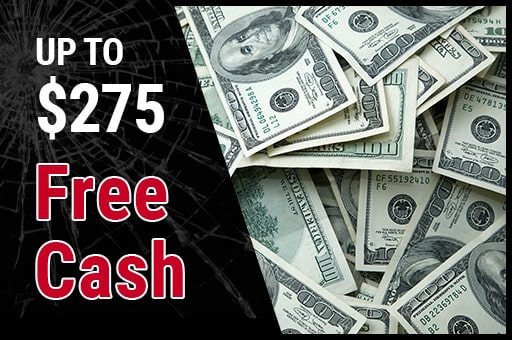 Cash Back Offer Details
Customers paying through a car insurance claim for their windshield replacement qualify for up to $275 in free cash.
Amount varies by policy and auto glass type.
It's hard to find a higher-paying offer in Wickenburg!
All insurance accepted.
Plus, get free mobile service to any Wickenburg or Valley location.
Why Choose Us for Your Repair or Replacement in Wickenburg?
1
Up to $275 Cash Back for Replacing Your Windshield
Our customers can get as much as $275 cash back. How do you qualify for money back on glass replacement? You simply need to use your auto insurance plan to pay for your new windshield. We assess your policy details and auto glass and come up with a value for the reward.
Of course, you can also pay out-of-pocket with credit, debit, cash, or check. We offer great pricing on all our services for those who wish to pay themselves.
Keep in mind that our services extend beyond windshield replacement. We can fix or install door and rear glass, as well.
2
No-Fee Mobile Service Everywhere in Wickenburg and the Phoenix Metro
After more than two decades, we are familiar with every street in Wickenburg. We will bring our services to you without any extra charges. All you have to do is give us a call and let us know where you are and what you need.
In many instances, we can get to you and make the repairs on the same day you call us or on the following day. Our same day windshield repair or replacement availability depends on where our technicians are and if your glass is in stock at our shop.
3
Wickenburg's BBB A+-Rated Auto Glass Pros
We provide the best parts and services in Wickenburg.
First, we use OEM parts and approved alternatives, so you can be confident in the glass we are putting in your car. We also use strong, rapid-curing urethane adhesive for improved safety and to get you back to driving within an hour.
Also, our technicians are experts in their fields. They have at least 3 years of professional experience, are trained to ANSI standards, and are licensed to provide auto glass services in Wickenburg.
4
All Major Insurers Accepted
We have worked with every major auto insurance company in Wickenburg over the past 2+ decades. We have standing pre-approval, so the entire process is streamlined. Our team handles all the paperwork and payments, so you simply provide your information and let us take it from there.
We always try to get your costs as close to $0 as possible For example, we may be able to help with some or all of the out-pocket-payments for those with policy deductibles.
5
100% Warranty on All Windshield Services
We guarantee our work and the parts that we use. If there's an issue with your windshield repair or replacement, just let us know and we will make it right!
Call Pinnacle Auto Glass now to schedule your appointment!
Schedule Your Service Appointment at Any Wickenburg Location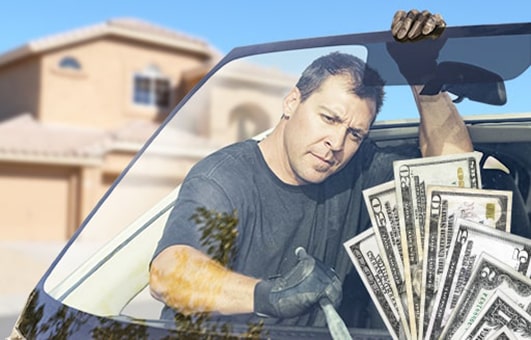 We cover all of Wickenburg and serve customers throughout the Phoenix Valley
Popular Wickenburg Neighborhoods Where We Work:
Mariposa Heights
Pleasant Valley
Pueblo Casandra
Quail Run Village
Ranch at Three Crosses
Remuda
Saddle Ridge
Sonoran Estates
Villa Sereno
Vista del Rio
Avoid Windshield Damage in Wickenburg
The two main highways in Wickenburg are U.S. 93 and U.S. 60. (East and West Wickenburg Way, respectively). You are most likely to experience windshield damage such as chips or cracks on one of these roads. Alternative local routes include Tegner Street, Mariposa Drive, and Kellis Road. If you do get a crack or chip in your auto glass or need a full replacement, contact us right away. We can often take care of the job on the same day.
Wickenburg Windshield FAQ
---
How much will I pay for a Wickenburg windshield replacement?
If you use your insurance, your cost will be $0 unless your policy has a deductible. If you pay out-of-pocket, the average cost in Wickenburg for new glass is between $210-$360.
How much cash back will I qualify for with a windshield replacement in Wickenburg?
Customers using insurance can get up to $275, depending on their vehicle and insurance coverage details. The average cash back for Wickenburg customers is $50-$95.
Is same day service available in Wickenburg for auto glass replacement?
Yes, we can meet customers the same day if we already have their glass in stock and a technician near where they want to do their mobile service. Popular vehicles like the Volvo XC90 and popular locations like near the Desert Caballeros Western Museum are more likely to have a same day appointment available.
Where in Wickenburg can I set up my mobile auto glass replacement appointment?
We can meet you at any Wickenburg location like your home, job or school. We cover all Wickenburg neighborhoods from Pleasant Valley to Vista Del Rio Heights.