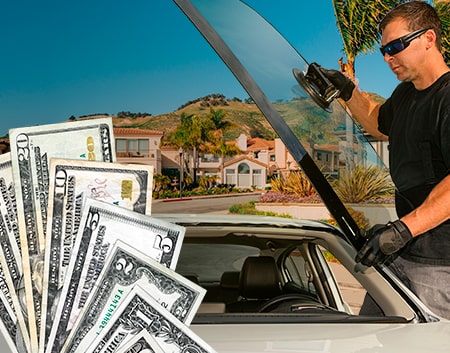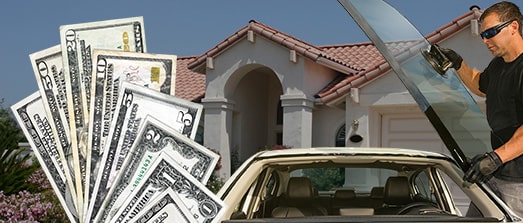 Windshield Replacement Rio Verde AZ:

up to $275 Cash Back. BBB A+
Call our Rio Verde windshield replacement experts today for up to $275 cash back AND free lifetime repairs when you use insurance.
Every Rio Verde auto glass service includes our 100% warranty and is performed by our BBB A+ team. Call now for your free quote!
Or request a free quote
Join Hundreds of Rio Verde Auto Glass Customers
Rio Verde Auto Glass Repair or Replacement With Cash Back Bonuses
We offer a full menu of auto glass repair and replacement services throughout Rio Verde. Our customers can get up to $275 cash back on our services. Call us today at 480.907.3982 to find out more and schedule an appointment!
Rio Verde Drivers Rely on Our Family-Owned BBB A+ Company
Our technicians have delivered expert-level auto glass services to Rio Verde and Valley residents for over two decades. Thousands of customers have driven away satisfied with our services, warranties, and extras like free lifetime chip insurance. In many cases, we can deliver same-day or next-day service, getting you back to your life as quickly as possible.
All Rio Verde Services Have a Lifetime Warranty
Whether you need a major glass replacement or a minor windshield repair, the work and parts are guaranteed for as long as you own your car. Since we offer free quotes and accept all major insurance carriers, you have nothing to lose. Call 480.907.3982 now!
Up to $275 Cash Back on Windshield Replacements in Rio Verde
Cash Back Offer Details
If your auto policy covers windshield replacement, you are eligible for up to $275 cash back.
The cash back amount depends on vehicle make and model, insurer, and type of glass.
This is one of the best cash back offers in Rio Verde.
All cash back bonuses include $300 of chip insurance.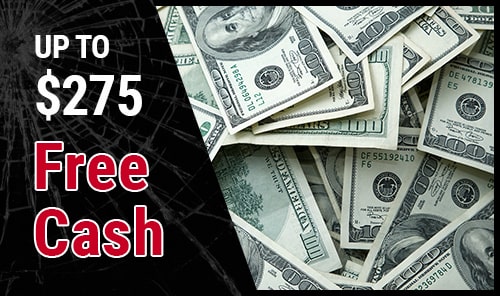 Why Choose Our Auto Glass Team in Rio Verde?
1
Up to $275 Free Cash
Our special offer for Rio Verde drivers is up to $275 cash for windshield replacement services covered by an insurance policy. This is some of the most money back on windshield replacement in Rio Verde and the Valley!
What if you do not want to use insurance for a free windshield or your policy lacks auto glass coverage? Not to worry. We offer some of the most competitive prices in Rio Verde for out-of-pocket payments. We accept all major forms of payment, including cash, debit and credit cards, and checks.
2
FREE Mobile Service for Customers in Rio Verde and the Wider Phoenix Valley
We do not charge extra to come to your location. Our technicians have the equipment and know-how to offer FREE mobile service on any street, driveway, or garage in Rio Verde and Valley-wide.
The exact time frame for your repairs will depend on your location, vehicle, glass type, and technician availability. In many cases, we can offer same-day service or provide next-day repairs.
We will always strive to get you back on the road as soon as possible.
3
Licensed Windshield Repairs and Replacements
We are proud of our BBB A+ rating, which comes from working tirelessly to provide complete satisfaction to every customer. Both our technicians and our parts strive to exceed expectations.
Our Rio Verde technicians need 3+ years of experience to represent our company, and we ensure they train to meet ANSI standards. We rely on OEM or equivalent parts. Our state-of-the-art materials, like premium urethane adhesives, ensure your windshield performs even better than before.
4
Accepting All Insurance Carriers
If your insurer covers auto glass repair and replacement, we can handle almost every aspect of the job. We are already approved by all major carriers serving Rio Verde, so we can quickly complete the paperwork and handle payment processing for you.
What about deductibles? Most insurers cover the entire cost of auto glass repair. If you have a deductible, we may be able to cover part of all of this cost so that you still pay $0 out-of-pocket.
5
100% Warranty on All Replacements and Repairs
We have complete confidence in the skills of our technicians and our choice of parts. Because of this, we can offer 100% warranties on both parts and labor. Better yet, these guarantees last for as long as you own your car.
We even cover those unexpected chips that inevitably occur. Each insured windshield replacement comes with $300 of chip coverage. If your windshield gets hit by a pebble, just give us a call, and we will soon have it looking like new.
Call us now at 480.907.3982 to get started on your windshield repair or replacement!
We Provide Our Services to All Communities in Rio Verde, AZ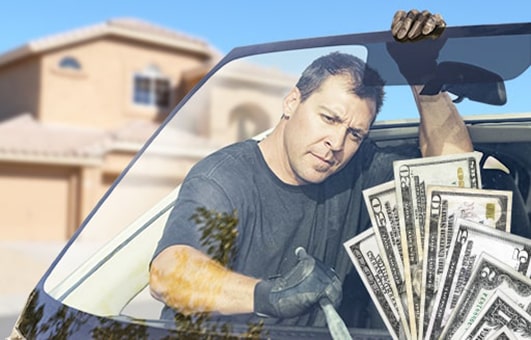 Customers anywhere in Rio Verde can take advantage of our FREE mobile services
Popular Rio Verde neighborhoods where we work include:
Fairway at the Foothills
Granite Mountain Ranch
Avoid Windshield Damage in Rio Verde
Forest Road and McDowell Mountain Road are the most common sites for windshield damage in Rio Verde. You can sometimes circle around these main thoroughfares using E. 4 Peaks Blvd or E. Poco Rio Drive. If you do sustain windshield damage in Rio Verde, reach out to us immediately. Our licensed and insured technicians will be at your location to provide repairs or a complete windshield replacement. We can often get the job done on the same day you call us. Call now!
Rio Verde Auto Glass FAQ
---
What are the steps for a Rio Verde windshield replacement with the cash back deal?
There are 4 steps to get cash back with your new windshield in Rio Verde:
1. When you have about 10-15 free minutes, give us a call at 480.907.3982 or request a quote.
2. First, your customer rep will get your insurance provider on the phone and set up a claim for your new glass.
3. Then, your rep will schedule your mobile windshield installation anywhere in Rio Verde or Greater Phoenix where you'd like to meet your technician.
4. Get your free cash! After your service, we will put a check in the mail to you with your cash back. You can either deposit the check or simply cash it.
How much will I owe if I use insurance for my Rio Verde auto glass repair or replacement?
Most insurance customers pay $0 for their auto glass replacement or repair service. If you have a deductible, we can often pay some or all of it to keep your cost as low as possible!