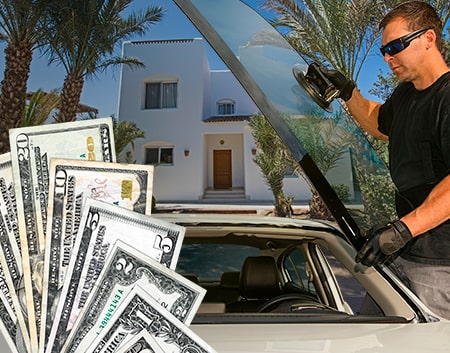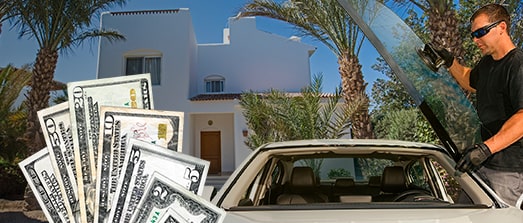 Windshield Replacement Guadalupe AZ:

up to $275 Cash Back. BBB A+
Call our team today for up to $275 free cash AND free chip repairs with any Guadalupe windshield replacement through insurance.
Our shop is rated BBB A+ and we back all Guadalupe auto glass with a 100% lifetime warranty. Call us now for a free quote!
Or request a free quote
Join Hundreds of Our Guadalupe Auto Glass Customers
Offering Fast and Professional Auto Glass Services With Cash Back Options
Guadalupe drivers can trust our BBB-accredited company to provide fast mobile auto glass repair and replacement services. Customers may qualify for up to $275 cash back. Call us now for a free quote!
A Local Business Bringing Professional Auto Glass Repair to Guadalupe
We have been in business for over two decades. Our BBB A+ rating and thousands of satisfied customers are proof that we are a top choice when you need auto glass services in Guadalupe and the surrounding areas.
Free Mobile Service and Lifetime Warranty
We provide auto glass repair and replacement services, but we also offer convenience and peace of mind. Our technicians will come to your location for no extra fees and handle your auto glass needs. When finished, they will leave you with a 100% warranty that lasts as long as you own your car.
Auto Glass Replacement in Guadalupe, AZ with up to $275 Cash Back
Cash Back Offer Details
If you use your insurance to cover our auto glass services, you qualify for up to $275 in cash.
The final amount of the award depends on your insurer's policies and your vehicle.
One of the best cash back perks in Guadalupe.
Includes $300 in free chip repairs!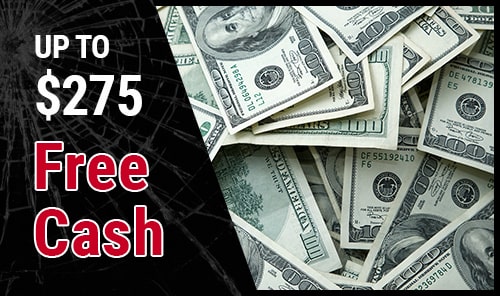 Why Choose Our Team for Your Auto Glass?
1
Up to $275 in Free Cash
Guadalupe customers whose insurers cover their windshield replacement can earn up to $275 cash back. The amount varies depending on policy details and the type of vehicle. We offer some of the best cash back windshield replacement in town!
Though we work with all major insurers in Guadalupe, we also offer competitive pricing for those who wish to pay out-of-pocket with a credit card, debit card, cash, or check. The same warranty coverage and A+-rated service apply regardless of how you choose to pay.
Whether door window, back glass, or front windshield, our experienced technicians can finish the job and get you back on the road as soon as possible. Get your free quote today from the best windshield replacement company in Guadalupe!
2
FREE Mobile Service in Guadalupe
Our mobile service stations allow us to come to any street, parking lot, driveway, or garage in Guadalupe. We also cover the wider Phoenix Metro.
In many cases, we can have a technician at your location on the same day you call us. Our work schedule and the products you need can affect the time frame.
3
Skilled Auto Glass Technicians and BBB A+ Service
We built our business around quality and skill. Our technicians need at least 3 years of experience before we send them out on service calls. They receive additional training on ANSI standards and are fully licensed and insured. You can be confident you are working with the some of most qualified auto glass specialists in Guadalupe.
The quality extends to our parts. We use OEM parts or OEM-equivalent. Speed is also important to us. Our techs can have you road-ready in 45 to 60 minutes thanks to their skills and the use of high-tech materials like high-end urethane adhesive, which cures in a matter of minutes.
Call 480.907.3982 now!
4
All Major Insurance Accepted
The convenience carries over to our relationship with insurers. We are pre-approved with all major carriers in Guadalupe. This ensures a seamless payment process and straightforward paperwork. After we have your details, we can handle the entire documentation and payment process so that you don't have to worry about anything.
Some insurers might have a deductible. These plans require you to pay an amount out-of-pocket before the insurance kicks in. When this happens, we may be able to cover some or all of the deductible so that you avoid any upfront expenses./p>
5
Warranties Lasting As Long As Your Vehicle
We don't hide details in the fine print. Our warranties cover both parts and labor, and they last for your car's lifetime. If something is wrong with the glass or if the technician made an error, call us immediately, and we will fix the issue.
We will also help you keep your windshield looking like new with free chipped glass insurance. If a rock or other particle damages your glass, this complementary coverage will pay for repairs - a free value of up to $300.
Call Us Now!
Serving Guadalupe & All Nearby Areas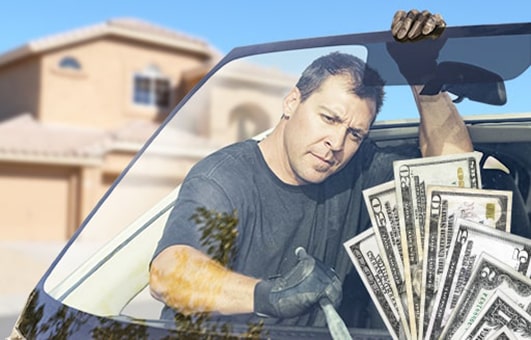 Our service area extended to every corner of Guadalupe.
Popular Guadalupe neighborhoods where we provide auto glass replacements:
Barrio Nuevo
Colonia Esperanza
Colonia Estrella
East Guadalupe
Gastello
Guadalupe Commerce Center
Guadalupe Replatted
Las Flores de Guadalupe Sende Vista
Avoid Windshield Damage in Guadalupe
Interstate 10 is the most common site for windshield damage. If you are traveling locally, Baseline Road, Guadalupe Road, and Avenida del Yaqui are good alternatives to the highway. If you still can't avoid a chip or crack in your windshield, contact us immediately for reliable, professional, and fully-guaranteed mobile repairs and replacements.
Guadalupe Auto Glass FAQ
---
How can I get free cash with my new windshield replacement in Guadalupe, AZ?
Here's how it works to get free cash with your new windshield in Guadalupe:
1. Call our friendly customer support team at 480.907.3982 or request a quote.
2. Your phone representative will work with your auto insurance provider to set up a claim for your new windshield.
3. Afterwards, we'll schedule a mobile service appointment anywhere in Guadalupe or the whole Valley to come put in your new windshield.
4. Get your cash back! After your glass service, we will mail you a check for your free cash that you can simply deposit or cash.
Can you repair my auto glass in Guadalupe?
Yes, we offer mobile auto glass repair service to customers in Guadalupe. We can also replace your glass if it's not repairable.