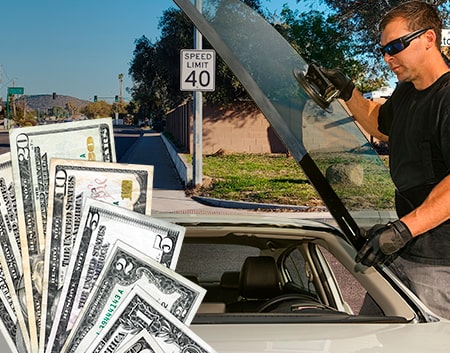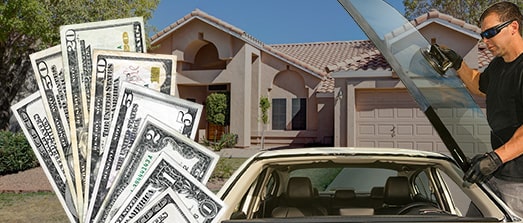 Windshield Replacement Youngtown AZ:

up to $275 Cash Back. BBB A+
Youngtown windshield replacement experts: up to $275 free cash back PLUS free chip repairs for life with payment through insurance.
BBB A+-rated shop. We include a 100% lifetime warranty on every Youngtown auto glass service. Call our friendly team now for a free quote!
Or request a free quote
Join Hundreds of Our Youngtown Auto Glass Customers
Free Cash for Professional Windshield Replacement in Youngtown
Youngtown drivers can qualify for up to $275 cash back when they hire us to replace their auto glass. Contact us for a no-obligation quote today at 480.907.3982!
Local Youngtown Auto Glass Service With a BBB A+ Rating
With more than two decades of service in Youngtown and surrounding areas, our company has stood the test of time. You cannot stay in business for that long without providing excellent service. Thousands of satisfied customers in Youngtown and the wider Phoenix area can attest to the skills of our technicians.
Our qualities go beyond the act of replacing and repairing auto glass. We strive to provide full value with cash back options, established relationships with insurance companies, and some of the best guarantees in the industry.
Free Mobile Service and Lifetime Warranties
Other Youngtown auto glass companies cannot hope to beat our warranties. Because our labor and parts guarantees last for the life of your car, they can only hope to match them.
We also offer free mobile service. Our technicians can do repairs or full replacements anywhere in Youngtown, and we will never charge you extra to come to your location.
Up to $275 Cash Back in Youngtown, AZ for Windshield Replacements
Cash Back Offer Details
Customers who pay through their auto coverage policy qualify for up to $275 back.
The amount depends on the insurance company's fine print and the vehicle type.
One of the highest cash back deals in Youngtown.
$300 complementary chip repairs included!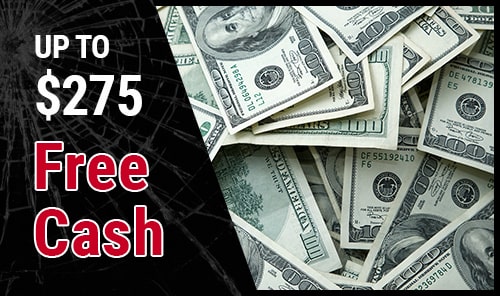 Why Choose Our Family-Run Shop for Your Windshield Repairs?
1
Up to $275 in Free Cash
We are pre-approved to work with all major companies providing insurance in Youngtown. If your insurer covers your windshield replacement, you may qualify for up to $275 cash back. The amount depends on your policy details and car model. We are one of the original auto glass company that gives you money back!
We also have competitive pricing for customers who wish to pay out-of-pocket, who do not want to make an insurance claim, or whose policy doesn't include auto glass replacement. In addition to debit, credit, and checks, we accept cash payments.
We are capable of all types of auto glass repair projects, from windshields and back windows to door glass.
2
FREE Mobile Service Throughout the Phoenix Valley
Convenience is essential for auto glass repairs. We help our customers get back to their normal lives as quickly as possible by offering free mobile service to any location in Youngtown and the wider Phoenix Metro Area.
In many cases, we can provide glass repair near me the same day you call to complete the job. Regardless of where you are, we never charge extra for mobile services.
3
Licensed Technicians Delivering High-Quality Repairs
Our technicians bring skills to each job. We require 3 years of professional experience, licensure, and training in ANSI standards. These qualities get combined with OEM or equivalent parts and state-of-the-art products like premium urethane adhesive, which cures rapidly. You get back on the road quickly and remain confident that the job was done right.
Call 480.907.3982 to experience the quality of our technicians and glass products today.
4
A Streamlined Insurance Process
We are pre-approved by all major insurance companies providing coverage to Youngtown drivers. Once you provide your information, we can handle the entire process, leaving you free to go about your day without worrying about time-consuming paperwork.
Some policies require holders to pay a deductible before the insurance kicks in. If this is the case for your auto glass coverage, we may be able to help by covering some or all of the deductible amount. This can reduce or eliminate the money you need to pay out-of-pocket.
5
Work and Parts Guaranteed for the Life of Your Car
Our Youngtown shop offers complete warranty coverage. We guarantee both workmanship and parts for as long as you own your vehicle. If something isn't right, we will fix it quickly and free of charge.
We will even throw in insurance that covers you if your auto glass even gets chipped. Our technicians will cover repairs (if the damage is repairable), free of charge!
Reach out to us today!
Windshield Service to Customers throughout Youngtown, AZ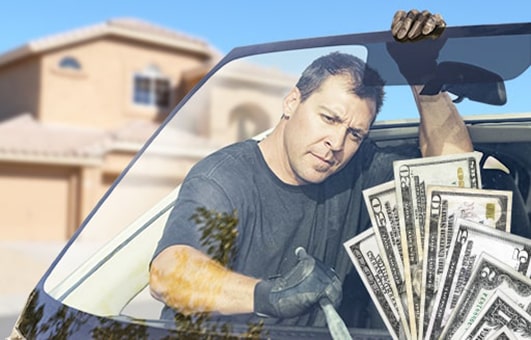 Our service area extends to every street in Youngtown.
Popular Youngtown neighborhoods where we work include:
Agua Fria Ranch
Cooks Corners
Lemon Tree Condos
Mountainview Gardens
River Heights
Suntown Estates
White Tanks
Youngtown Manor
Avoid Windshield Damage in Youngtown
Youngtown drivers encounter speed and traffic when coming into town on State Route 101 or the Phoenix Wickenburg Highway. North 11th Ave and Olive Ave are good local alternatives. If you do encounter a chip or crack in your auto glass and need quick and reliable repairs, reach out to us right away.
Youngtown Auto Glass FAQ
---
How can I get free cash if I replace my windshield in Youngtown?
Here is how our process works:
1. The first step is to call 480.907.3982 or request a quote.
2. Then we will work directly with your auto insurance to start the insurance claim for your new windshield.
3. Once the claim has been started, we will schedule your mobile service to install your new glass.
4. Finally, we will mail you a check for your cash back that you can deposit or cash to get your money!
How much do you charge for auto glass replacement in Youngtown?
Most of our customers use their auto insurance to pay for their service, so they pay $0 in most cases. If you'd prefer to pay out-of-pocket, we have some of the lowest prices for auto glass services in Youngtown!