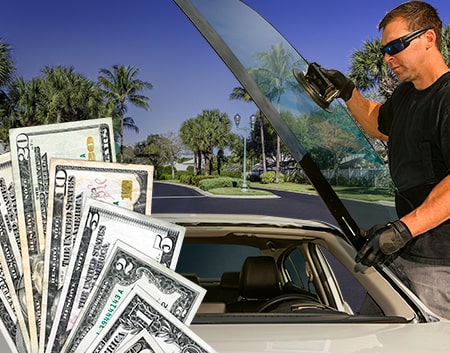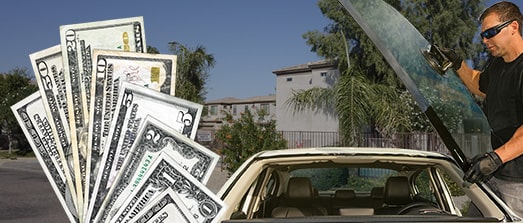 Windshield Replacement & Auto

Glass Repair in Gila Bend, AZ. BBB A+
Expert windshield replacement in Gila Bend with up to $275 free cash when you pay with insurance.

All Gila Bend auto glass services from Pinnacle Auto Glass are backed by our 100% warranty, and we are rated BBB A+. Call now for a free quote!
Or request a free quote
The #1 Auto Glass Company in Gila Bend
Get Cash Back on Professional Auto Glass Services in Gila Bend
Gila Bend customers qualify for up to $275 cash back for professional windshield replacement. Our experienced technicians offer a full range of replacement services, and we also perform windshield repair in Gila Bend and surrounding areas.
A Local BBB A+-Rated Shop Serving Auto Glass Customers in Gila Bend
With 20+ years in business, thousands of satisfied customers, and full BBB accreditation with an A+ rating, we are a top choice for windshield replacement anywhere around the Valley, including Gila Bend.
Gila Bend's Choice for Free Mobile Service and Lifetime Warranties
In addition to a full range of auto glass repair and replacement services, we also offer convenience with free mobile service at any Gila Bend location. And, we leave you with a 100% warranty that lasts for the life of your vehicle!
Up to $275 Cash Back with New Windshield in Gila Bend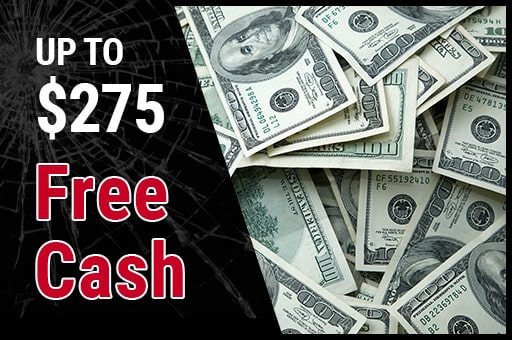 Cash Back Offer Details
Up to $275 cash back is available to customers who use insurance for windshield replacements.
The cash back amount depends on the policy details and vehicle make and model.
One of Gila Bend's most generous cash back deals.
We can work with any insurance.
Includes free mobile service throughout Gila Bend and the Valley.
Why Choose Us for Your Repair or Replacement in Gila Bend?
1
Up to $275 in Free Cash for Getting a New Windshield with Insurance
Gila Bend customers qualify for to up to $275 in free windshield cash if they use their insurance policy to cover the cost of new windshield installation. Pinnacle Auto Glass is the best place to for auto glass replacement in Gila Bend or any nearby areas!
We also offer excellent value for those choosing to pay out-of-pocket with credit, debit, check, or cash. Regardless of how you choose to pay, you get the same professional service and lifetime warranty. In addition to windshield replacement and repair, we offer door and back window services.
2
FREE Mobile Service throughout Gila Bend
We operate a local shop, so we are familiar with Gila Bend and can bring our mobile services to every corner of town without adding any additional fees to the bill.
We also pride ourselves on our quick response. On most occasions, we can offer same-day or next-day service if we have a technician in the area and the correct glass for your vehicle in stock at our shop.
3
Experience and Quality Backed Up by a BBB A+ Rating
Our technicians have the skills, experience, and resources to get you back on the road quickly. In addition to OEM parts or approved alternatives, we rely on cutting-edge products like premium urethane adhesive, which cures quickly and is road-ready in 60 minutes or less.
These parts and products don't mean anything unless they are in the right hands. Our technicians, trained to ANSI standards, have been in the industry for at least 3 years, and they are fully licensed to work in Gila Bend.
Would you like to see this experience and quality yourself? Call 480.907.3982for a free quote!
4
Pre-Approved by All Major Insurers
Another advantage of two decades in business is that we have established relationships with all major insurers. We have pre-approval from these companies, which streamlines the entire process. Once we have the information, our staff can handle all the paperwork and payments, so you do not have to worry about anything.
We may even be able to help with deductibles. If your coverage requires a deductible payment, we may cover some or all of the amount so that you can avoid paying anything out-of-pocket.
5
100% Lifetime Warranty
Our warranty is extremely powerful! We cover labor AND parts for the life of your vehicle. If something is wrong with the glass or workmanship, you can contact us for a free repair.
Call Pinnacle Auto Glass today for a free estimate!
Schedule Your Mobile Appointment Anywhere in Gila Bend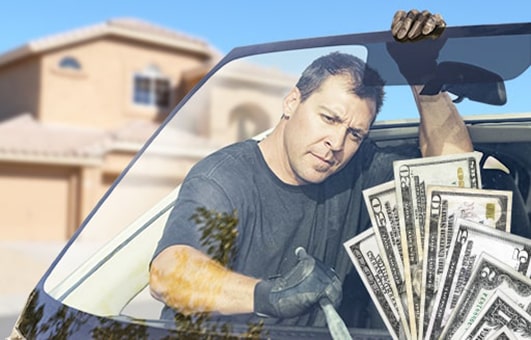 Our service area extended to every corner of Gila Bend or anywhere else around the Valley.
Popular Gila Bend neighborhoods we service include:
East Gila Bend
Gila Bend Commerce Center
Gila Bend Estates
Logan Estates
Palo Verde Heights
Vista Park
Weidner Manor
West Gila Bend
Avoid Windshield Damage in Gila Bend
Most of the glass damage caused by driving in Gila Bend takes place on busy highways like Interstate 8 and State Route 85, where high speeds can cause pebbles to crack or chip your windshield. In town, alternatives like W. Martin Ave, Maricopa Road, and Old Highway 8 offer lower speeds and less traffic. If you still can't avoid auto glass damage while driving in Gila Bend, give our company a call today. Our professionals can make your windshield look like new and leave you with the peace of mind of a lifetime warranty.
Gila Bend Windshield FAQ
---
How much does a Gila Bend windshield replacement service cost?
The cost of a new windshield in Gila Bend depends on if you pay with your car insurance or out-of-pocket.
Customers who use insurance pay $0 in most cases, unless their policy has a deductible. (Most Arizona policies don't have a deductible.)
Customers who pay out-of-pocket in Gila Bend pay on average $210-$320 for new glass.
Will I qualify for cash back if I get a windshield replacement in Gila Bend?
Yes, if you go through your car insurance for payment. Insurance customers in Gila Bend get between $50-$85 on average, with up to $275 being possible. Exact amounts are determined by car insurance details and the type of vehicle.
Can I meet my technician the same day for an auto glass replacement in the Gila Bend area?
Yes, in some cases we can get your appointment scheduled today. In order to make this happen, we need to already have your vehicle's glass in stock and a tech in the area with availability on their route.
YSame day scheduling is most likely for customers with common vehicles like an Acura Integra and who want to meet their tech at a popular spot like Love's Travel Stop.
Where can I schedule my mobile auto glass replacement service in Gila Bend?
Choose any location that works for you in Gila Bend. We can come right to your home or work (or anywhere else) in any Gila Bend neighborhood such as Palo Verde Heights, Logan Estates or Zuni Estates.