Expert Auto Glass Services in Arizona
Our Auto Glass Services
We can take care of any damaged glass on your vehicle*:
*Except for small pieces like mirrors or lights. These pieces can be replaced through your car dealer or auto service shop.
See what's included with each of our services in the comparison table below.
Most Customers Pay Nothing Since We Get Paid by Insurance
More than 80% of Our Customers Go through Insurance
It's common in Arizona for drivers to have some form of glass coverage included with their auto insurance policy.
There are three different levels of insurance glass coverage available in Arizona:
If your insurance covers glass we can work with your insurance company to handle payment and most likely you won't have to pay anything out of pocket. For policies with a deductible, we can often pay it for you to keep your out-of-pocket payment at $0 or close to it!
We are Arizona's Auto Glass Insurance Experts
Over the past 20 years, our team has serviced hundreds of thousands of windshields through insurance. We are approved by every major auto insurance company, and most of our customers are able to get their glass service taken care of through their auto insurance.
TIP
If you're not sure if your insurance has coverage for glass, don't worry! We can help you see if your policy covers auto glass. We accept all insurance so if you do have coverage we will be able to work with your insurance company.
It's Your Right to Choose Which Glass Company You Work With
Many unscrupulous insurance companies or agents will try to refer you to a particular glass company because they receive kickbacks from them in one way or another. In Arizona, your right to choose which company you want to work with is protected by law.
Flexible & Convenient Scheduling
We're open
7 days a week

all year:
Monday - Friday: 7AM - 8PM
Saturday: 8AM -5PM
Sunday: 9AM - 4PM
Closed Christmas Day, Thanksgiving & Easter Sunday
Same day service

available for many vehicles & locations:

In many cases, we will be able to come out and service your vehicle the same day you call in! Same day availability depends on your vehicle and the type of glass you need, plus your location.

We stock glass for most common vehicles so if you need your vehicle serviced as quickly as possible be sure and ask your customer service representative if same day service is available.

They can check our glass inventory to see if we have your glass in stock, and check our technician routes to see if one will be in your part of town and be able to perform the service.
We Service Most Major Metro Areas in Arizona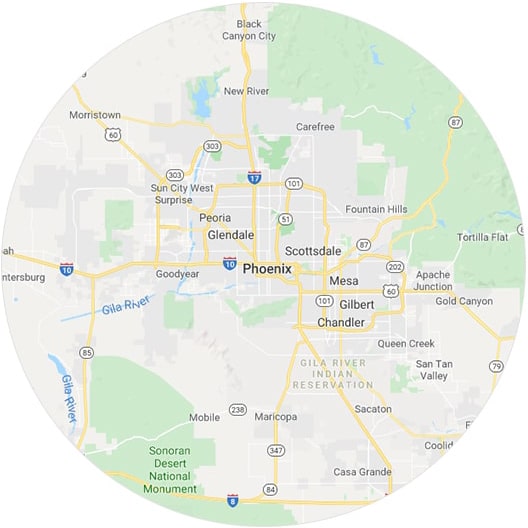 Phoenix, AZ
Tucson, AZ
Flagstaff, AZ
Prescott, AZ
The major Arizona areas we service are Phoenix, Tucson, Flagstaff and Prescott. We can come to your work, home or any other location that's convenient for you in any of these areas.
Never Any Charge for Mobile Service
Free mobile service to your desired service location is included with every service we perform. There's never a charge for mobile service!
Common Cities We Service in Greater Phoenix
The most common cities in the Greater Phoenix Area we visit for mobile windshield and auto glass services are listed below.