Honda Windshield Replacement & Repair
Honda Models We Service
All Hondas sold in the United States from today back to 1981.
💡Regardless of which Honda vehicle you have, if it's newer than 1981 we can take care of your vehicle's glass with fast, friendly repair and replacement.
Call 480-907-3982 today to get a free quote for your Honda right over the phone!
For more information about some of the popular Honda vehicles we work on (including pricing), click a link below:
How much does a Honda windshield replacement cost?
When You Use Your Vehicle's Auto Insurance
In Arizona, this costs $0 or close to it for most in-state drivers.
Because of the frequency of glass damage in our state, glass coverage is very common on auto insurance policies and most of our customers pay little or nothing when using their insurance.
Here is some more detailed information we put together about insurance laws, plus our current special offers:
When You Pay Out of Pocket
We are happy to work with out-of-pocket customers as well! Choose Pinnacle for low out-of-pocket prices and the Valley's best warranty.
With all of the many different Honda vehicles produced in the last few decades, and all the different glass sizes and features, exact pricing for going out of pocket will vary based on things like the Honda model and any specific glass-related features (factory tint, etc.).
For your convenience when paying out of pocket, we make sure we keep our prices some of the lowest in town, plus we accept cash, check and credit to make payment easy.
📞
The table below shows price estimates for some popular Hondas made over the past 20 years. These are estimates only so give us a call today at 480-907-3982 to get an exact quote for your Honda!
Auto Glass Price Estimates for Common Honda Vehicles

| Year, Vehicle Type & Glass Type | Out of Pocket Estimate | Insurance Estimate |
| --- | --- | --- |
| 2017 Mini Van Rear Window | $346.42 | $0 + deductible |
| 2016 Compact Sport Utility Windshield | $261.27 | $0 + deductible |
| 2015 Mini Van Windshield | $273.79 | $0 + deductible |
| 2014 Mid-Size Sedan Windshield | $268.66 | $0 + deductible |
| 2013 Mini Van Windshield | $441.90 | $0 + deductible |
| 2012 Compact Sport Utility Windshield | $299.22 | $0 + deductible |
| 2011 Compact Sport Utility Windshield | $278.23 | $0 + deductible |
| 2010 Compact Sedan Windshield | $261.37 | $0 + deductible |
| 2009 Pickup Rear Window | $885.91 | $0 + deductible |
| 2008 Compact Coupe Windshield | $284.87 | $0 + deductible |
| 2007 Compact Sedan Vent Glass | $293.66 | $0 + deductible |
| 2006 Mid-Size Sport Utility Windshield | $265.56 | $0 + deductible |
| 1999 Mid-Size Sedan Windshield | $270.46 | $0 + deductible |
What warranty coverage is included with Honda windshield service?
Warranty Coverage on Honda Windshield Replacement
💡
Get complete coverage for the life of your vehicle with every replacement:
Covers all potential issues, including manufacturing defects and problemsn with materials, plus any issues related to the installation or service
In addition, customers who replace their Honda's auto glass through insurance get free chip repair!
Warranty Coverage on Honda Auto Glass Repair
💡
If we repair chips, dings or any other glass damage on your Honda, we'll include the same great warranty coverage for your peace of mind:
Complete protection against any issues with parts or materials used in the service
Plus protection against any problems with the actual repair itself
To learn more about our warranty, click here
A Unique, Automotive Company Producing Far More than Just Cars
From lawn mowers, to generators, to motorcycles, to business jets and even robots, Honda is a worldwide leader in many different products beyond passenger vehicles.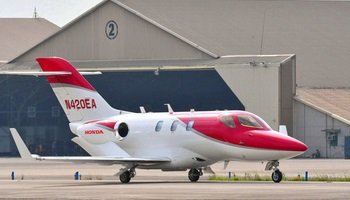 Many car companies also produce different kinds of products in addition to passenger vehicles for the general public. Some of these companies originally started as producers of different products and then later switched to cars.
For example, Toyota was originally a textile company producing different kinds of machines for making cloth and similar materials. BMW was originally an aircraft engine manufacturer that was forced to cease production at the end of World War I, then got into producing motorcycles and then got into producing passenger vehicles.
From producing parts for Toyota to dominating the world's motorcyle market in just a few decades
Honda was originally started as a parts manufacturer for Toyota. By the 1950s the company had established itself as the world's largest motorcycle manufacturing company. Honda used that momentum to establish itself over the next few decades as a producer of reliable, economical passenger vehicles.
Honda rapidly expanded into all kinds of different industries.
Ever an innovator, Honda didn't stop with just motorcycles and cars. Honda was one of the first large businesses to start investing significant amounts of resources, both time and financial resources, into artificial intelligence. They originally started in the 1980s and later releases a series of ever more capable robots including the famous ASIMO robot.
Other major firsts for this innovative company:
The world's largest producer of internal-combustion engines
The world's biggest producer of motorcycles (more than 3 million per year at its peak in the 1980s)
The first Japanese car company to recognize the value of luxury branding and release their own brand targeted towards the premium vehicle market (Acura)
The only major automobile company to also produce a business jet (the Hondajet)
The first Japanese car company to export more vehicles from the United States than they imported
Creator of the only robot in the world that is relatively human in its size and shape and can go up and down steps on its own
Creator of the only production vehicle to run on compressed natural gas (the Honda Civic GX, produced from the late 1990s through 2015)
A Company of Vision and Execution, Ready for the Future
As of 2015, Honda is the eighth largest automobile producer in the world and is firing on all cylinders (no pun intended). With a proven mindset of adaption and innovation, the company is poised to not just compete but lead in its respective industries as the pace of technology continues to increase in the 21st century.