Why Choose Us to Replace Your Windshield
We're a local company committed to doing things the right way:
Little to nothing out of pocket
Most of our customers go through their auto insurance and end up paying little to nothing out of pocket. We accept all insurance policies and are experts in the insurance process.
Expert installation
Your technician will have more than three years on-the-job experience, plus they will be fully insured and up-to-date with the latest techniques and materials.
High quality and low prices (or more cash back if you're not paying out of pocket)
Our buying power allows us to use high quality parts and materials AND beat any competitor's price or cash back incentive.
100% no questions asked lifetime warranty
You get full protection against any issues that may arise after service including issues with the installation/service or issues with the parts and materials used.
Support local business
We are based here in the Valley so when you work with us that money stays here and goes back into the local economy. Our largest competitor is not even a US-owned company so money spent with them doesn't even stay entirely in this country.
Our Process
We make replacing your windshield as easy as 1, 2, 3!
This only takes a FEW MINUTES, and there's NO OBLIGATION! We'll check your auto insurance to see if auto glass is covered and whether or not you have a deductible. Then we'll let you know if your insurance will cover your new glass and if you qualify for one of our special offers (most Arizona drivers will qualify for free cash). If you'd like to proceed, we'll start the insurance process & schedule your windshield installation.
2: We take care of insurance
We'll set up your insurance claim and work directly with your insurance company to handle payment. Setting up the claim normally involves a three-way call that lasts about 15-20 minutes with you, one of our customer service representatives and your insurance company. We can do the call when you first call in to speak with us, or at another time that's convenient for you. We'll then handle the entire claim process.
3: Get your new windshield
We'll come to you anywhere in the Valley and install your new windshield. We'll back your new windshield with a 100% satisfaction guaranteed lifetime warranty that's good for the life of your vehicle, and we'll even give you free chip repair for life! If you qualified for free cash or another special offer incentive, we'll mail you a check for your free cash once your new windshield has been installed. Spend it on anything you like!
How Windshield Replacement Works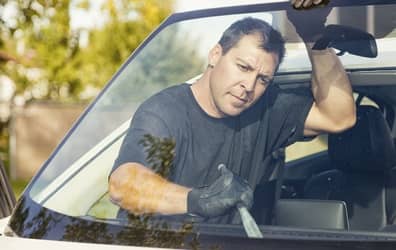 1

Your technician will thoroughly prepare the new windshield for installation and make sure that the inside of your vehicle is protected from damage or debris.

2

Your technician will cut all the way around the seal on the old windshield and safely remove remove it from your vehicle. The material from the old seal will be removed as much as possible during this step so that the new seal is strong and long-lasting.

3

Your technician will apply the components of the new seal. This includes a primer material around the windshield frame on your vehicle, plus a strong urethane on the new windshield itself.

4

Your technician will carefully install the new windshield into your vehicle using a combination of suction cups and special tools to make sure it's placed in exactly the correct spot without damage.

5

Finally, your technician will vacuum up any debris from the removal and installation process so your vehicle is safe and clean on both the inside and outside.

6

Your vehicle will be ready to drive away in about half an hour. We use high quality fast-curing seal material to make your drive-away time as fast as possible so you can get back on the road.
Backed by our 100% Guaranteed Lifetime Warranty
Your new windshield comes with a 100% guaranteed warranty that lasts for the life of your vehicle. You get complete coverage for any issues with either installation or materials.
Plus, we even include free chip repair for life!
Lifetime Warranty Details