Expert Door & Rear Windshield Service in Greater Phoenix, AZ
Why Choose Us for Your Door or Rear Windshield Service
We can expertly fix your door or rear windshield (in most cases this will mean replacing the damaged glass) anywhere in Greater Phoenix. Here's what you'll receive: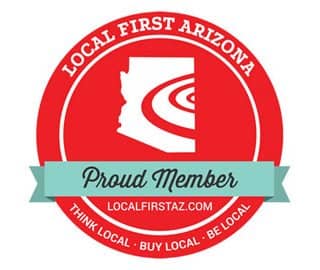 Fast, convenient scheduling
Our large team of installers and 7-days-a-week schedule mean we can normally come out to fix your glass within a day or two, sometimes even the same day! Plus, we cover the entire Greater Phoenix Area so your service will take place WHEREVER is most convenient for you!
Professional results
All technicians have at least 3 years of industry experience, plus we use only OEM or equivalent parts and materials.
Insurance approved
We work with every auto insurance company, so if your auto insurance covers glass (and most Arizona auto insurance policies do) then you can get your door or rear windshield glass taken care of for little or nothing out of pocket.
Complete coverage for life
As with all our services, we back door and rear windshield work with our lifetime guarantee good for the life of the vehicle. This provides complete protection against install and/or material defect issues.
Based right here in the Valley
As a family-owned Arizona business, money spent with us stays right here in the local Valley economy.
Types of Door and Rear Windshield Glass
There are many different kinds of door and rear windshield glass, depending on the type of vehicle, its configuration, and, in some cases, its installed accessories.
We can generally service any auto glass that the vehicle came with from the factory. We can also source many classic, antique and aftermarket vehicle glass components on request.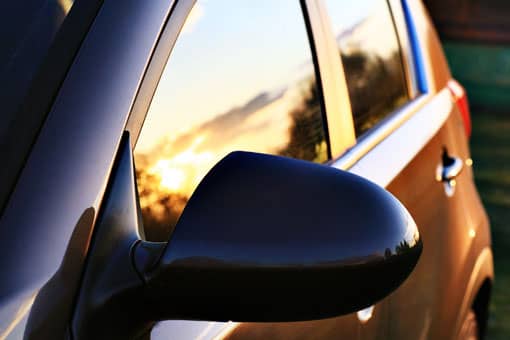 Here is a partial list of door and rear windshield glass types that we can service:
Door window glass
Power door window glass
Rear car windshield (also called "rear window", "rear glass", "car back glass")
Rear truck or SUV windshield (also called "truck back glass")
Truck rear sliding glass (also called "pickup truck slider")
Factory tinted rear windshield
Factory colored glass
Station wagon or SUV tailgate glass (also called "liftgate glass")
Quarter panel glass
Movable glass (also called "pop out glass")
Heated rear windshield glass (also called "defroster glass")
Does My Damaged Glass Need to Get Replaced, or Can It Be Repaired?
Door Window

Glass Guidelines

Damaged door glass is generally replaced.
Rear Windshield

Glass Guidelines

Rear windshield damage can be repaired if it meets certain criteria.
Can't be within 2 inches of edge
Chips can't be larger than a quarter, cracks need to be single (not multiple) and smaller than a dollar bill
How Our Door Window Glass Replacement Process Works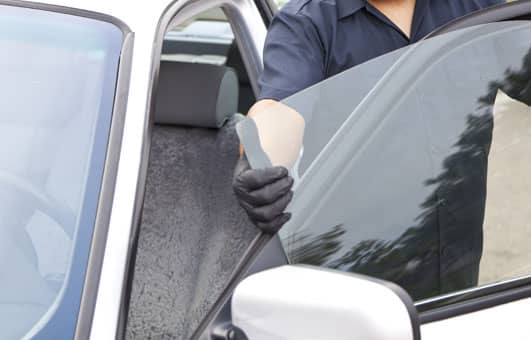 Inspect damage
Confirm that the window does need replacement by thoroughly inspecting it and the entire door for damage to the glass itself and damage to the window's raising and lowering functionality.
Remove door panel
Carefully take off the door panel to get access to the entire glass piece(s).
Remove damaged glass
Remove all pieces of damaged glass and clean up any debris by vacuuming the door and/or surrounding area.
Install new window
Install the new window in the door.
Test windows raising/lowering
With the door panel off, test the window's raising and lowering functionality to make sure it functions correctly.
Re-install door panel
After confirming that the window is working properly, re-install the door panel.
Clean up
Perform a final clean-up of the area to make sure there is no debris leftover.
How Our Rear Windshield Glass Replacement Process Works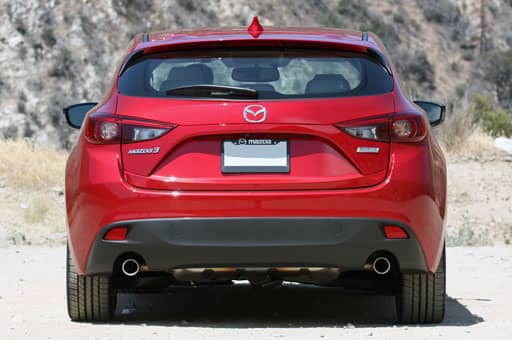 Inspect damage
Thoroughly check the damaged area to confirm that the rear windshield does need to be replaced.
Remove rear windshield
Remove the rear windshield from the vehicle by cutting through the existing seal that attaches it to the frame and then lifting it from the vehicle using special tools equipped with suction cups.
Clean area of old seal material
Once the old windshield is out, then clean up the work area to remove debris from the glass itself or the old seal.
Apply new seal
Apply a new seal to the frame around the rear windshield area, and then place the new windshield on the seal to secure it to the vehicle.
Test any power functions
If the windshield has any power functionality such as defrost, etc., then check that it works correctly.
Clean up
Clean the work area again to ensure that no debris is left.
Your New Door Glass or Rear Windshield Will Be Backed by Our 100% Lifetime Warranty
Once your door glass or rear windshield has been replaced, we will guarantee the work performed for life just like we do with all our services. If you have any material or installation/repair issues with your glass, contact us and we will make it right by repairing or replacing as required.
Our warranty is good for the life of your vehicle as long as the original invoice for the work is present.
Valley-wide Mobile Door & Rear Windshield Service
Wherever you're at in the Valley (or almost any location within 100 miles of Phoenix), we can come right to you for your door or rear windshield service. Below are some of the popular spots in the Valley we visit on a regular basis.